Welcome to Kan't Beat the View
Welcome to Kan't Beat the View! This 6,800 sq ft oceanfront beach house located in North Bethany Beach, DE is one of the best houses we've built to date—it was also one of our most challenging projects.
From the start, we were faced with many challenges including strict time restraints in which we could only build between Labor Day and Memorial Day. Further COVID restrictions and supply chain delays affected most aspects of this build. So in true Marnie Custom Homes style, we got creative with the project's scheduling due to the amount of backorders. Our Senior Project Manager, Dustin Burkett orchestrated all production schedules and the home was built 100% on schedule and on time.
I've detailed a total house tour below, complete with links to a few items featured throughout the home. I hope you enjoy this beautiful beach build.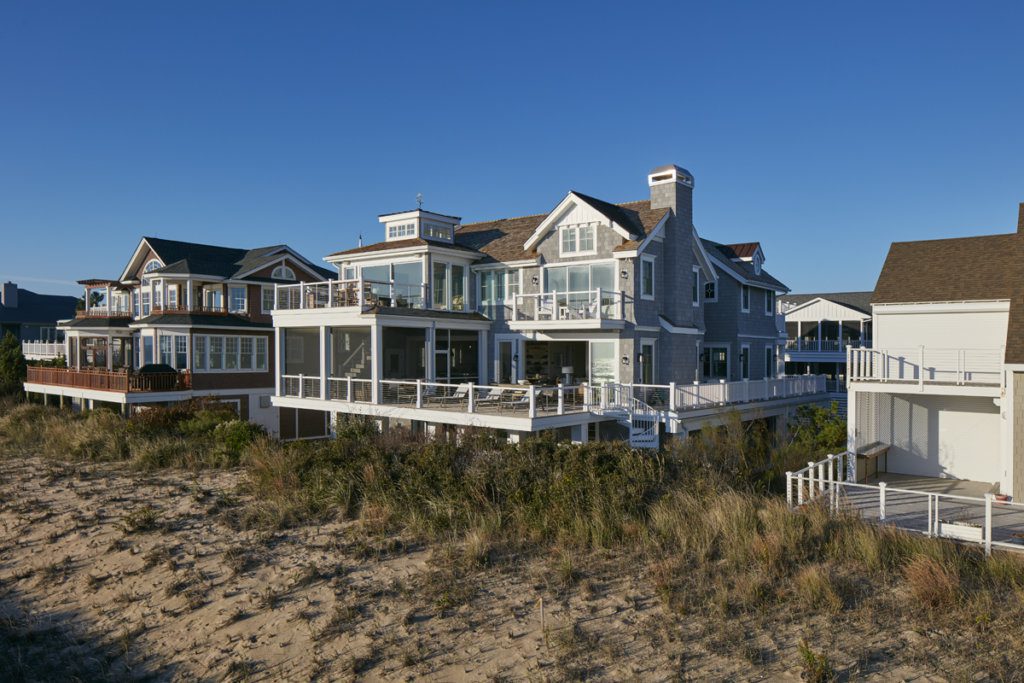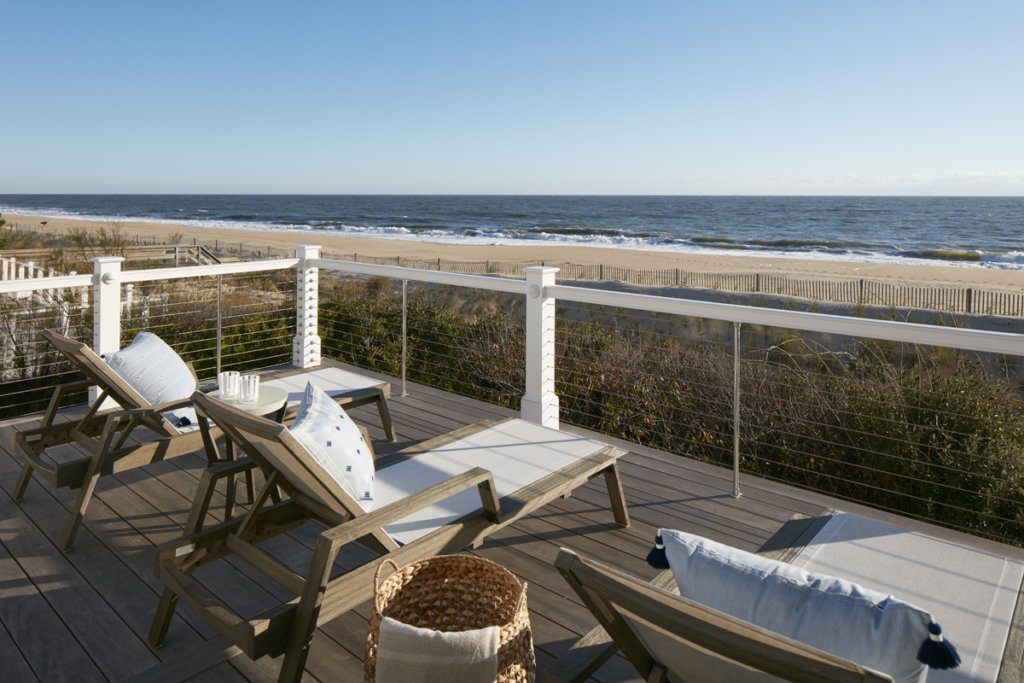 PROJECT CREDITS
Architect: Bernardon / Builder: Marnie Custom Homes / Photography: Dana Hoff / Styling: Moki Media
Entrance:
The goal was to be able to have a clear line of sight to the ocean as you enter through the extra wide front door—a Marnie Custom Homes signature. As you enter the front door (painted in Benjamin Moore's Wedgewood Gray HC-146 in gloss), you're instantly greeted by gorgeous ocean views and a Serena & Lily Pescadero Chandelier.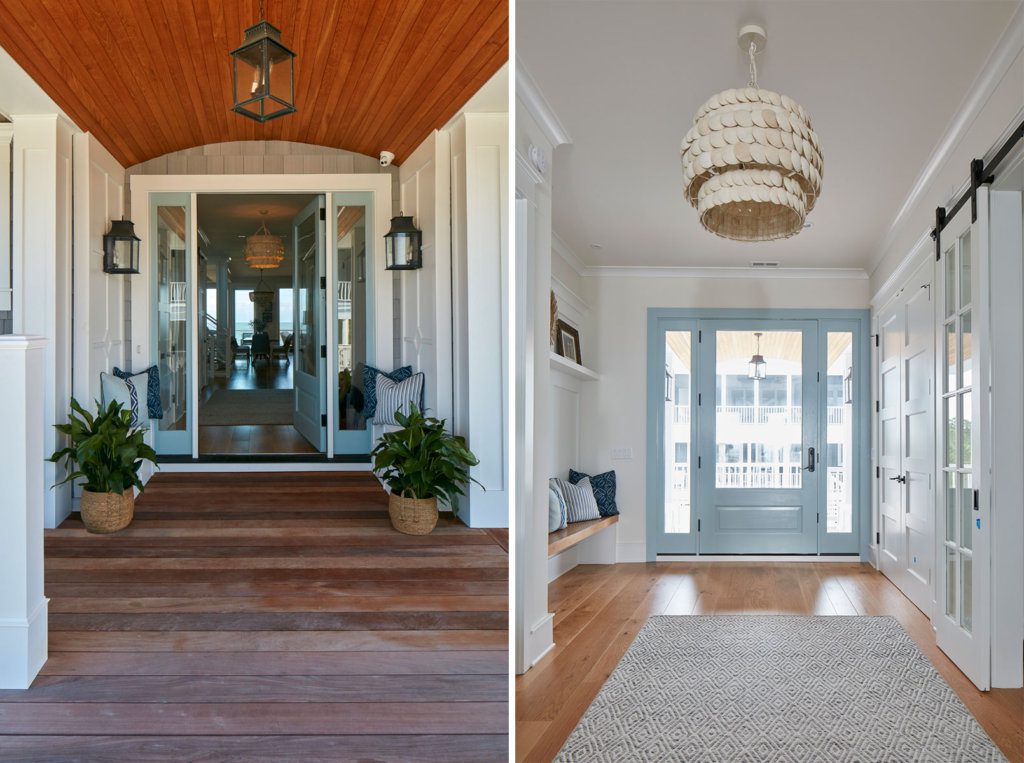 Kitchen:
Designed with Jennifer Gilmer Kitchens & Baths, the goal for this kitchen was to create a true indoor/outdoor living space, with the kitchen seamlessly transitioning onto a screened in porch. The best feature of this space are the large La Cantina sliding pocket doors which slide completely into the wall, disappearing and opening up the space directly onto the screened in porch.
In order to break up the white kitchen, we used open shelves with recessed lights and a matching wood countertop, a kitchen island painted in Sherwin Williams Naval and integrated custom white washed wood detail in the island. Other details include a galley sink, a custom zinc hood, and extra large range for those big beach house breakfasts. Kitchen island is Naval by Sherwin Williams, perimeter cabinets are Decorators White by Benjamin Moore, with pendant lighting from Visual Comfort.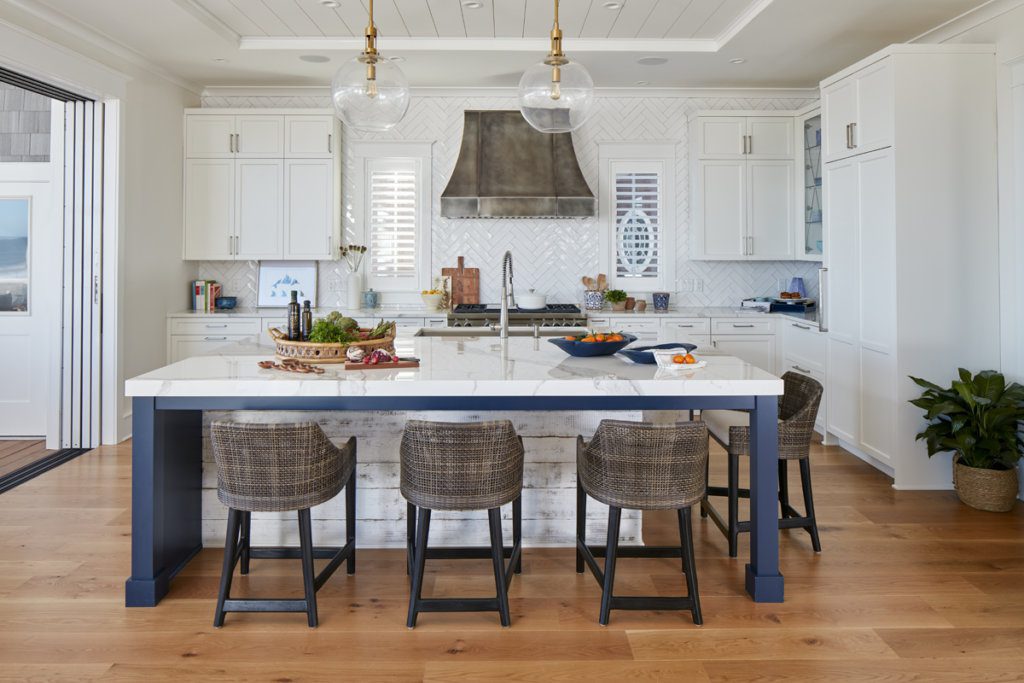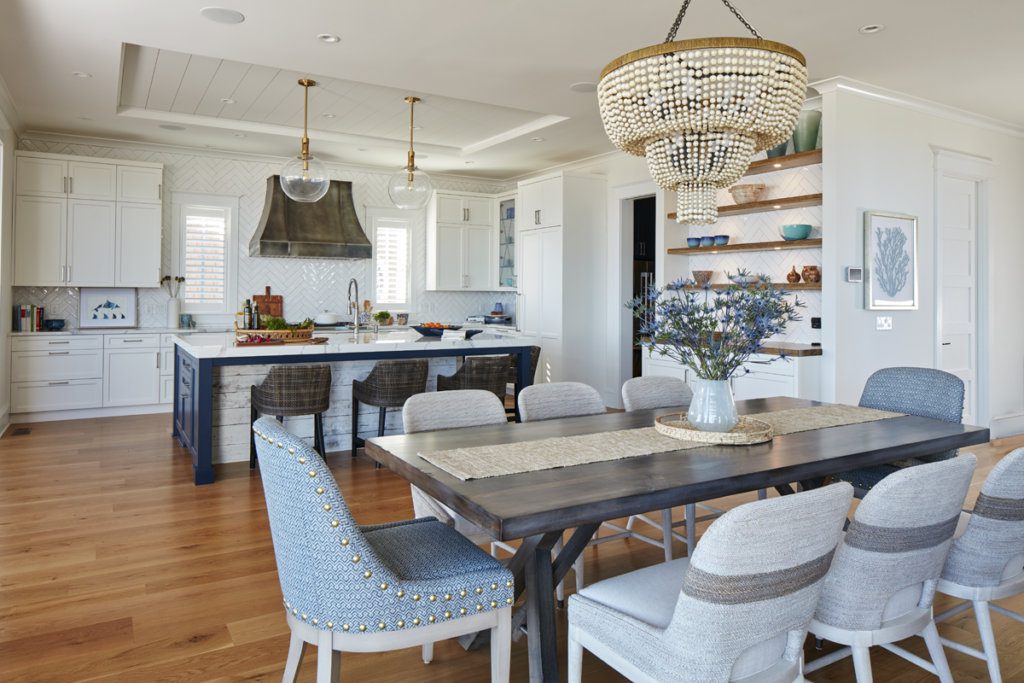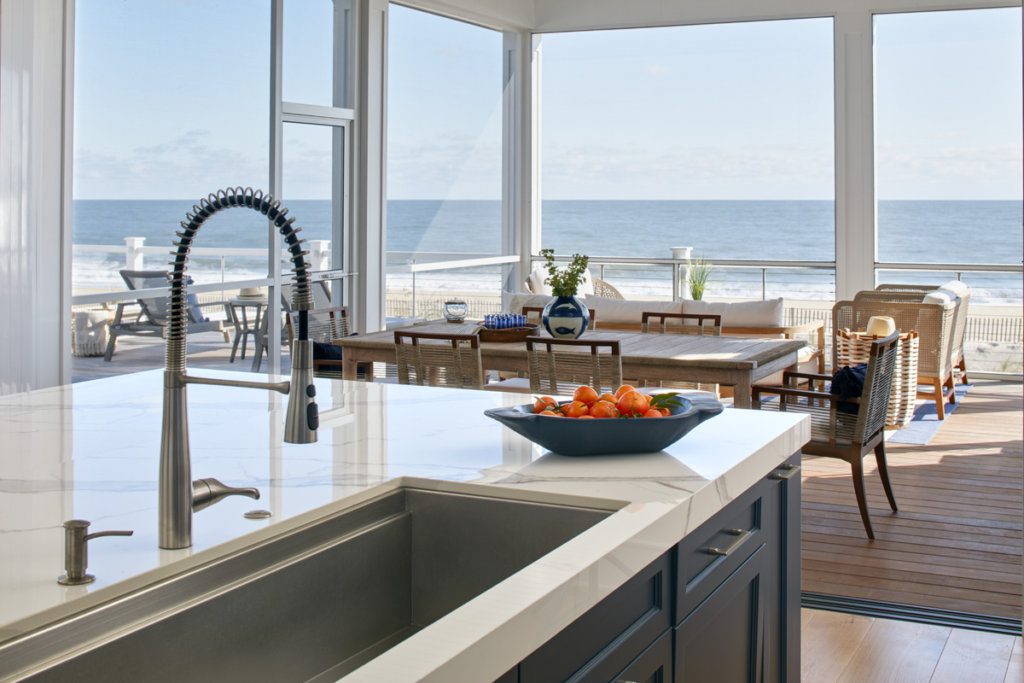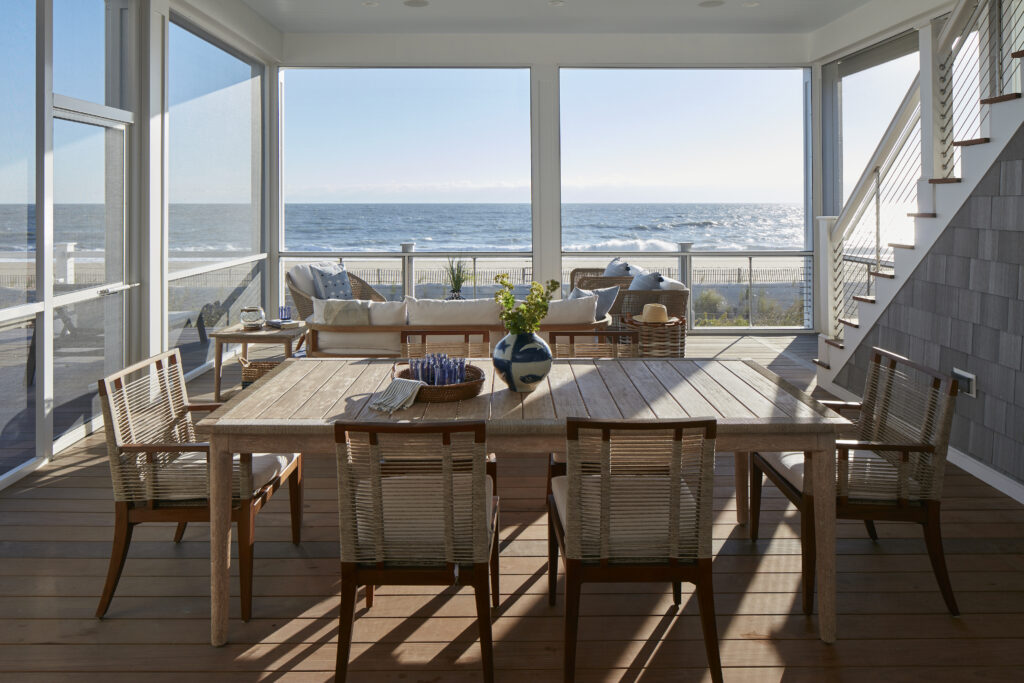 Butlers Panty:
Designed for overflow entertaining, this space is complete with a second refrigerator, a microwave, sink, dishwasher and bar. When entertaining, utilize this space to easily conceal dirty dishes or food prep, as the pocket door keeps the kitchen clutter free for your guests to enjoy. The butlers pantry matches the kitchen island in Naval by Sherwin Williams.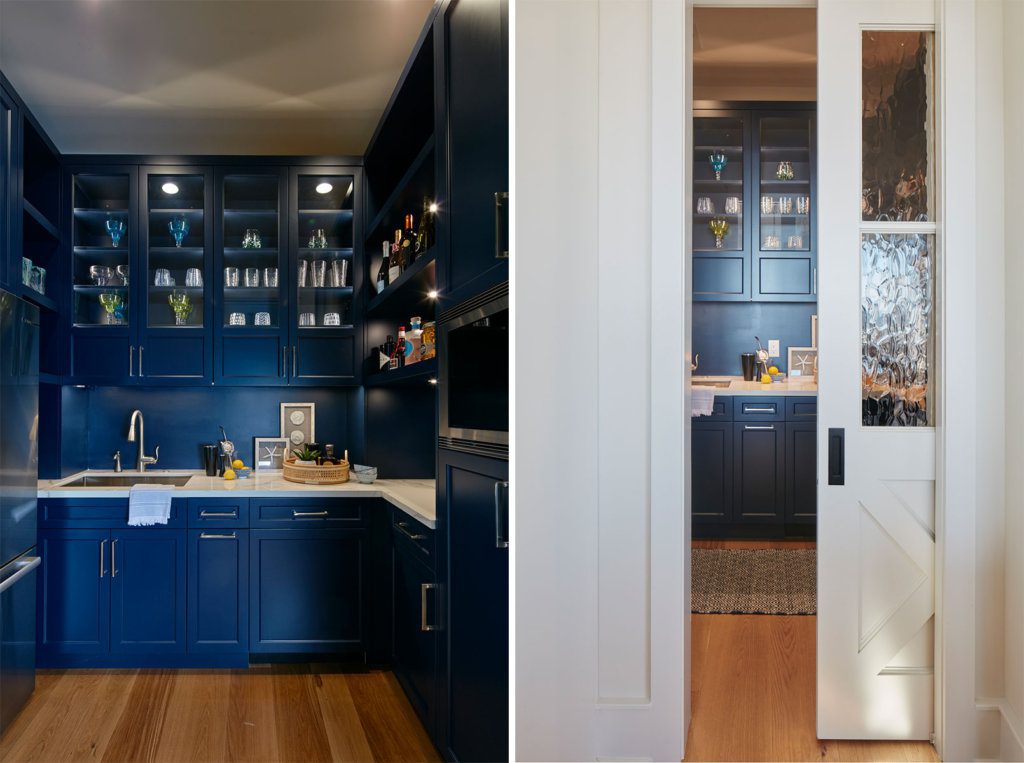 Great Room:
This room boasts a variety of textures, from cable railings going up the stairs, a stone fireplace, white oak floors and white washed beams which match the wood detail in the kitchen island. Another La Cantina sliding door helps to capitalize on the view.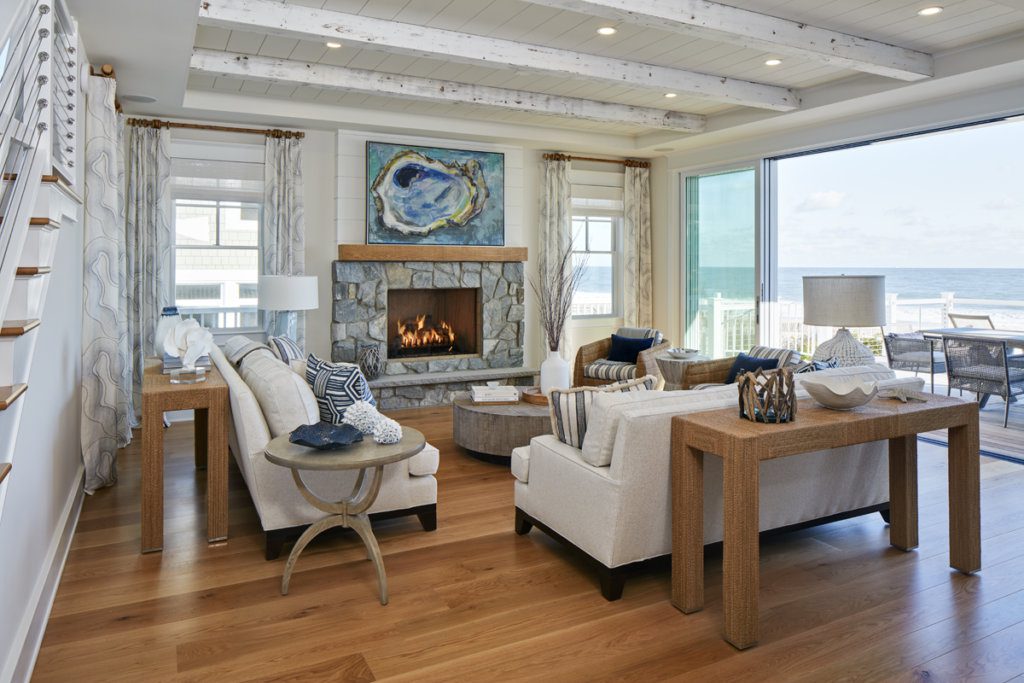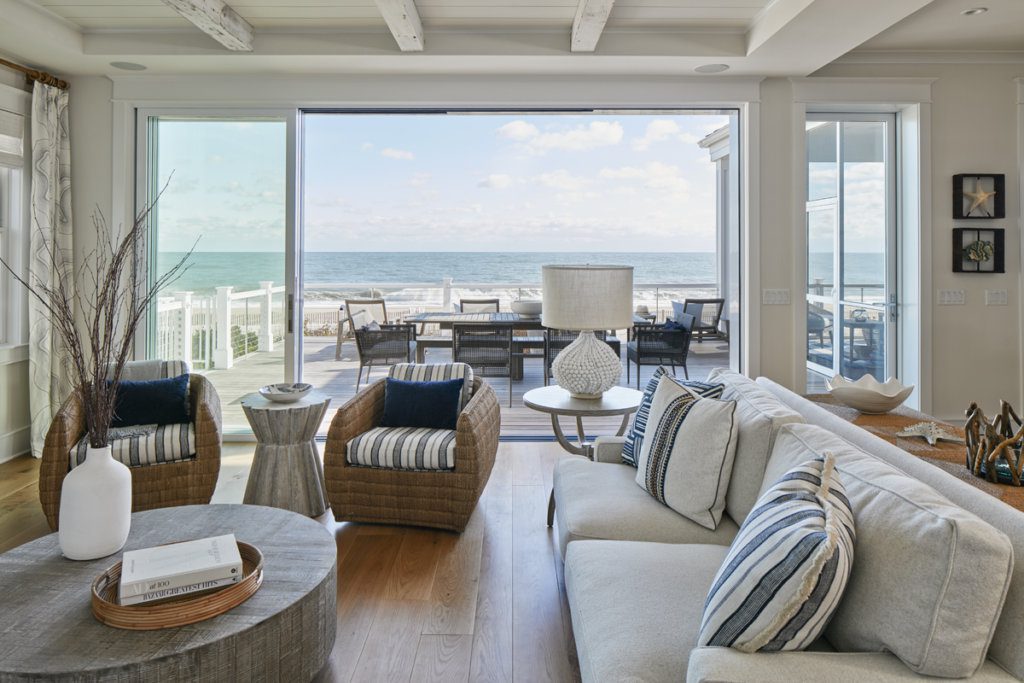 Sky Bar:
Designed so the bartender gets the best view, this is by far the coolest room in the house. It's technically outside, so a large door opens all the way to create a true indoor/outdoor space. The bar has a reclaimed wood top, porcelain countertop and zinc accents. A Lisa McDennon Sky 6 Light Chandelier by Hinkley Lighting is a stunning focal point. An outdoor gas fireplace is perfect for chilly nights, allowing you to enjoy the view outside while staying warm. To top it off, a cupola with different colored lights inside and looks awesome from the beach.
Primary Suite:
A cathedral ceiling and old wood beams match the home's roofline in this primary suite painted in Glass Slipper 1632 by Benjamin Moore which mimics the color of the ocean. Sliding glass doors lead to a private balcony.
The ensuite bath captures the ocreanfront view from every angle. Sitting at the sink, you can see the ocean through the reflection in the mirror. The slipper tub and shower also have ocean views. This gorgeous retreat is topped off with a coastal Vaxcel chandelier.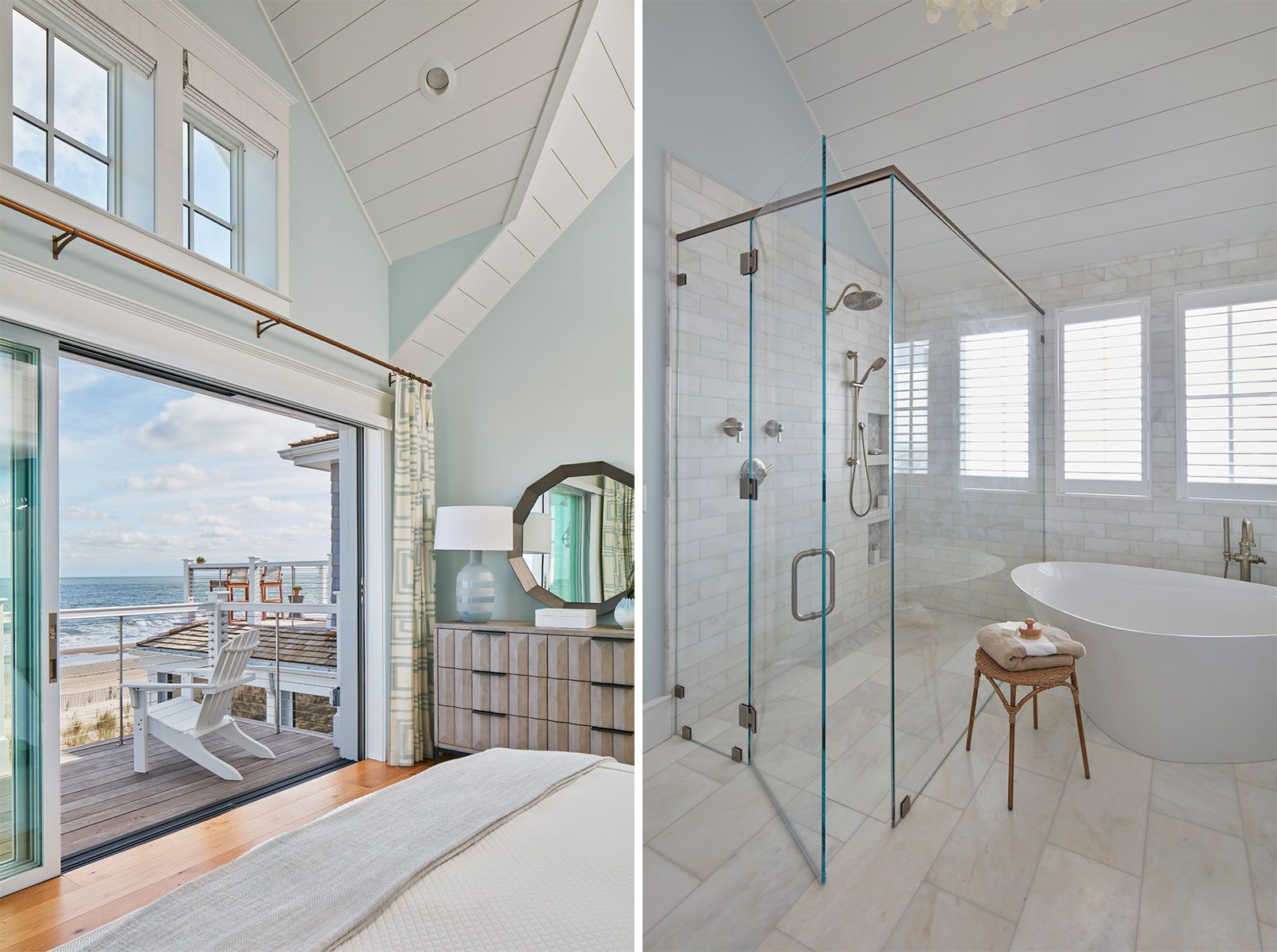 Bunk Room:
Designed for young adults with queen over queen bunk beds, this is a Marnie Custom Homes signature piece. Bunk bed features include: fold down railings for easy to make beds, nooks in each bed with individual light switches and charging stations, extra storage in the stairs, and built in cabinet.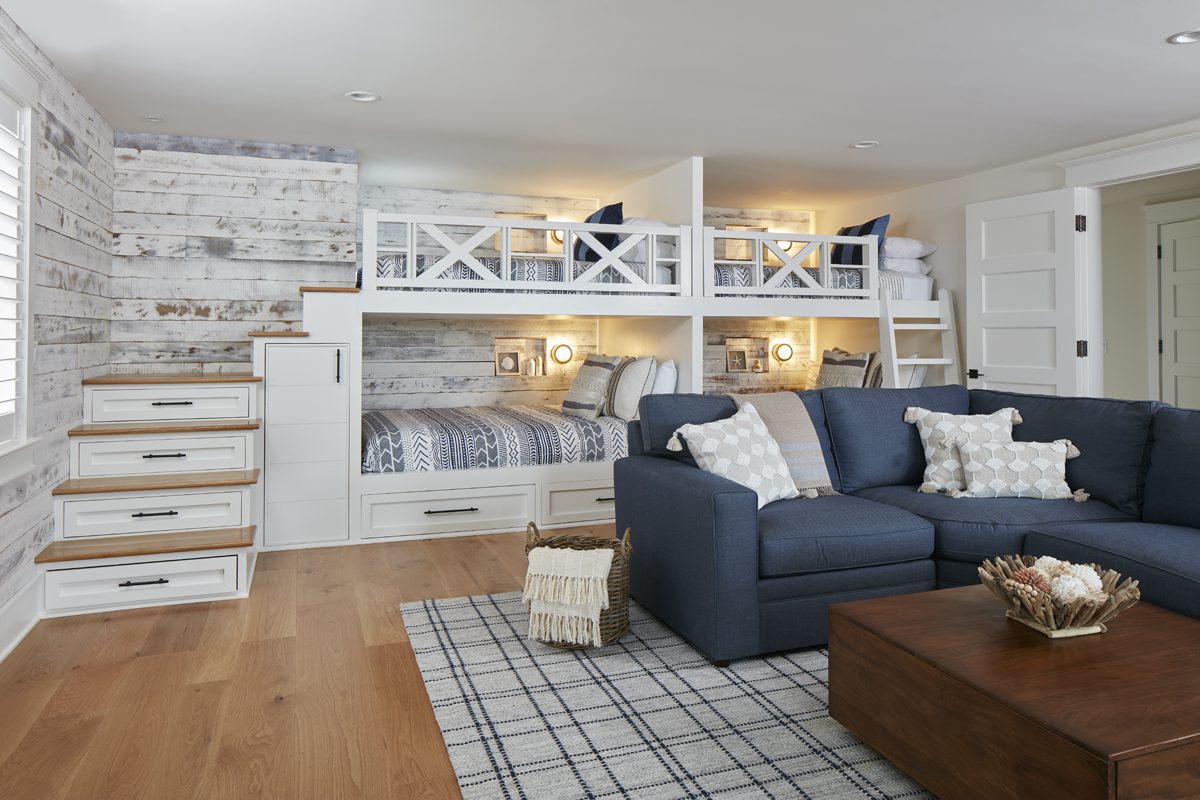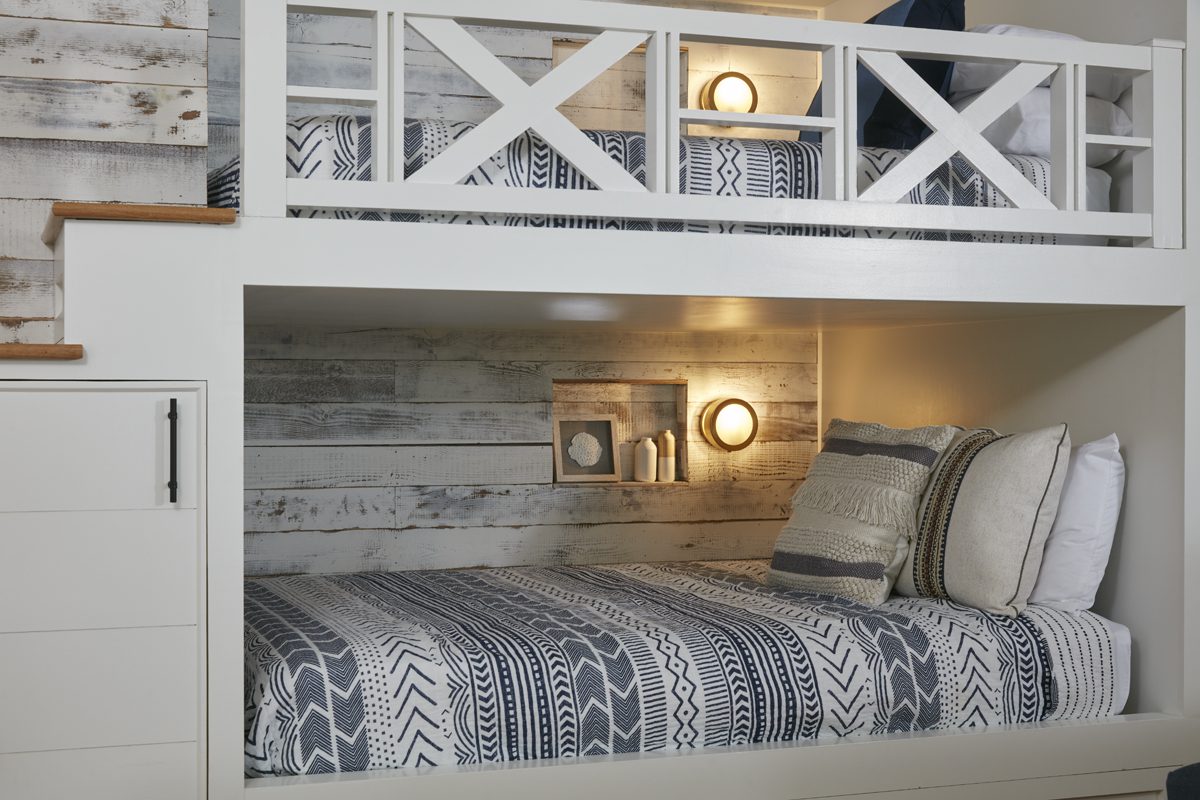 Guest Bedroom:
This serene space is complete with a Serena & Lily Sorrel chandelier and painted in Benjamin Moore's Iceberg.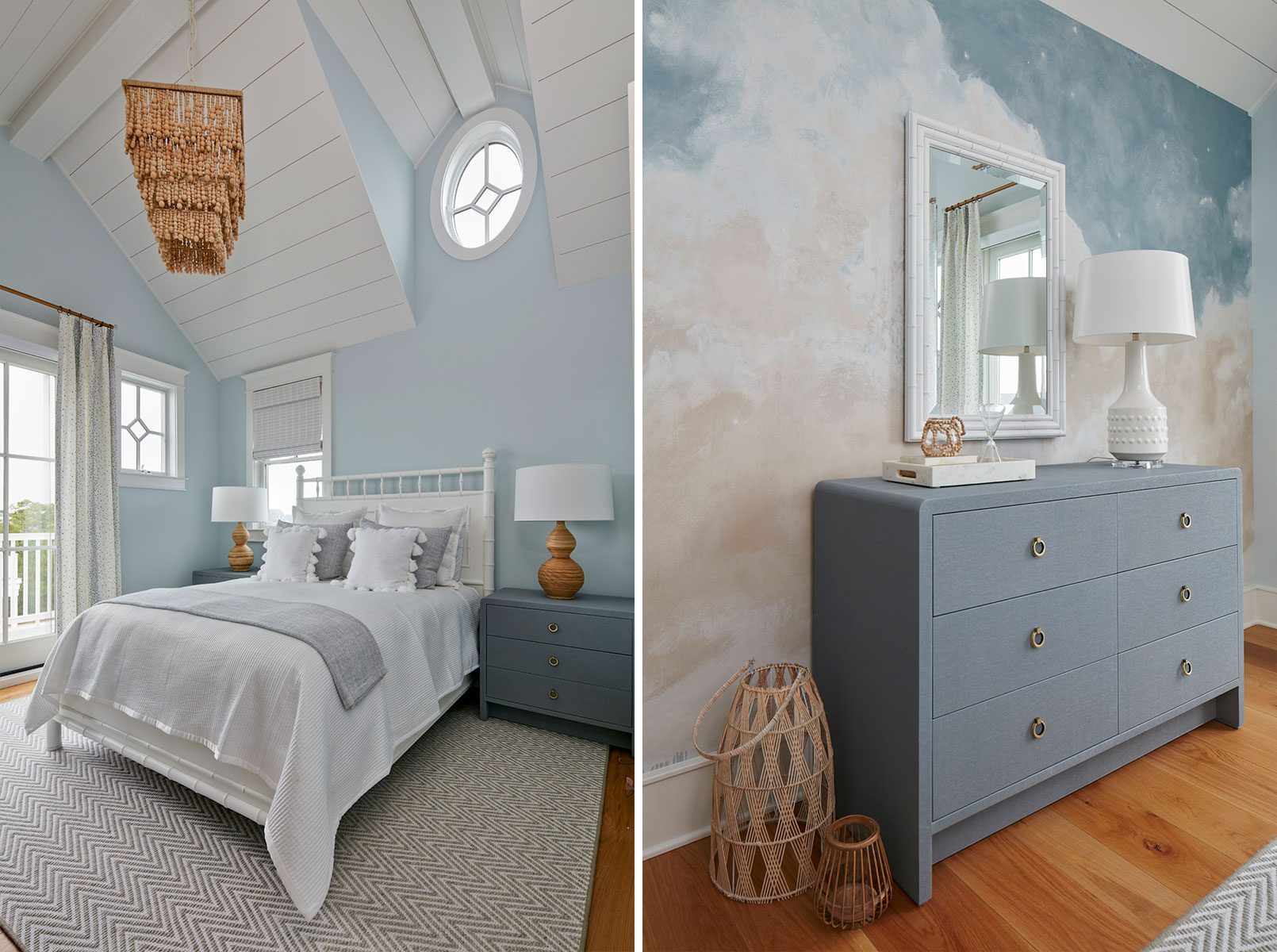 Outdoor Bar: This outdoor bar is set among the dunes—the perfect space to enjoy a cocktail after a day at the beach. Custom seating includes two bar swings which were inspired by a trip Marnie took a few years ago to Mexico.