5 Fun Under-the-Stair Nook Design Ideas
We recently worked with the HGTV magazine team to create an under-the-stair nook that's colorful and useful—check it out below—it's featured on their latest March 2020 issue cover! We had such a wonderful experience with the entire HGTV team and were inspired to share other under-the-stair nooks we've created to inspire you in your home.
1. Make an Entrance:
If your staircase creates a gap in your entryway, use it to your advantage and create a sitting area as I did here in my own home. I transformed this space for HGTV magazine by incorporating a cushioned bench seat, bolster pillows, throws, baskets, a rug and decorative tray. There are so many design possibilities to make this area warm and welcoming.
Under-the-Stair Entry from Marnie Custom Homes' Dream Catcher project transformed for HGTV magazine's March 2020 Issue Cover: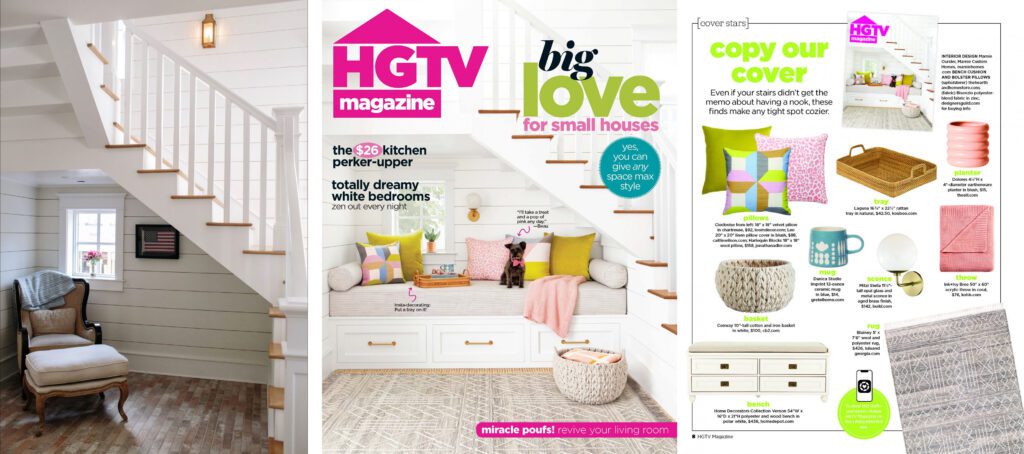 2. Mudrooms:
Many homeowners don't believe they have enough space to create a mudroom—but think again! Utilizing space under the stairs is perfect for extra storage, keeping commonly used items out of the way while still accessible and organized. For this project I removed a small basement closet and created a functional mudroom under the stairs with a bench, storage cubbi and hooks.
Under-the-Stair Mudroom from Marnie's Pilot Episode of Big Beach Builds (Before/After):

Under-the-Stair Mudroom from Marnie Custom Homes' Pure Vida project: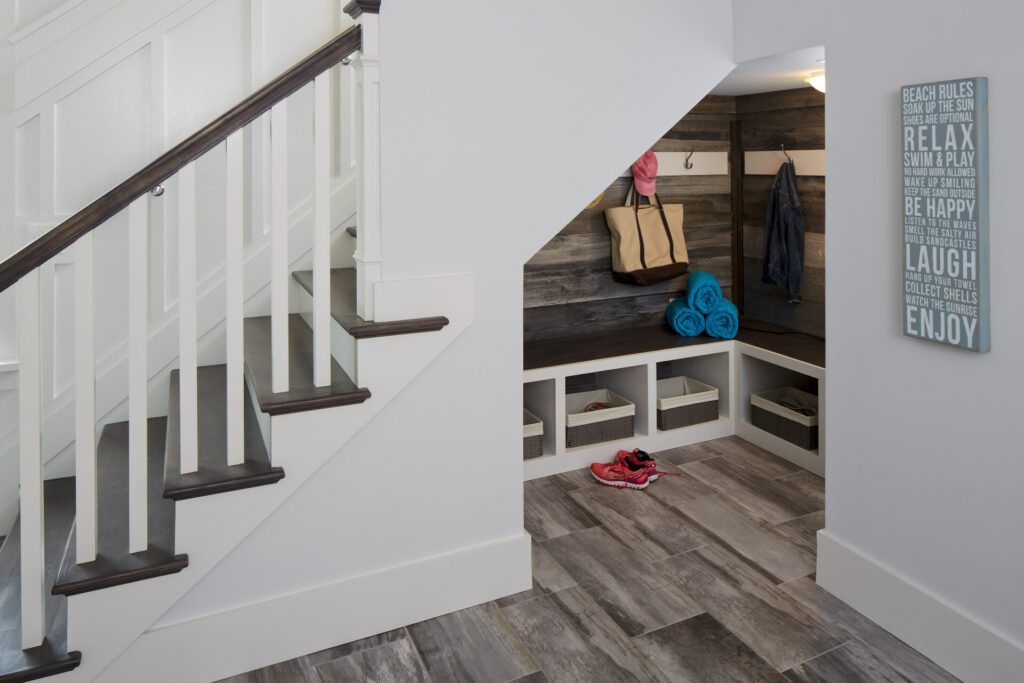 3. Hang Out Zone:
Don't give up on the space under your staircase, instead, transform it into something truly useful and comfortable. I utilized this area to create an ideal spot for adults and kids to play board games, curl up with a good book or just relax after a fun day at the beach.
Under-the-Stair Hang Out Zone from Marnie Custom Homes' The Big Easy project: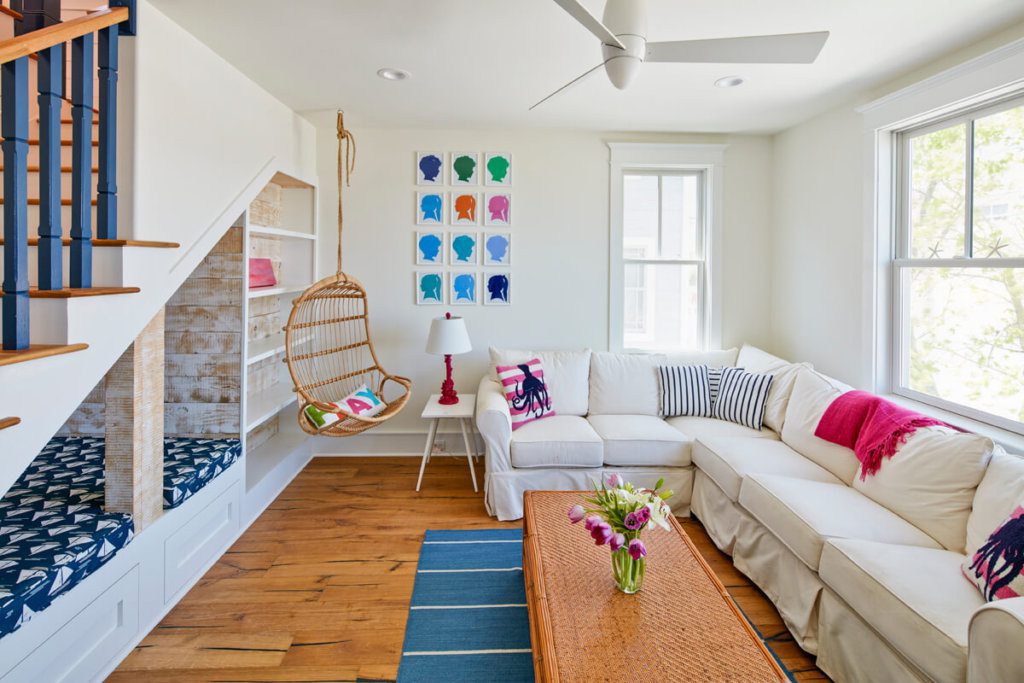 4. Playhouse:
When entertaining kids or grandkids, an under-the-stair nook is the perfect spot to create a unique play area. Here, I wanted to create a real life playhouse, so I designed a roofline using real shingles and siding for an authentic look. I also used a Dutch door (a kid's dream!), a window and flower box for endless creative play.
Under-the-Stair Playhouse from Marnie Custom Homes' Beef Wellington project: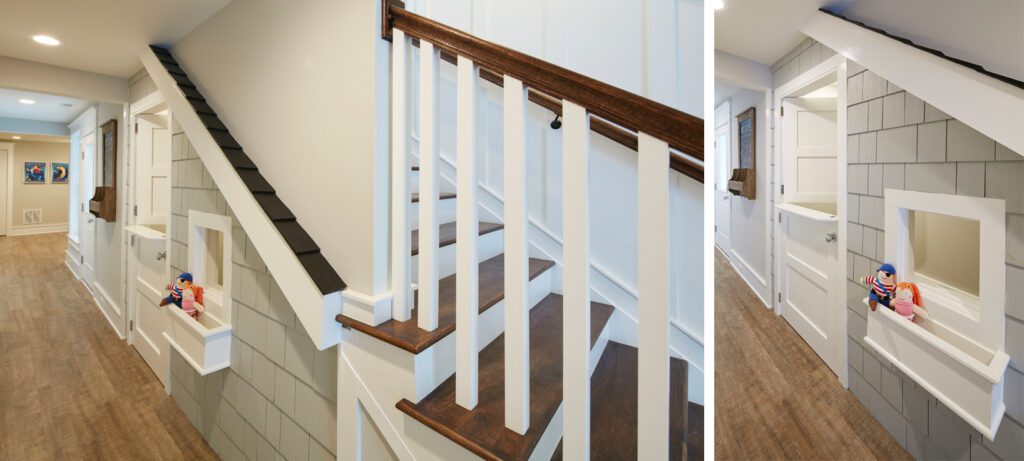 5. Bookshelf + Dual Purpose Areas:
I got creative and maximized this space by building a custom dog bed while still carving out room for a bookshelf and display case for decorative items. Now the whole family has a space to relax together!
Under-the-Stair Bookshelf by Marnie Custom Homes' project: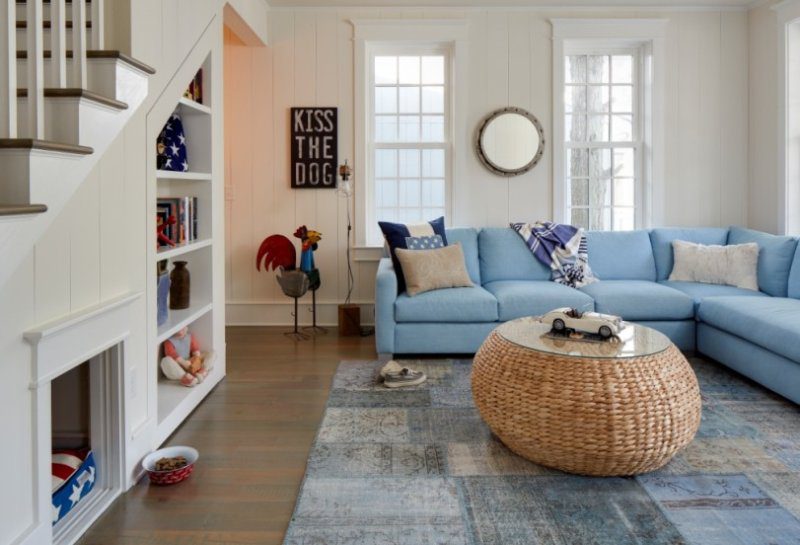 This staircase was actually an extension of a living room, not just a throwaway space. I made it both functional and welcoming by building much-needed storage shelves ideal for beach bags and towels, and replaced the carpet with hard flooring.
Under-the-Stair Bookshelf from Marnie's Season 2 Episode 2 of Big Beach Builds (Before/After):