Dreamy Oceanfront Bedrooms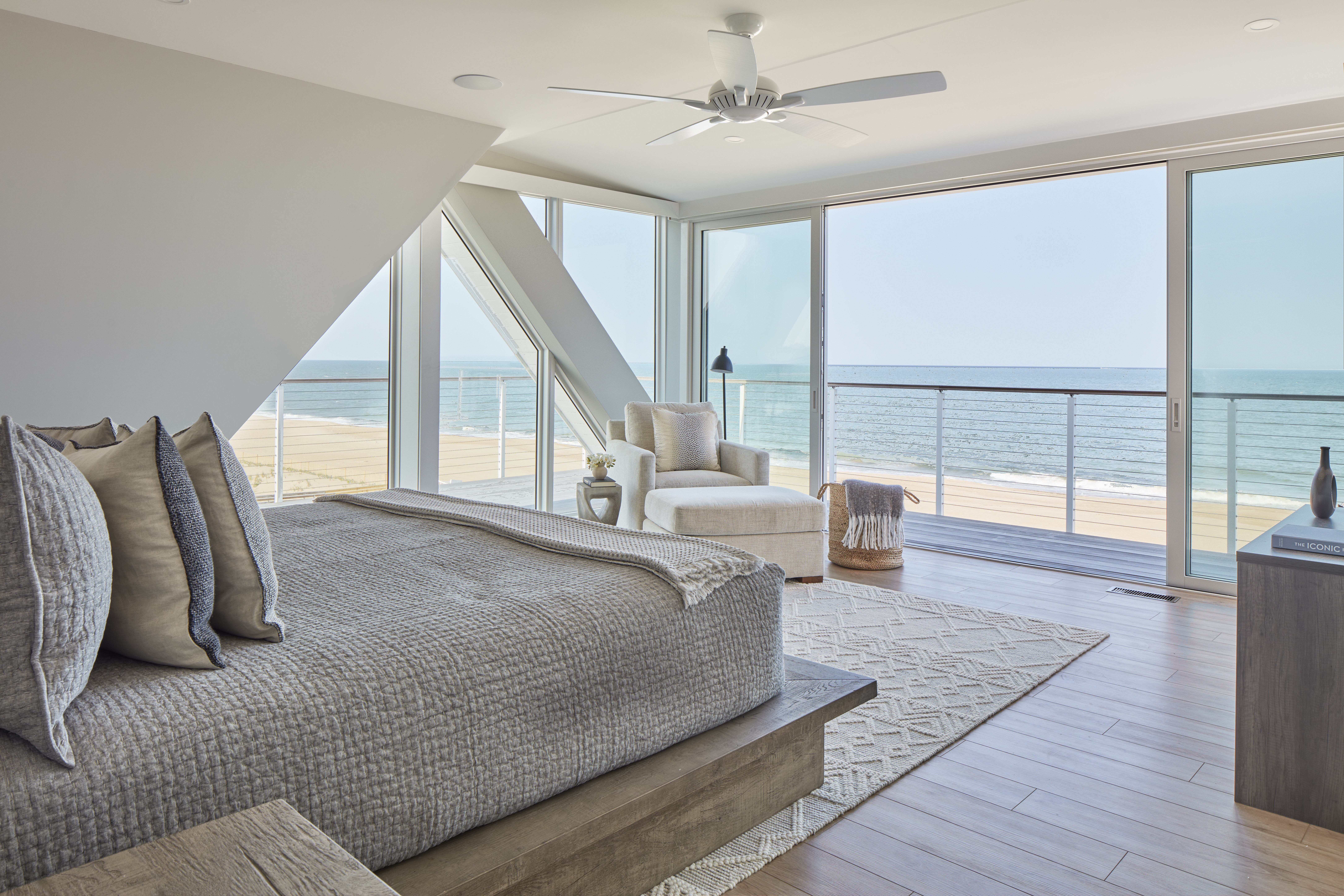 As the summer season winds down and we all start more of a daily routine, it's important to create a space where you're able to rest, relax and recover. So, I'm sharing a few dreamy ocean bedroom designs by Marnie Custom Homes, for inspiration in helping you cultivate a space to support calmness and serenity in your home. Enjoy!
This home's primary suite is located on the fourth floor, which offers a distinct architectural design: unique triangle-shaped windows strategically placed to capture the breathtaking oceanfront views and allows for natural light from every angle. The primary bath boasts a sleek modern porcelain tile and a slipper tub overlooking the ocean. For privacy, simply press a button and vinyl shades gracefully descend, transforming this space into a luxurious and secluded retreat after a delightful day spent at the beach.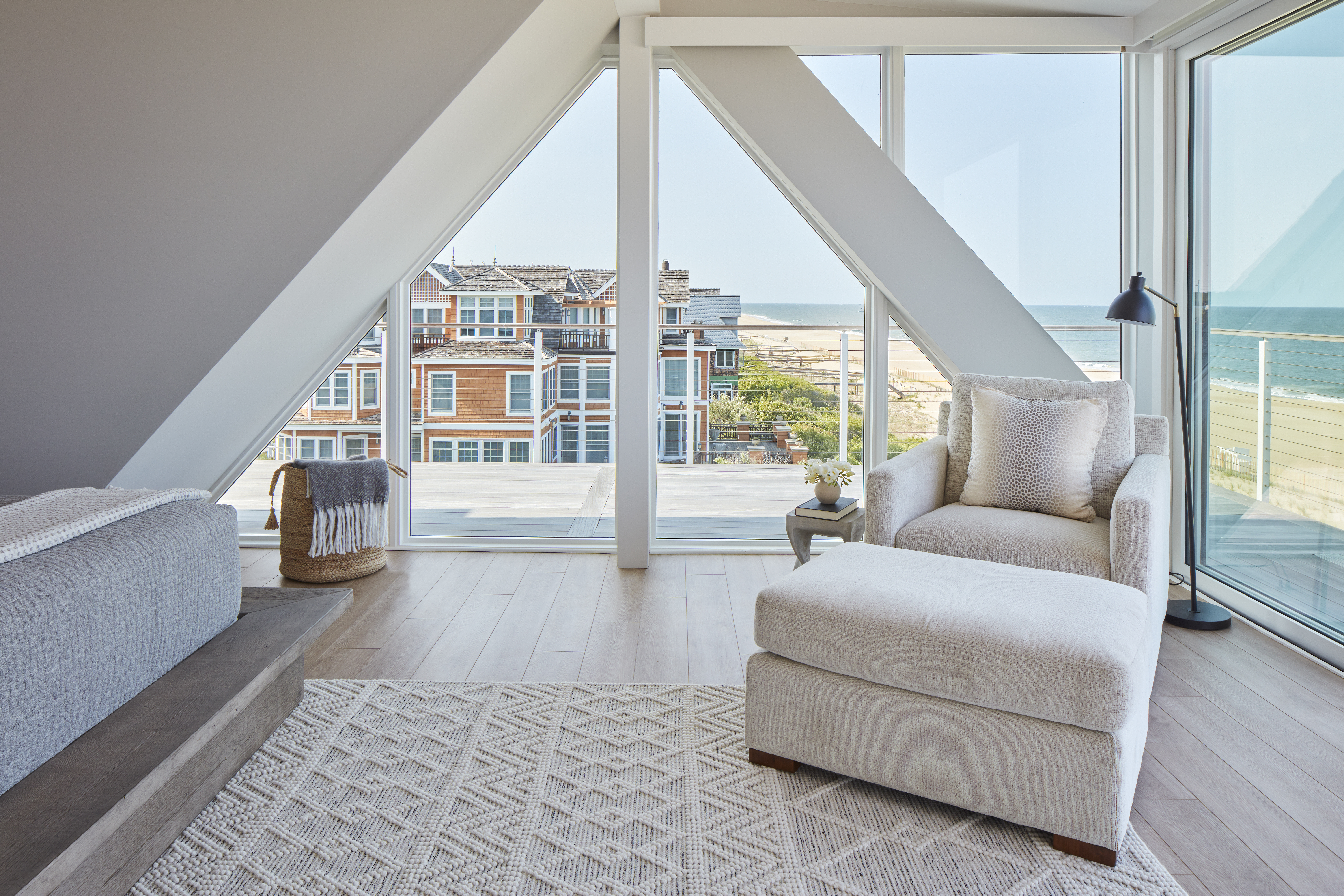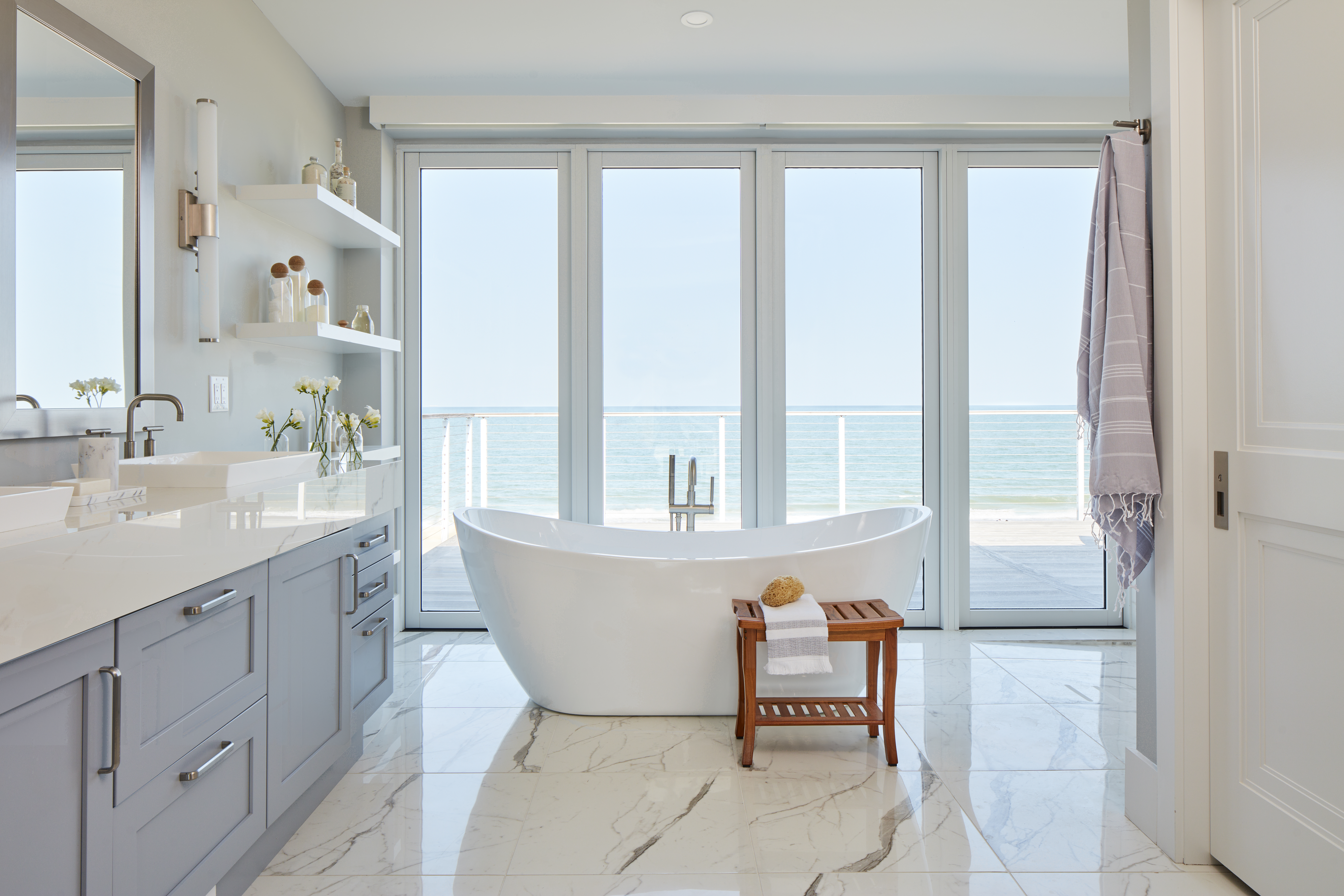 The overall goal of this home was to capture oceanfront views from every space, so we angled the house in an L shape, which placed the primary suite in perfect position to harness views from every direction. The space features multiple custom skylights, which bring in an abundance of natural light and include remote-controlled shades for privacy. A 2' Juliet balcony is another distinct architectural detail in the space.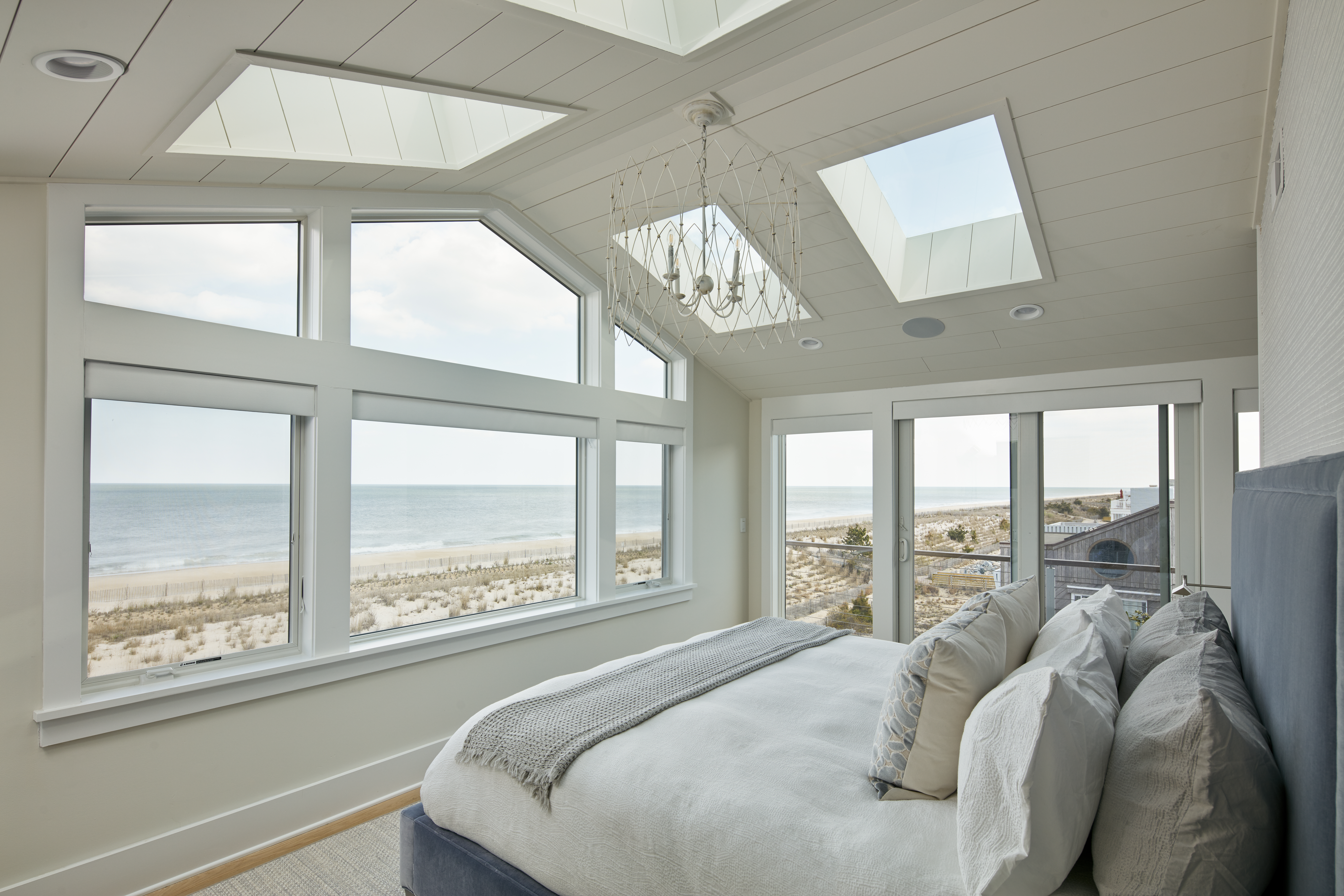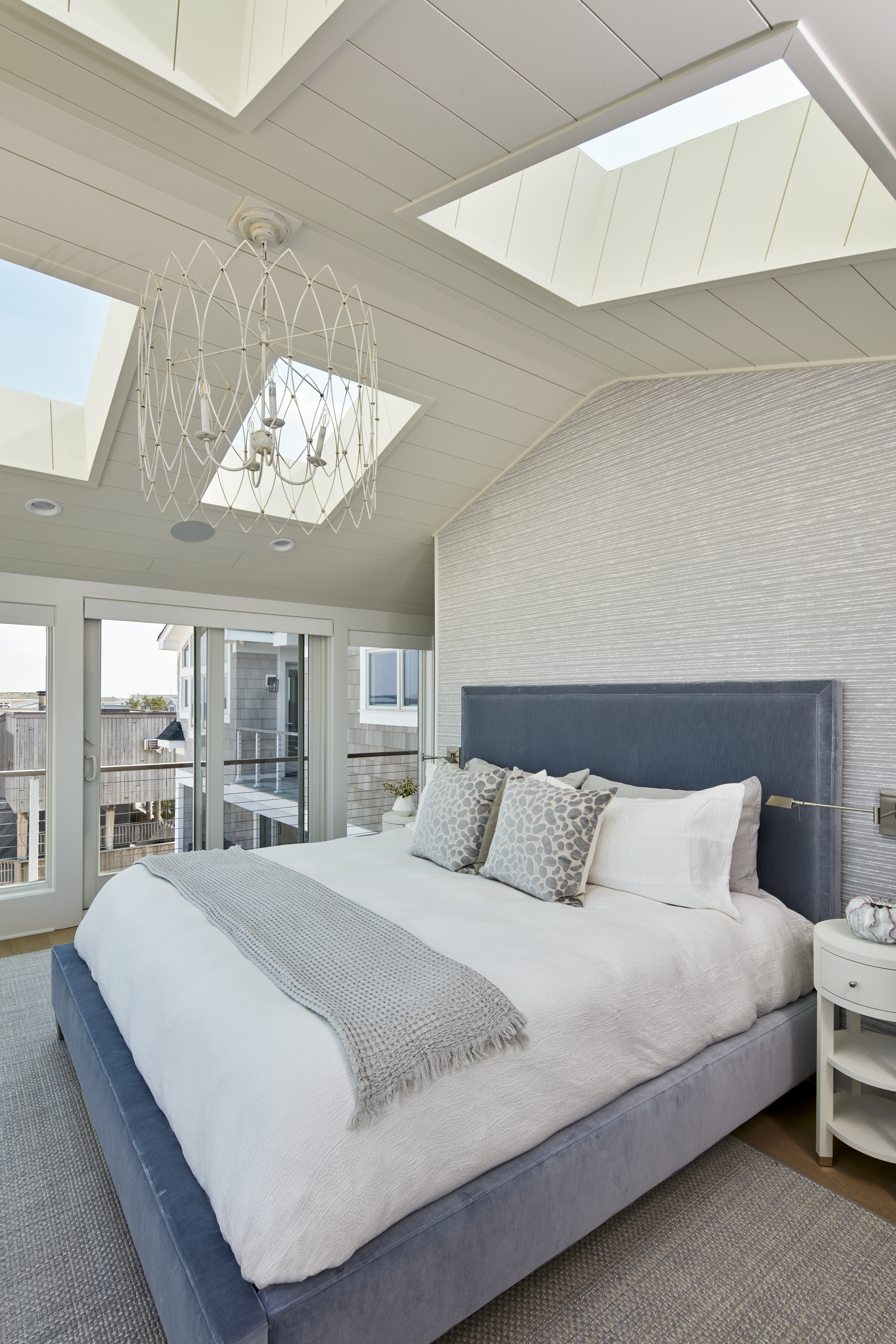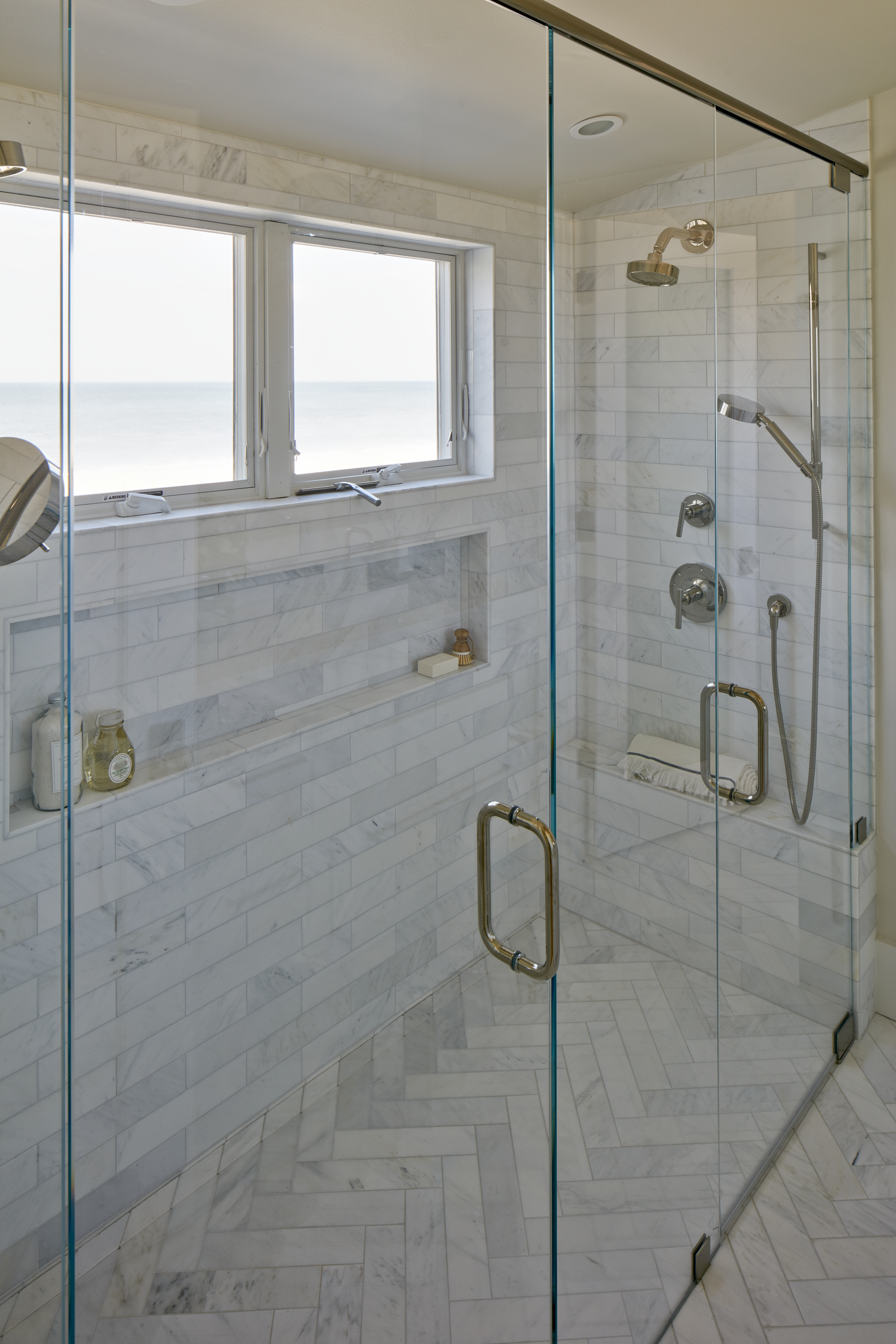 This Fenwick Island house sits on a peninsula, so we designed the rooms to be architecturally appealing not just from the inside, but also on the outside, especially from the water. A diamond grill pattern in the windows adds a nice architectural detail. The owners describe this bay-front home like living on a boat, in which they get to wake up every morning and enjoy expansive, panoramic water views. There's no need for a TV when you have unobstructed waterfront views like this!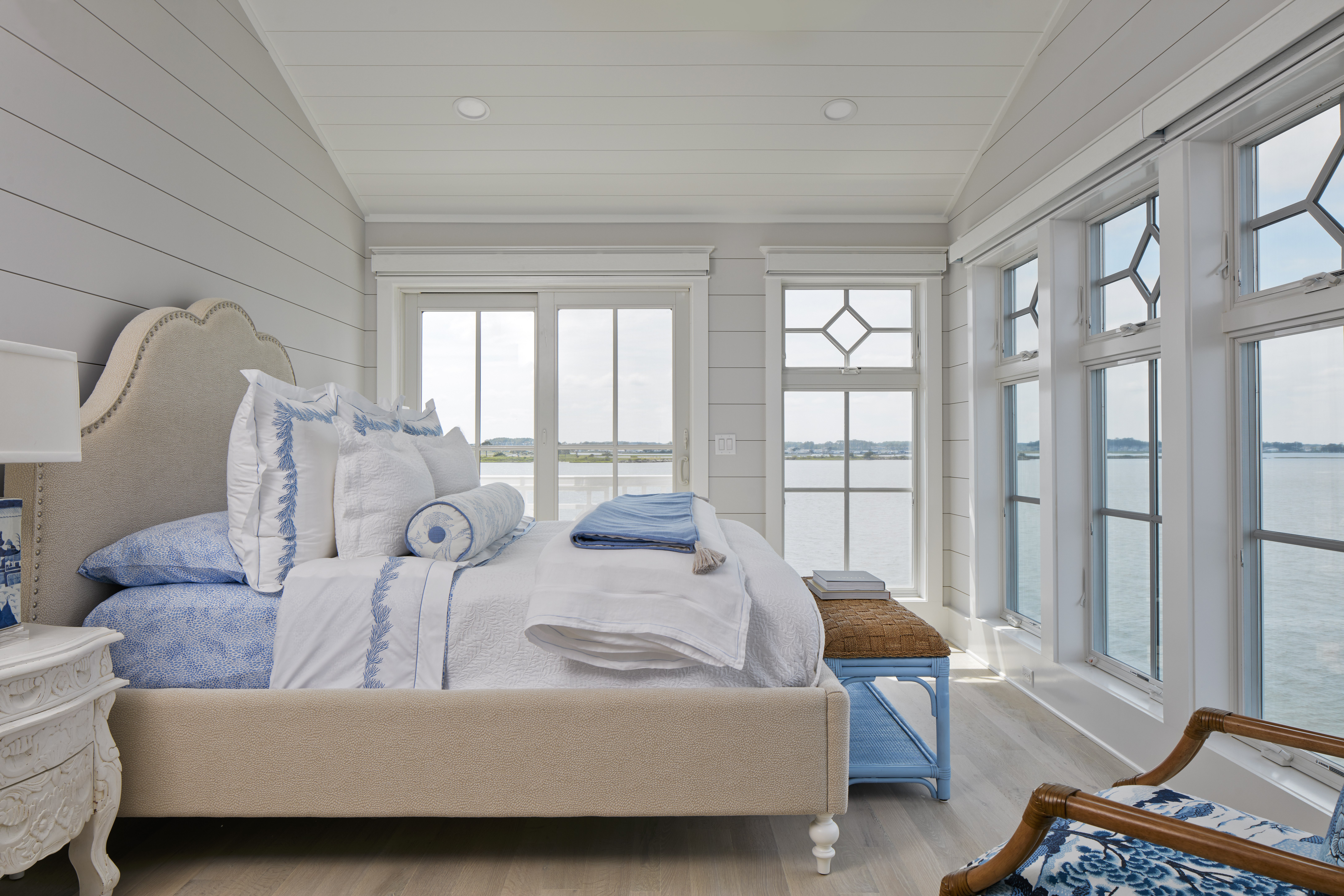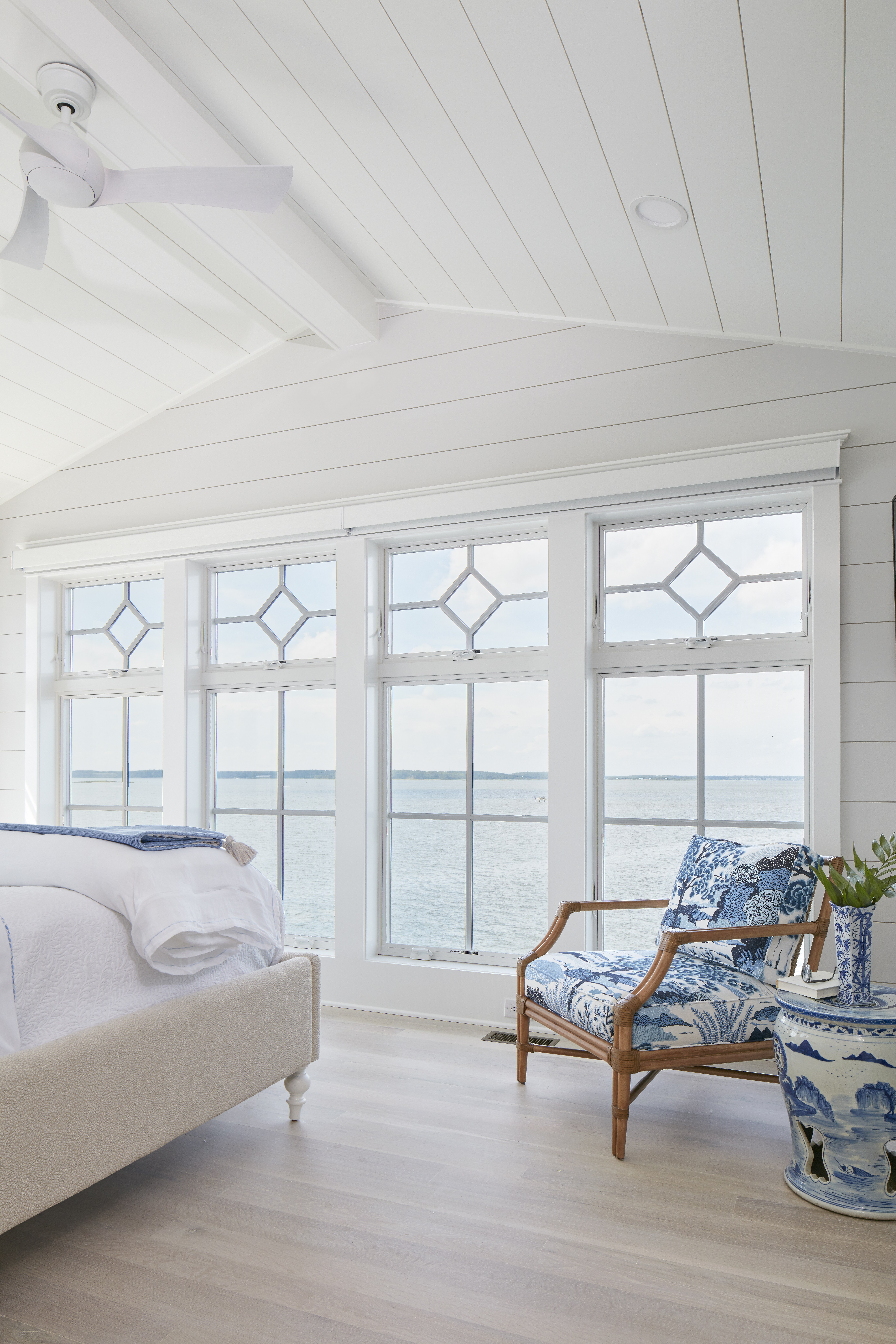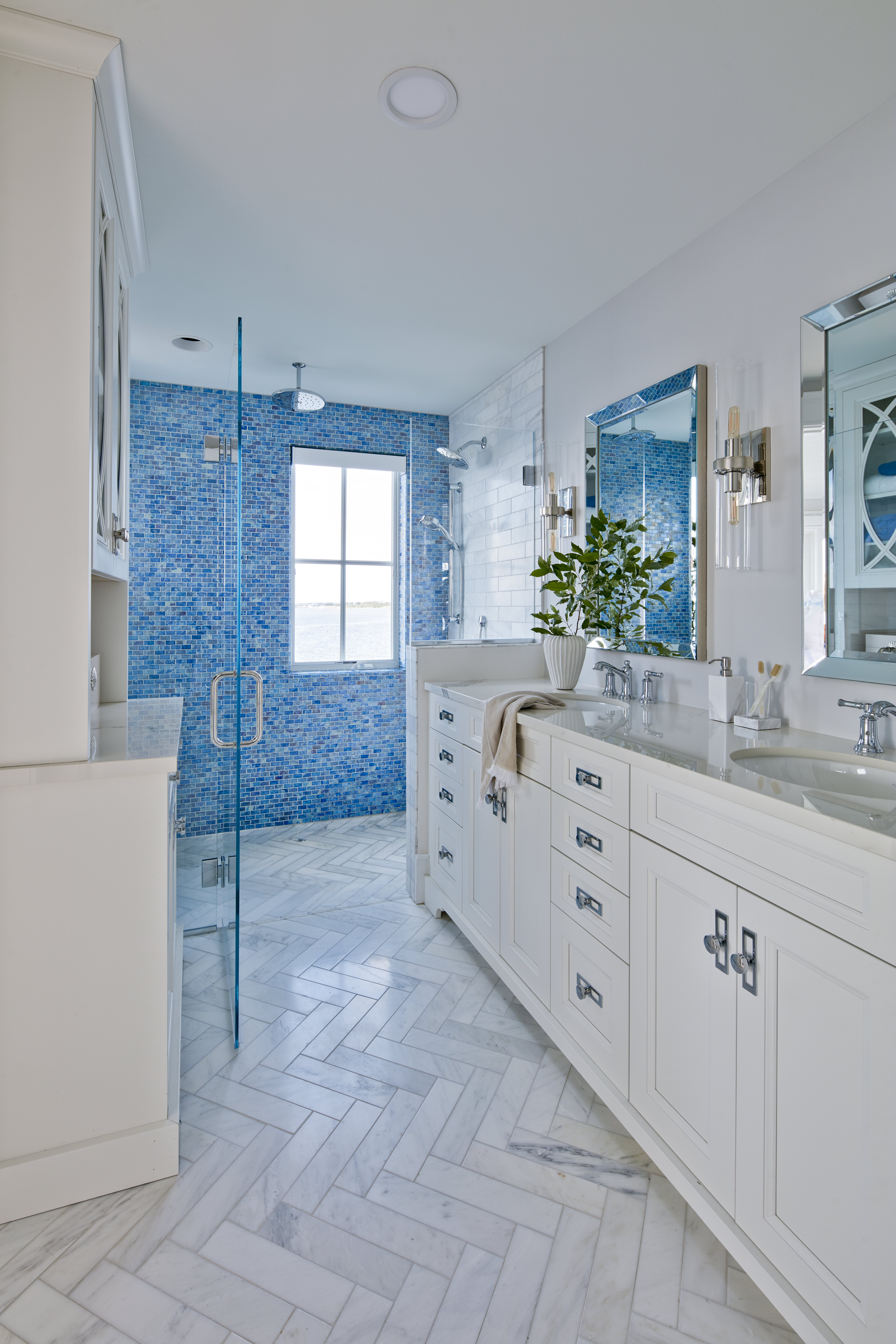 This six-bedroom, 6,800-square-foot oceanfront home boasts a primary suite with cathedral ceiling and vintage wood beams to match the home's roofline. The ensuite bath captures the oceanfront view from every angle. At the sink, you can see the ocean through the reflection in the mirror and the slipper tub and shower also have ocean views. The paint color is Benjamin Moore's Glass Slipper, and sliding glass doors lead to a private balcony.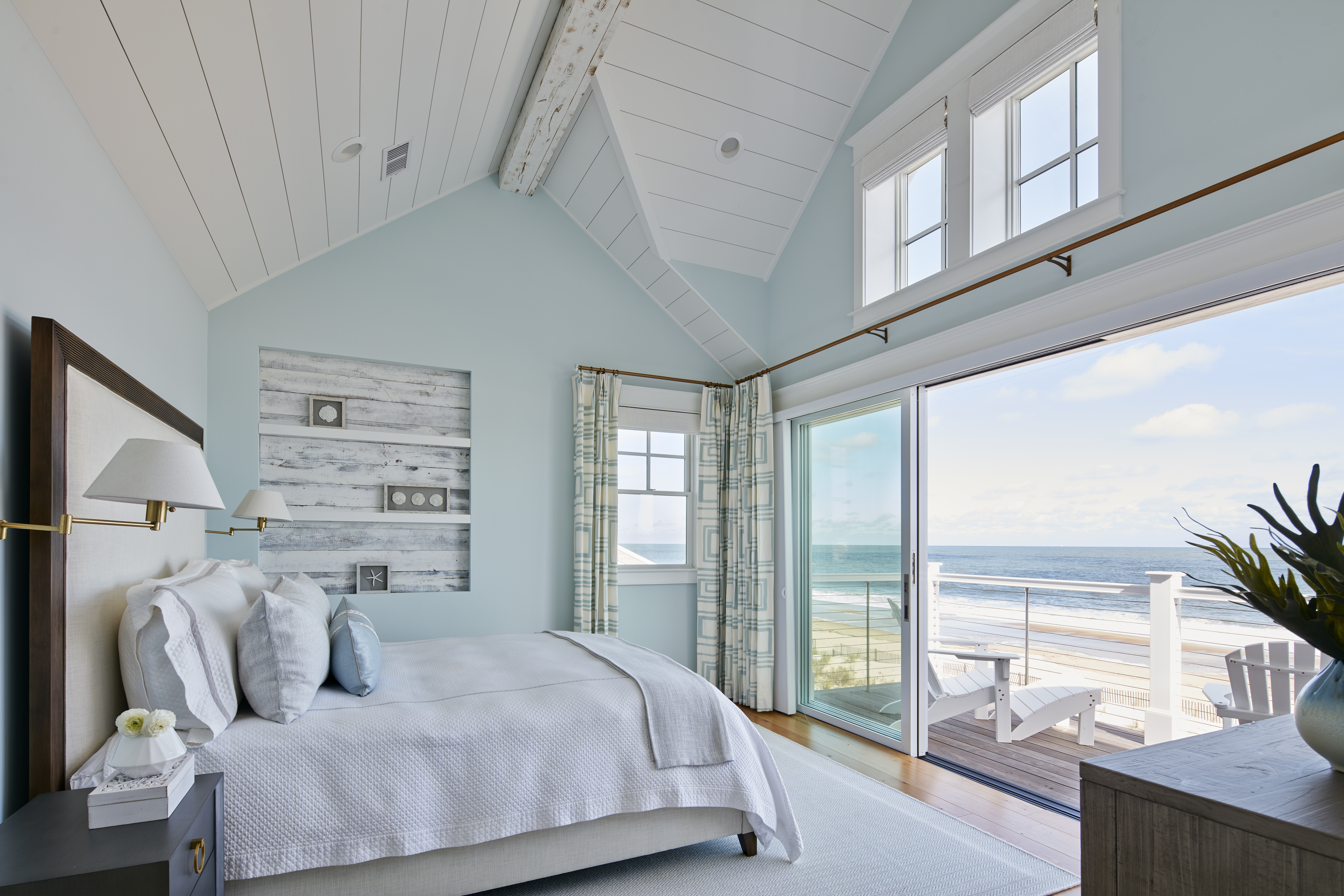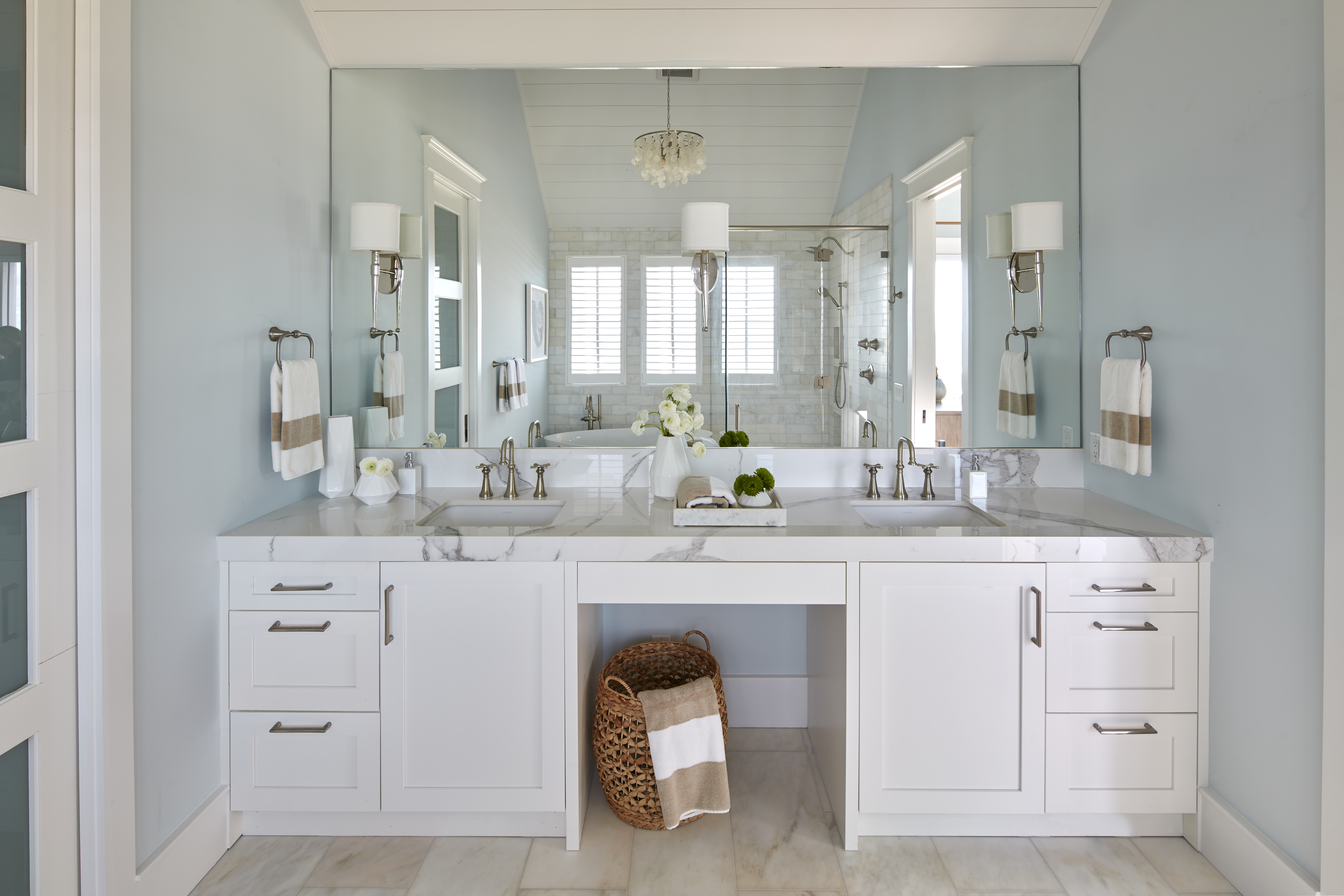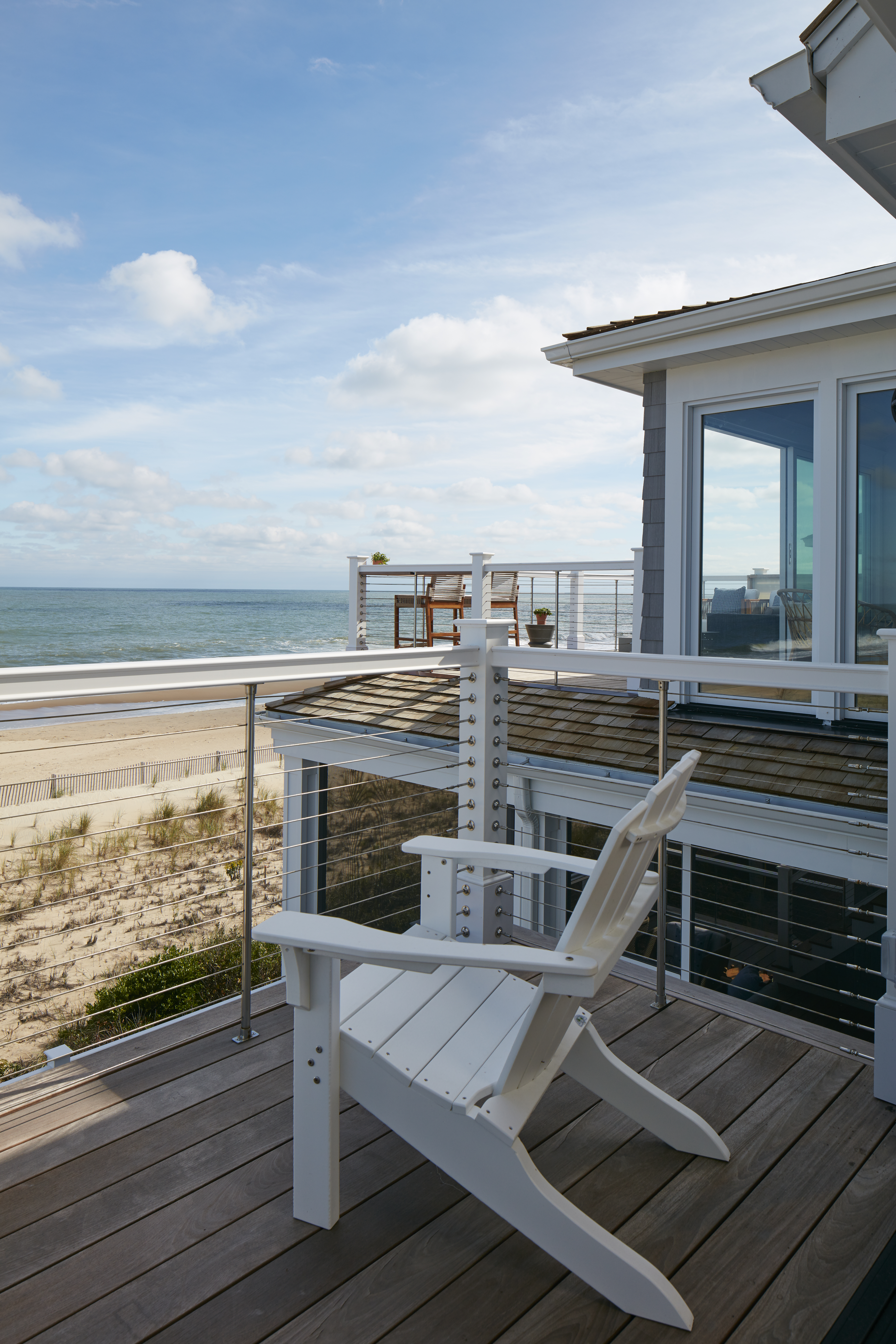 Inspired by the California coast, my vision for this 7,650-square-foot home was to create a contemporary house in a warm and coastal way that not only feels attractive, but also is welcoming. Clean, open, and light-filled rooms are abundant with wall-to-wall glass windows and doors. The fourth floor is dedicated entirely to the primary suite and open ensuite bathroom, which features floor-to-ceiling porcelain, a double slipper tub, zero-entry shower, and views of the Delaware coastline. Privacy concerns are no problem here as we built in remote-controlled blinds that quickly descend with the touch of a button and without getting out of bed.