Bunk Bed Roundup, 10 Designs for the Ultimate Sleepover
If you're familiar with Marnie Custom Homes, you know that each of our builds showcase a variety of living spaces. From double island kitchens and walk-in butler's pantries to retractable screened-in porches and rooftop decks, we know how to design rooms for entertaining and enjoying the beach. But my absolute favorite space to design and build are our bunk bed rooms!
My maternal grandfather was a master carpenter and he taught me the importance of custom millwork—which is why every single MCH bunk bed room contains this signature detail. There are endless possibilities when creating bunk beds, and I view each one as a new challenge. Below, I've compiled a sampling of various bunk configurations we've created. I hope you draw inspiration from these MCH projects, to help create your own ultimate sleepover space.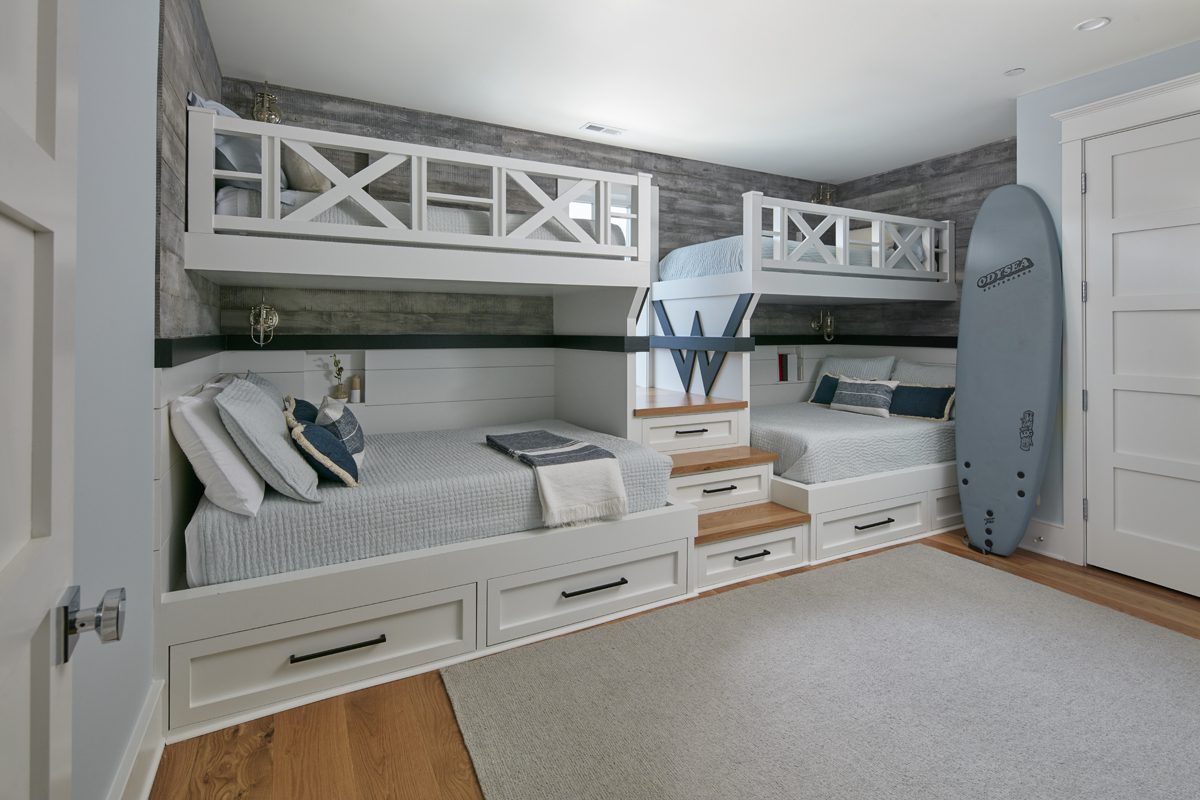 1. In our Saltwater Breezes project, I designed two twin beds over two double beds, with the center stairs doubling as drawers.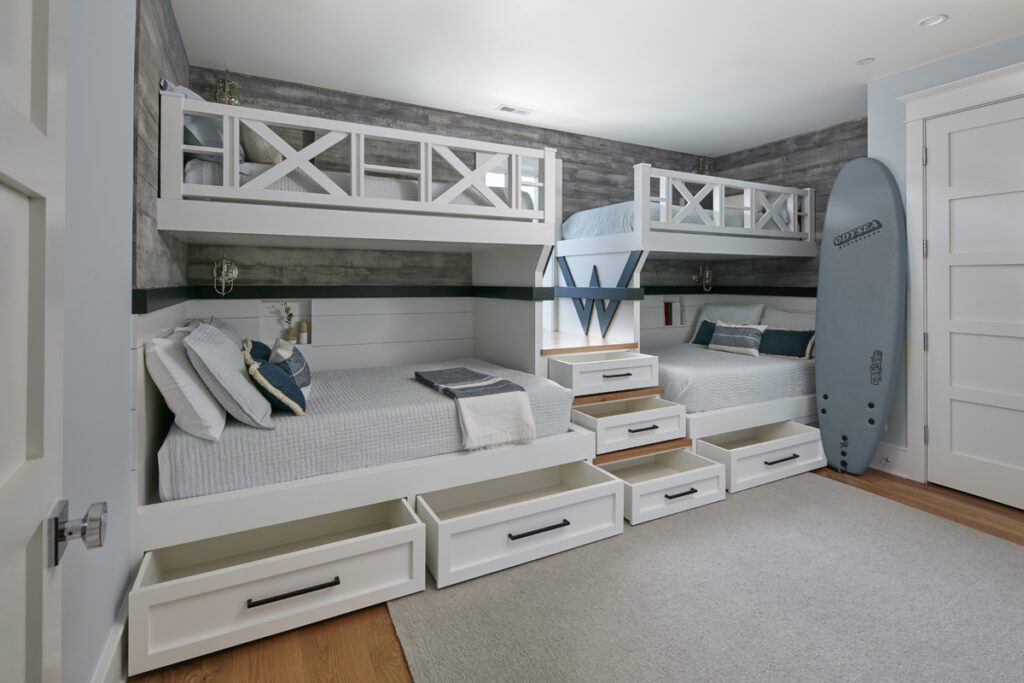 Custom millwork of a "W" is a nod to the homeowner's surname, and additional storage can be found under each double bed. Photos by Dana Hoff Photography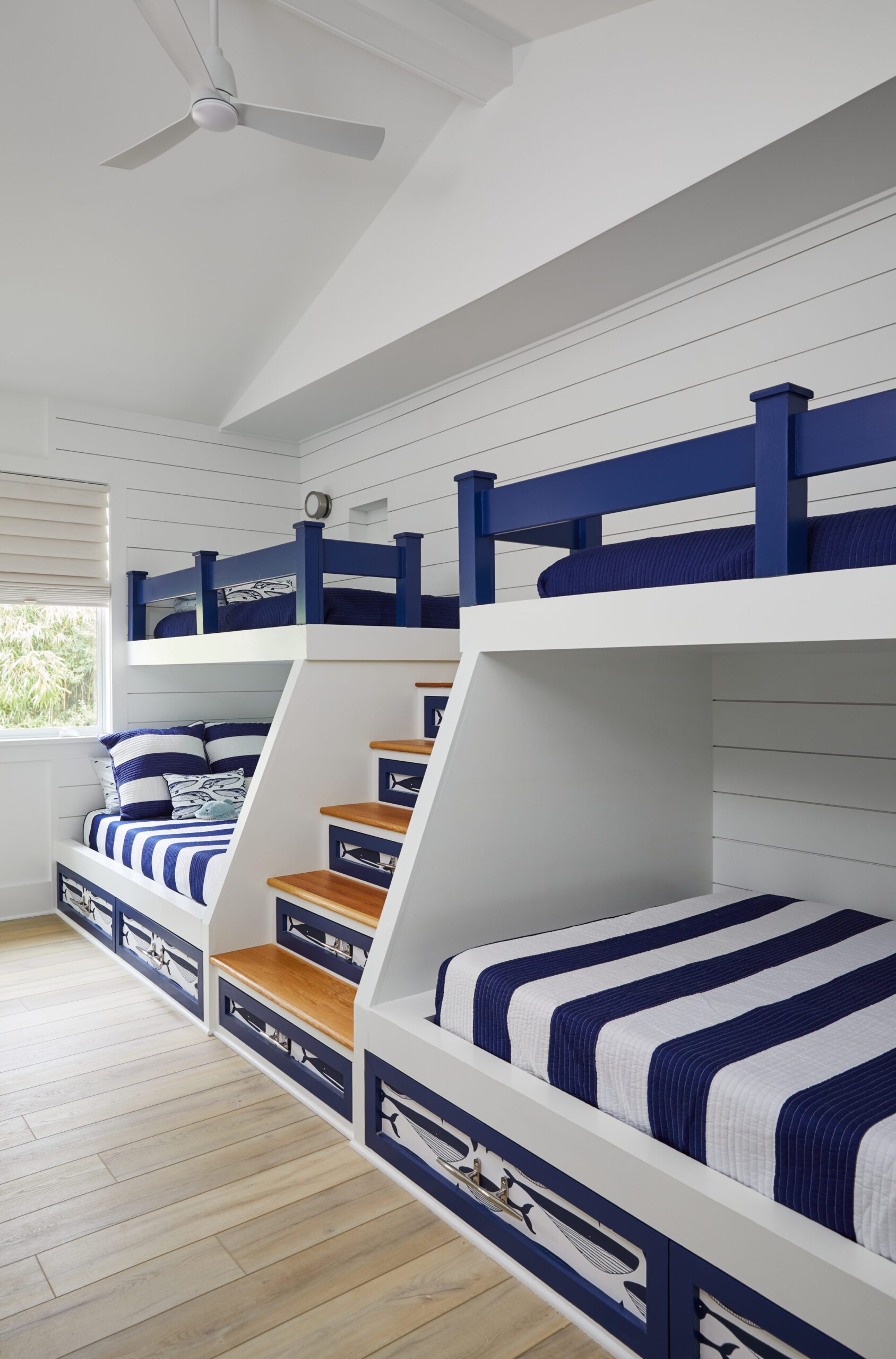 2. In our Gratitude project, I incorporated wallpaper within the stairs which matches the Serena & Lily whale wallpaper in the adjoining bath. This space is perfect for kids, again with pullout storage on the staircase and underneath each bottom bunk. Photo by Keyanna Bowen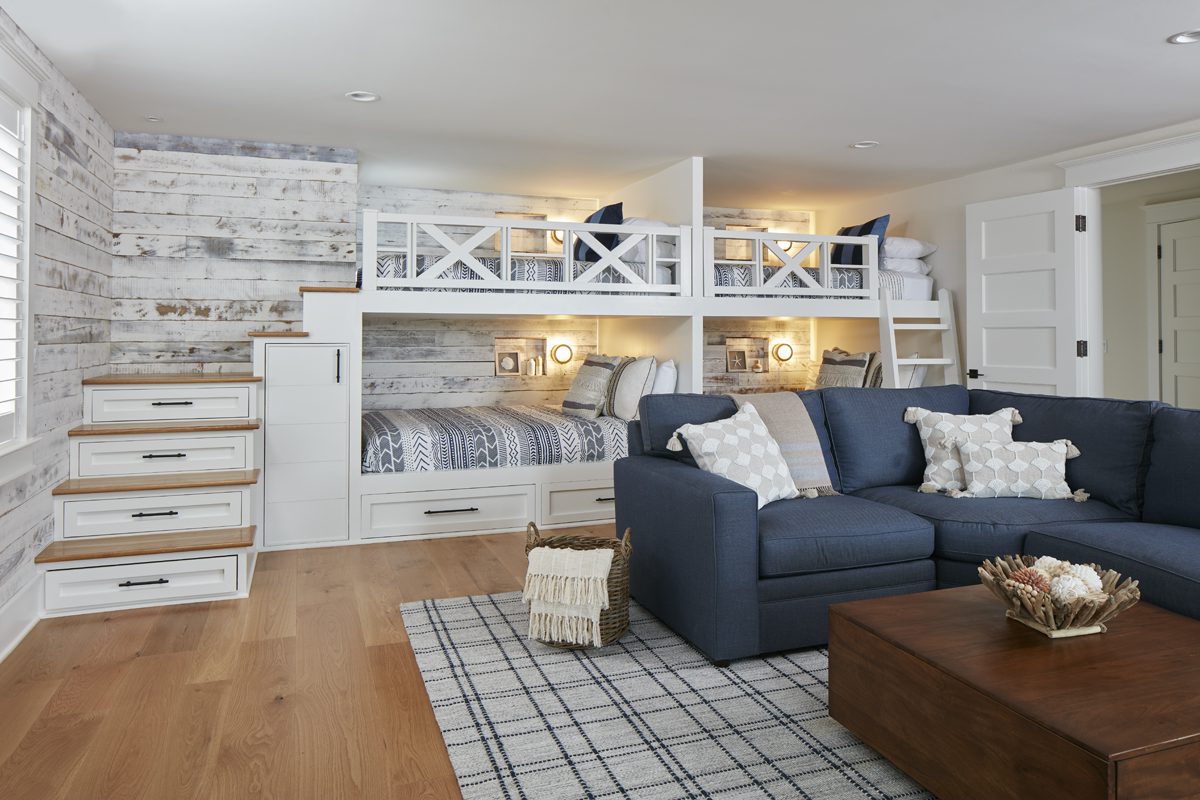 3. In our Kan't Beat the View project, I designed a larger bunk bed space to feature two double-over-double bunks with drawer stairs and ladder. It also includes a "hang out" area with couch, table and TV for the ultimate sleepover room—perfect for kids or adults! Photos by Dana Hoff Photography.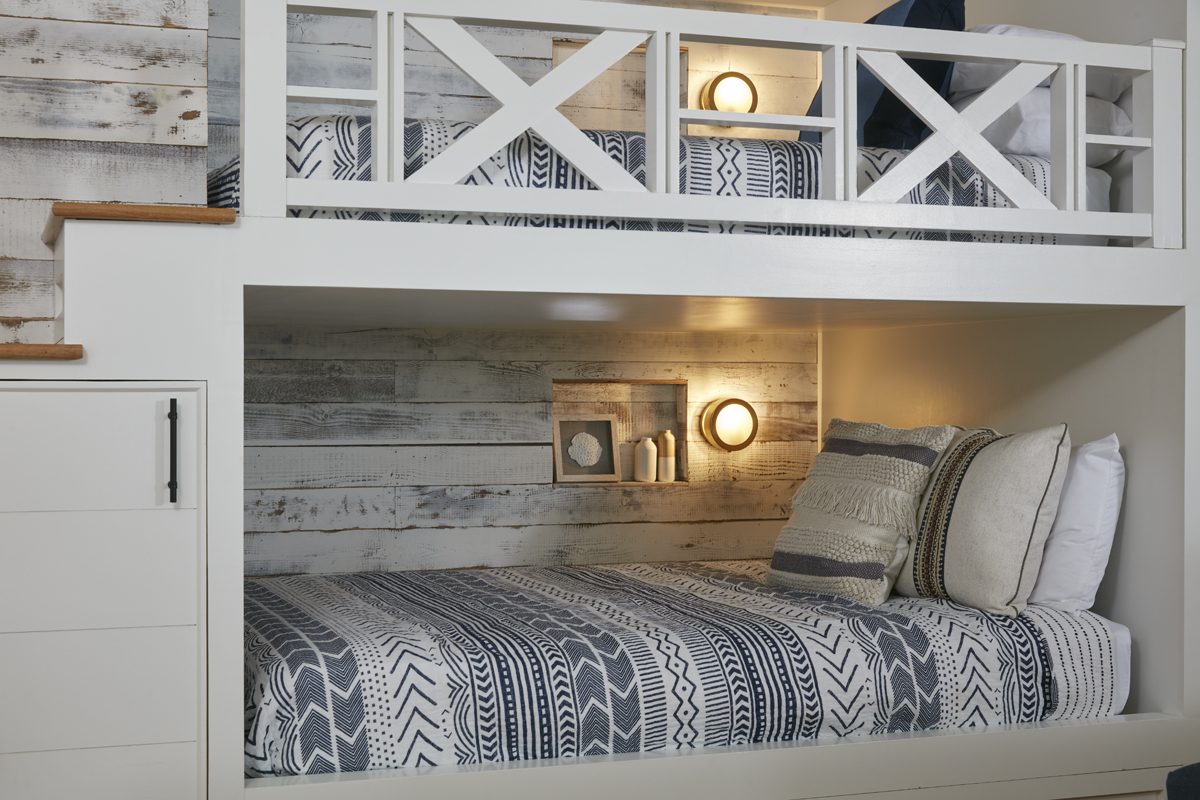 Each bunk bed is designed with its own nook that includes a light, charging station and shelf.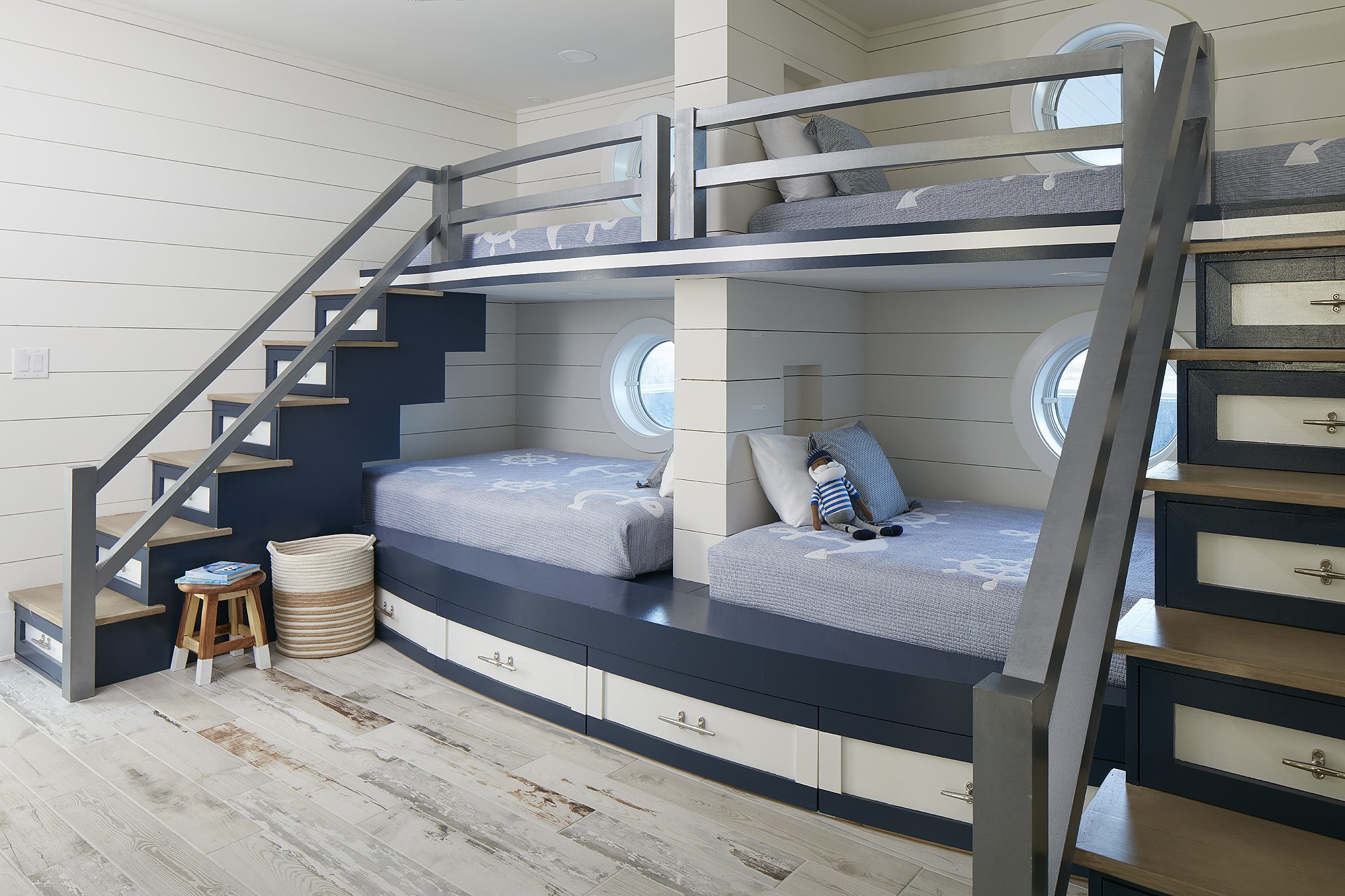 4. For a fun twist in our Such a Treat project, I created two bunk bed rooms! The first is a double bunk with four single beds surrounding a boat-shaped frame, complete with a curved hull and porthole windows looking out to the ocean.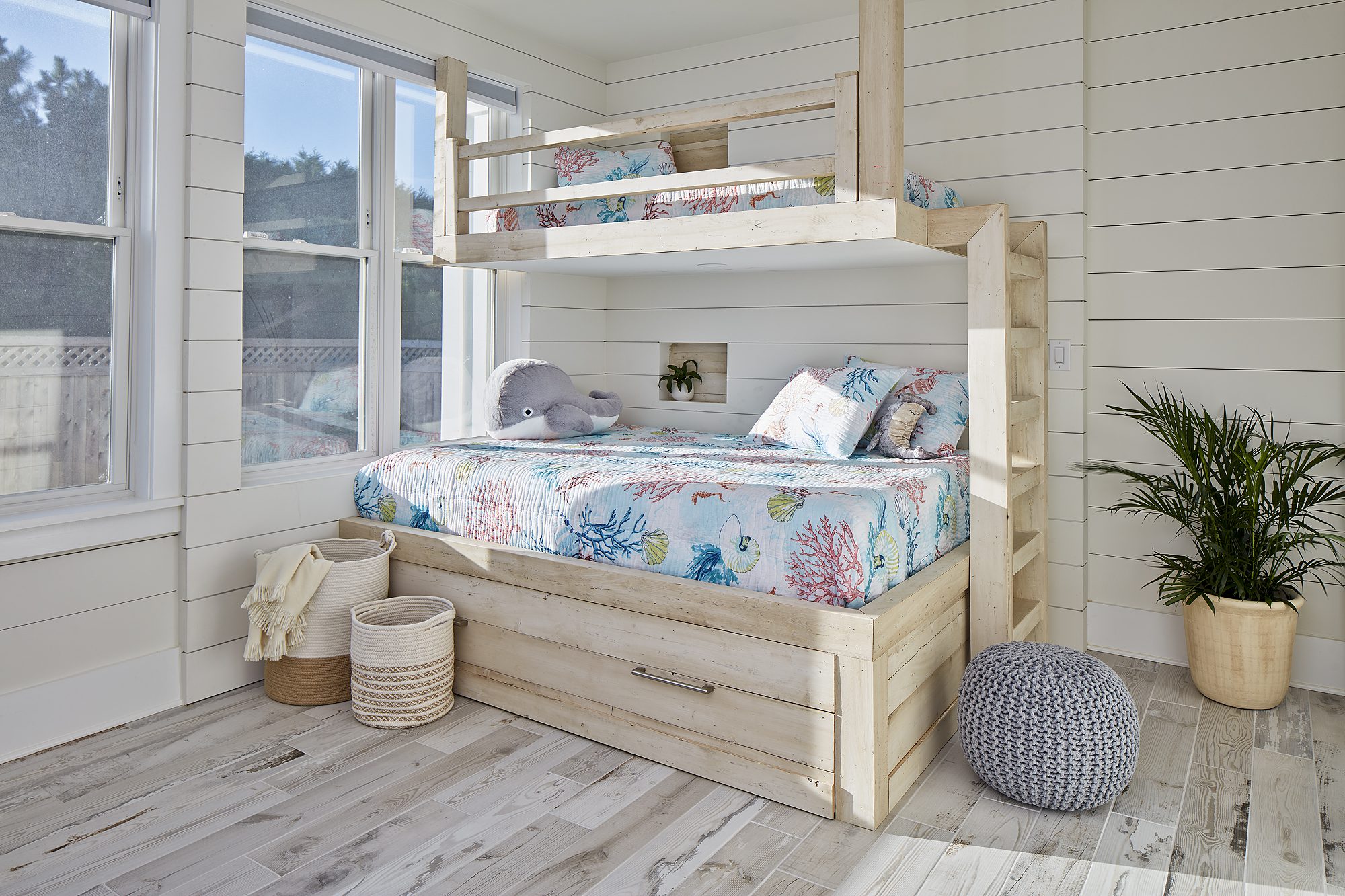 The second bunk space features a natural wood frame, with a single-over-double bed, under bed storage and custom nooks. Photos by Dana Hoff Photography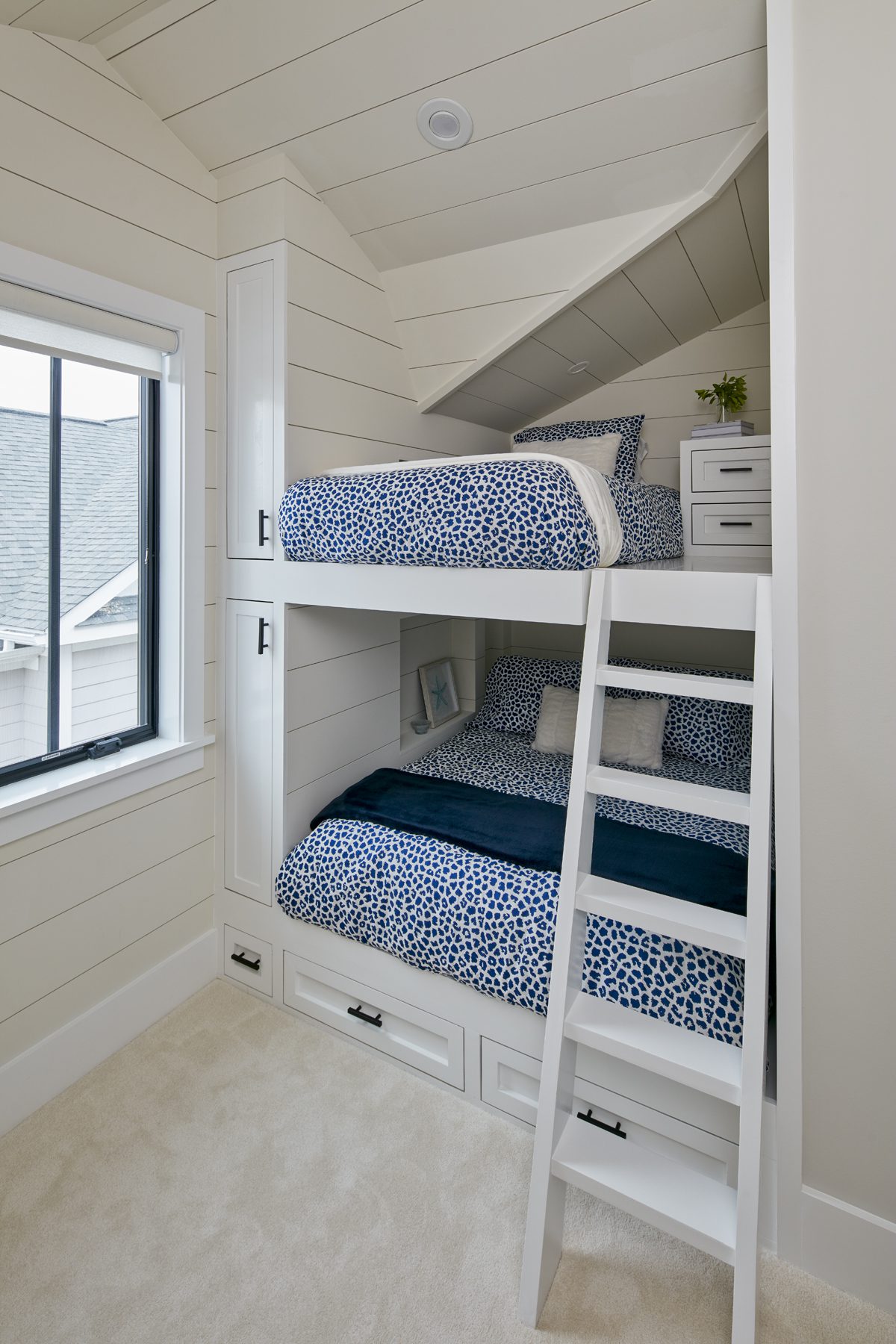 5. Our Weekend at Burnie's project features a bunk room customized for tight spaces. I designed a single twin-over-double bed, with a vertical ladder. Custom storage was included both under the double bed and stacked alongside the wall. Photo by Dana Hoff Photography.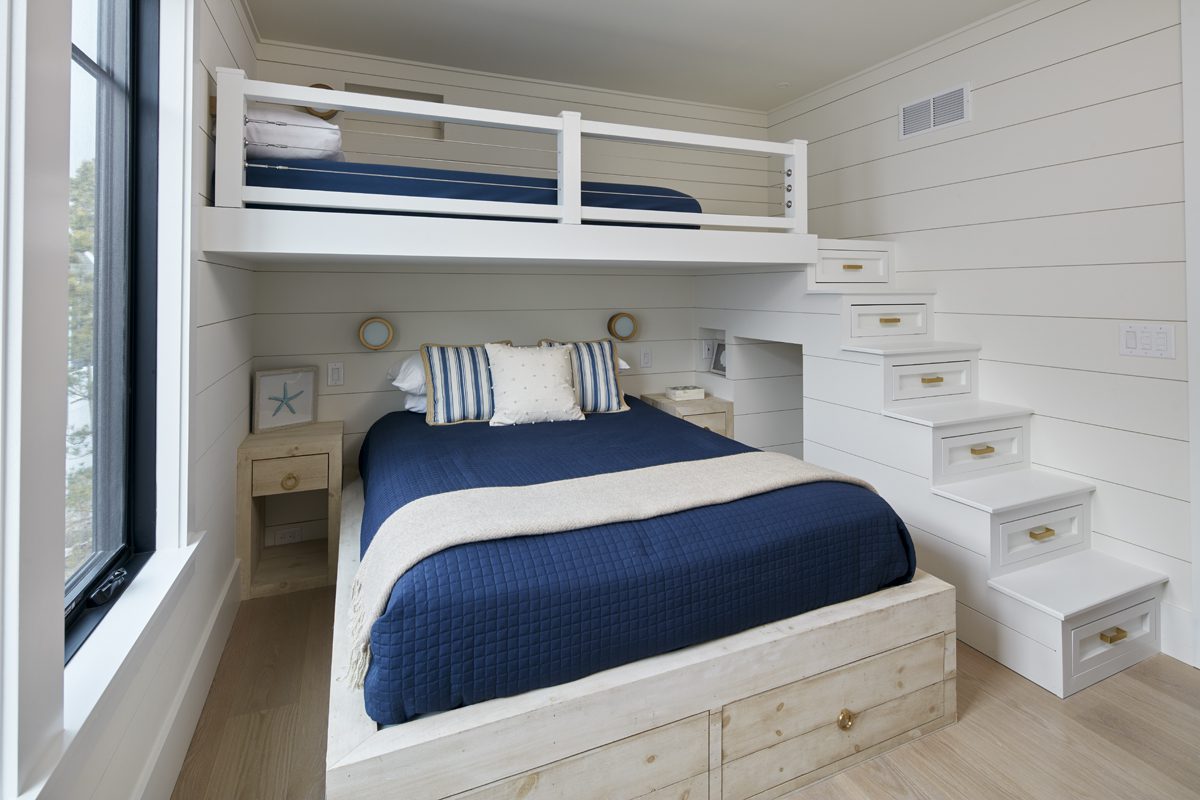 6. A single twin-over-double bed with drawer stairs, custom nook, under bed storage and space for two nightstands was designed in our Double the Fun project. Photo by Dana Hoff Photography.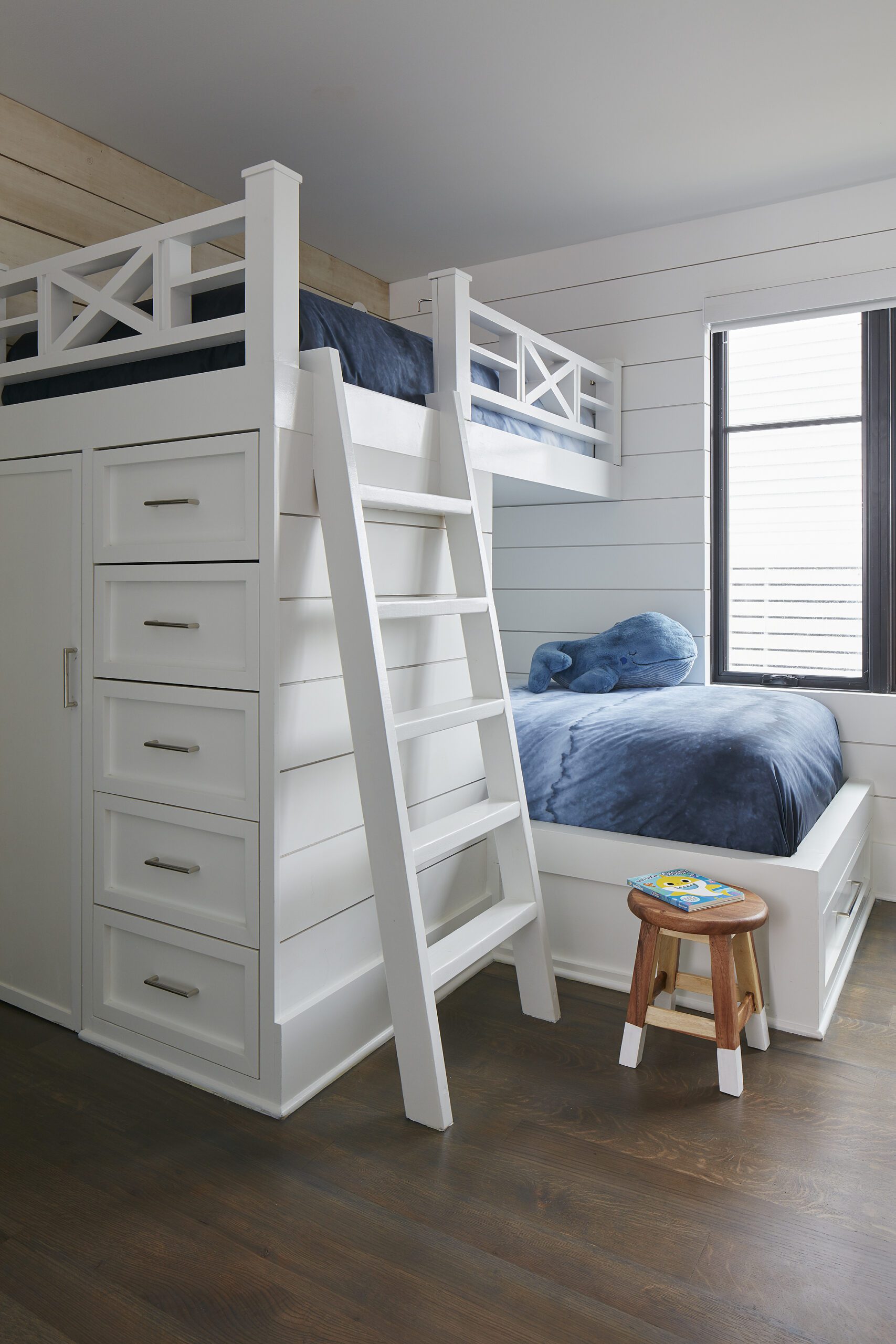 7. In our Surfside project, I designed a stand-alone single twin-over-twin bunk bed, complete with a built-in closet, vertical drawers, ladder and under bed drawer. Photo by Dana Hoff Photography.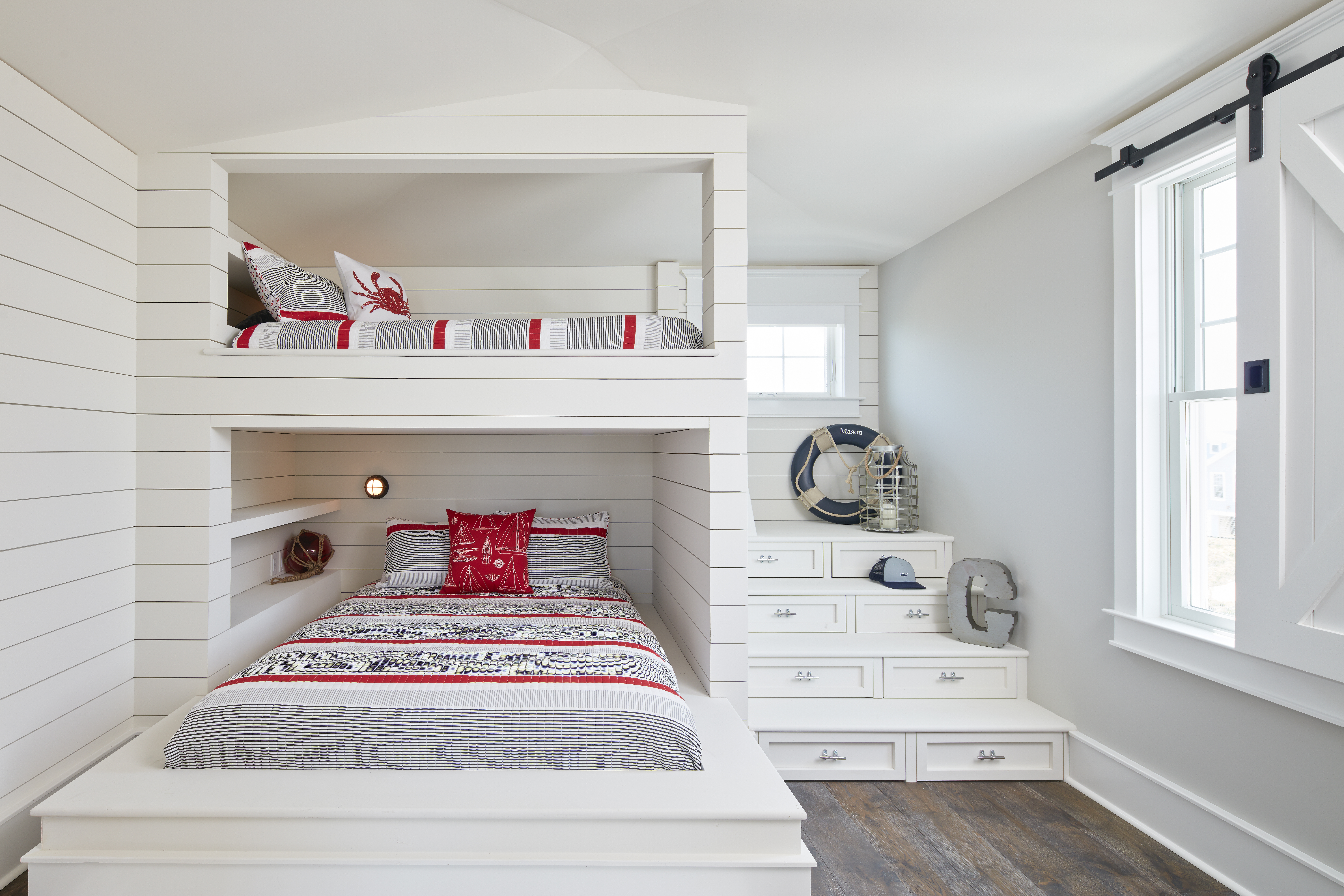 8. I designed adult bunk beds in our Point Break project which features two double-over-double beds and stair storage, with additional space on all side to comfortably move about the room.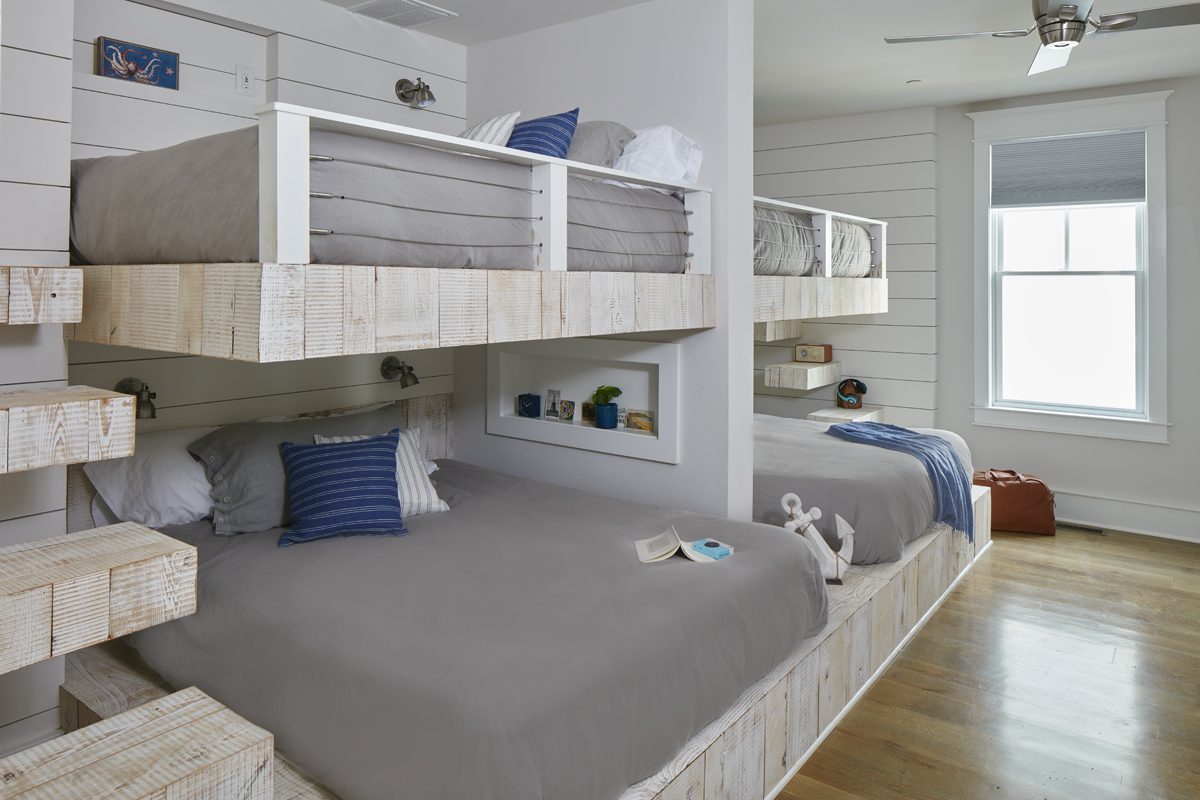 Another adult bunk room I designed was for our A11 Inn project; this one again features double-over-double beds and a unique floating staircase. Photos by Dana Hoff Photography.