3 Ways to Create a Special Space Your Pets Will Love
Pets add life to a home. They're our constant companions, our favorite snugglers, built-in vacuums and floor-cleaners, therapists, workout buddies, and so much more. They share our lives, our hearts, and our homes, and ask for little more than food, clean water, and love. So it's no surprise that more and more homeowners are taking their dogs, cats, and other pets into consideration when building and designing their homes. After all, we all need a quiet place to call our own when life gets a little too hectic, and our four-legged fur babies are no different.
One of the most popular pet-centric requests I get from clients is a built-in indoor dog house/pet door. These little nooks are a great way to take advantage of an underused part of your home – underneath a staircase – to create something your pet will love and that takes up little to no space. Below are three examples of dog digs that your canines (or felines!) will love.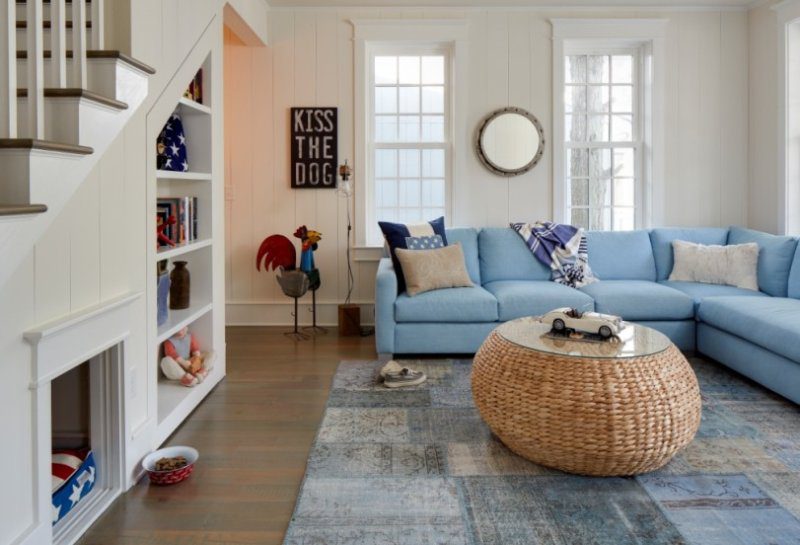 1. Living Room Lounge
The living room is where all members of the family – both two- and four-legged – gather to spend quality downtime together. Give your dog its own special place in the room with an under-the-stairs nook, complete with a cozy dog bed and a bowl of kibble nearby. This is also a great solution for families that prefer to keep their pooches (and their muddy paws, fur, and drool) off the couch. Make Fido's lair even more posh – and seamlessly integrate it into your decor – by using decorative moldings and trim around the opening. This simple step makes the space look an intentional and well-designed space, rather than an afterthought. [See more of this house]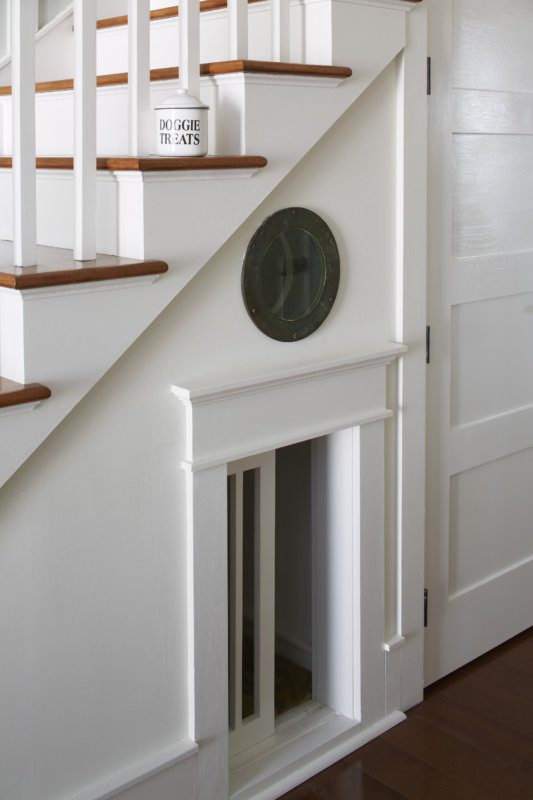 2. Entryway Escape
Not all pooches prefer to be in the thick of things when family and friends gather at your home. Some prefer a separate, quiet space where they can veg out in peace and quiet. Under the stairs in your entryway is a perfect place to create a hidden hideaway for your pet. With guests gathered in the kitchen and other main living areas, the entryway becomes a sanctuary for your pet to unwind and avoid the overwhelming sights and sounds of a party. Here, the addition of a built-in pocket gate allows the homeowners to close their pet in or out as needed. Another bonus of an entryway escape? Your dog will have the best seat in the house when it comes to watching for mom and dad to get home from work. [See more of this house]
3. Designer Doggie Door
In my own home, I opted to use the space under the stairs on the main living floor in two ways – a secret closet (on the right, behind the shelf) and a small pet room. This space can be used by both dogs looking for a den-like setting to relax, or can be used as a space to tuck a cat little box out of sight, while still keeping it accessible for the resident feline. Rather than try to disguise the pet room like I did with the secret closet, I decided to embrace it and give my four-legged friends design-worthy digs with a sliding barn door complete with its own window. We love our pets like family, so I say design for them like family, too! [See more of this house]
To the dog (and cat!) days of design,