7 Outdoor Living Areas That Will Get You Excited for Summer
Summer is almost here, so I'm highlighting a few of my favorite outdoor living areas
complete with pro design tips for inspiration. From firepits and bar swings to crab
shacks and observation decks, these custom spaces capitalize on the best beach living
has to offer.
1. Backyard Oasis – Bay Daze:
View Bay Daze
This home is a classic coastal retreat built for generations to enjoy. The backyard was designed to feel like you are on a tropical retreat with a built-in firepit, hot tub, spalike outdoor shower, and multiple lounging areas that lead to a dock with a boat slip. The outdoor design is accentuated by the expansive bay view.
Pro Design Tip: For outdoor furniture, invest in durable fabrics and make sure you cover them or bring the cushions inside when not in use.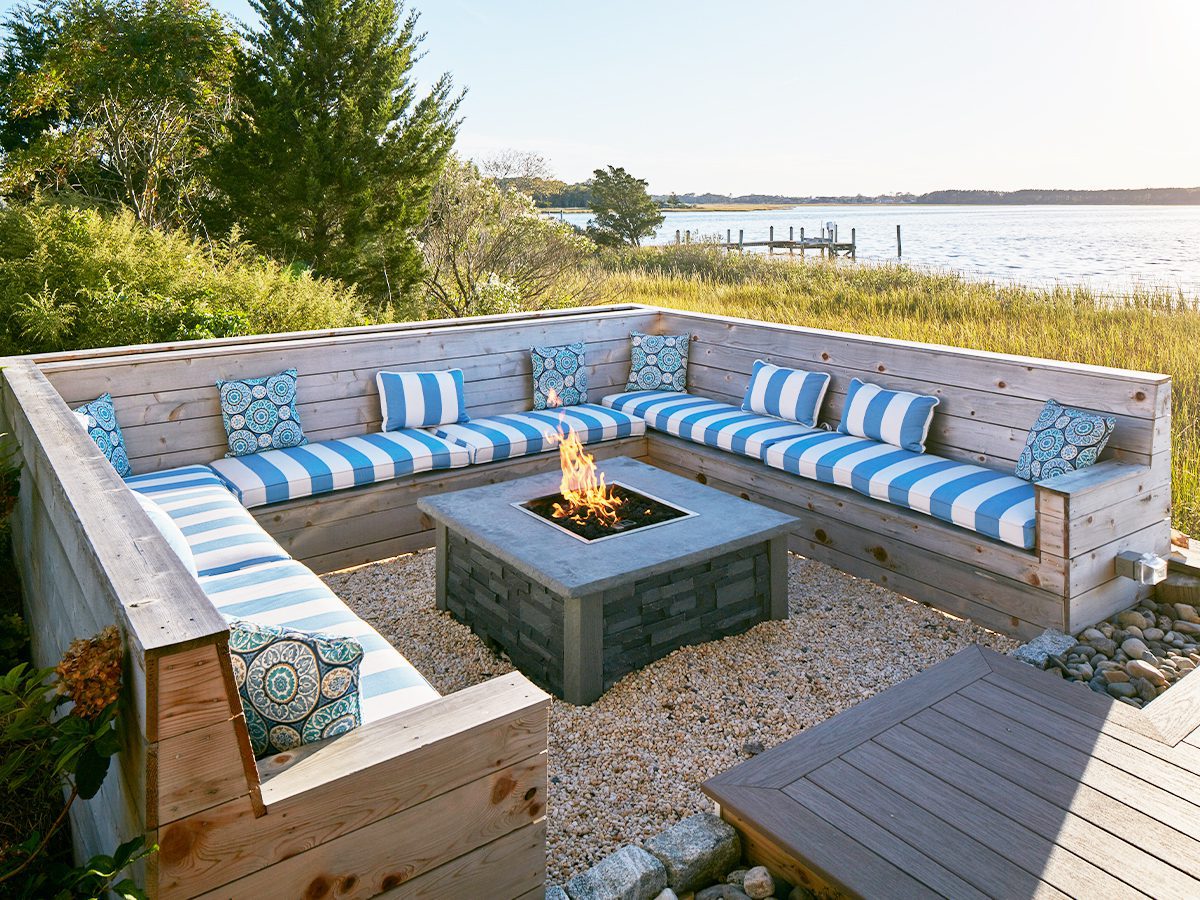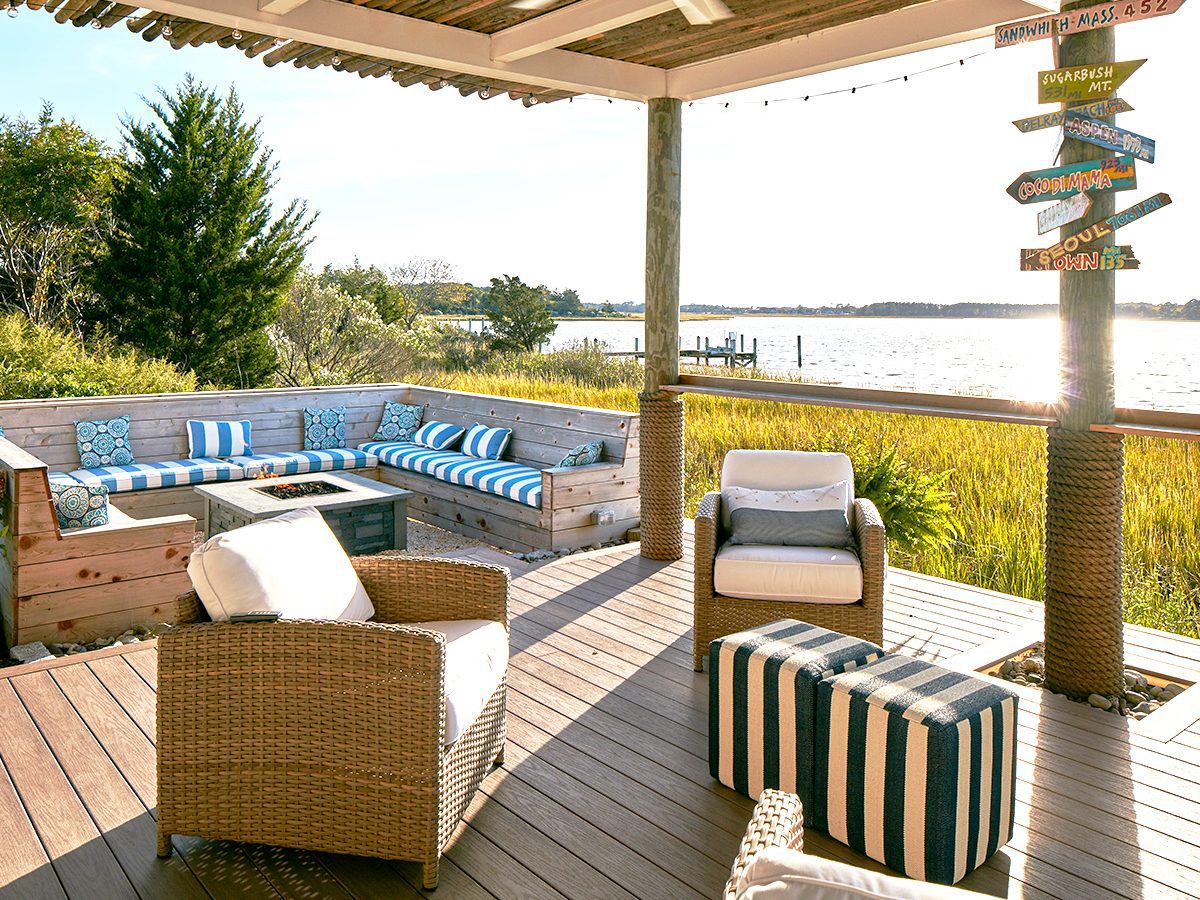 2. Outdoor Bar – Kan't Beat the View:
View Kan't Beat the View
Designed with a direct path to and from the beach, this outdoor bar is ideal for relaxing and entertaining. The swings add a fun element – I was inspired by a recent trip to Mexico where I saw similar swings on an outdoor bar and knew I had to include them in one of our builds.
Pro Design Tip: Easily create ambiance by hanging string lights that are fun and inexpensive — and you don't need to hardwire the lights.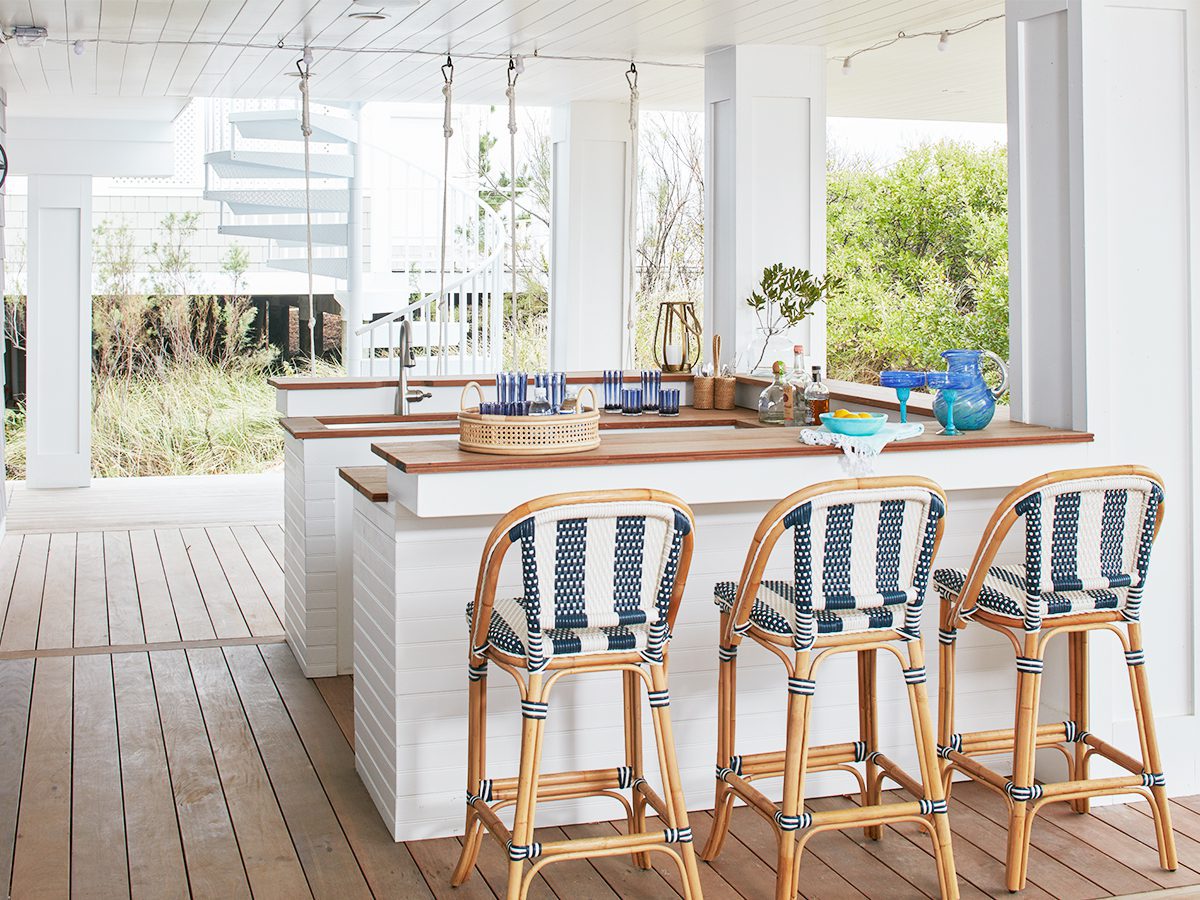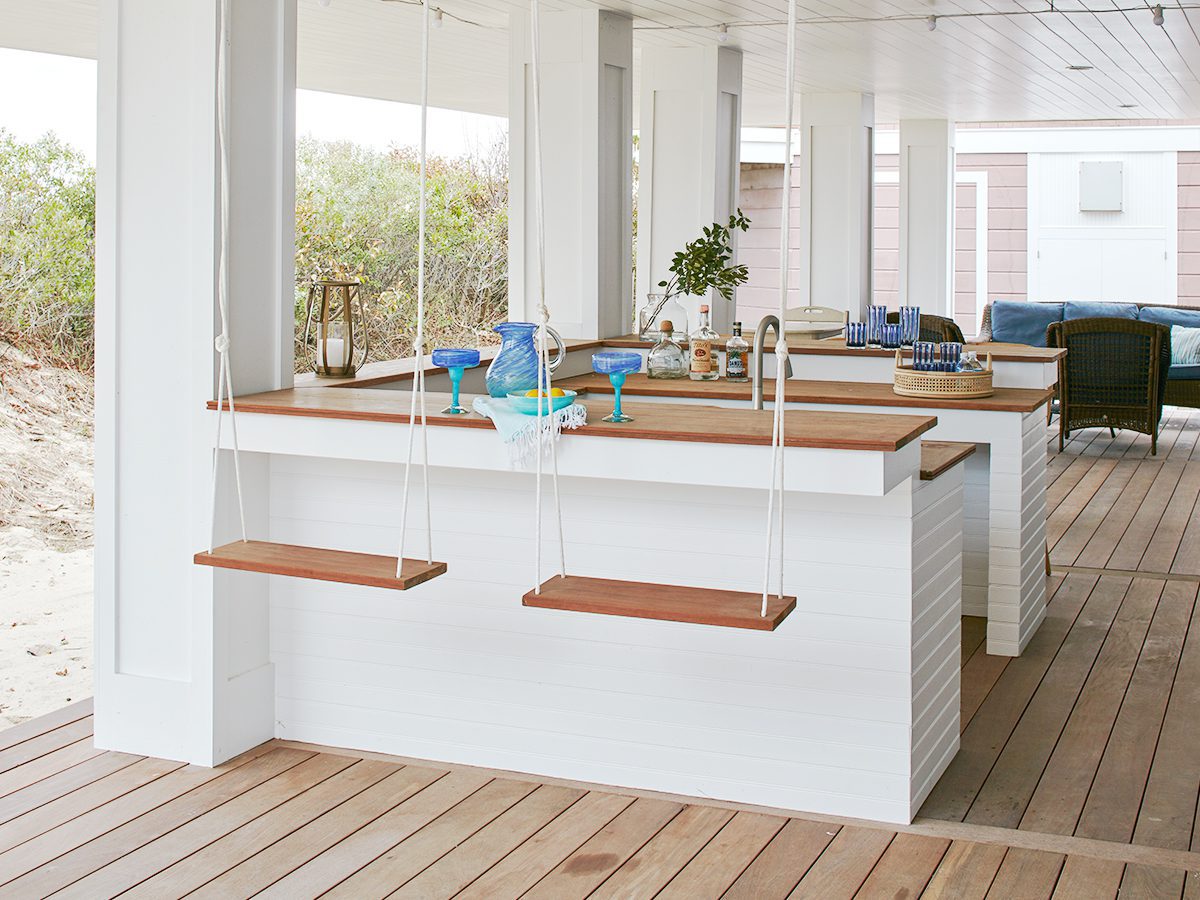 3. Oceanfront Pool – X-ta-Sea:
Link coming soon!
There is nothing like having your own pool quite literally on the beach. It's the ultimate vacation home dream! This pool area also includes a screened-in porch and outdoor kitchen complete with a pass-through window directly from the indoor bar. La Cantina sliding glass doors are fully open to make this a true indoor/outdoor living space.
Pro Design Tip: Invest in your outdoor furniture as you would with indoor furniture so it holds up year to the year versus having to replace items frequently.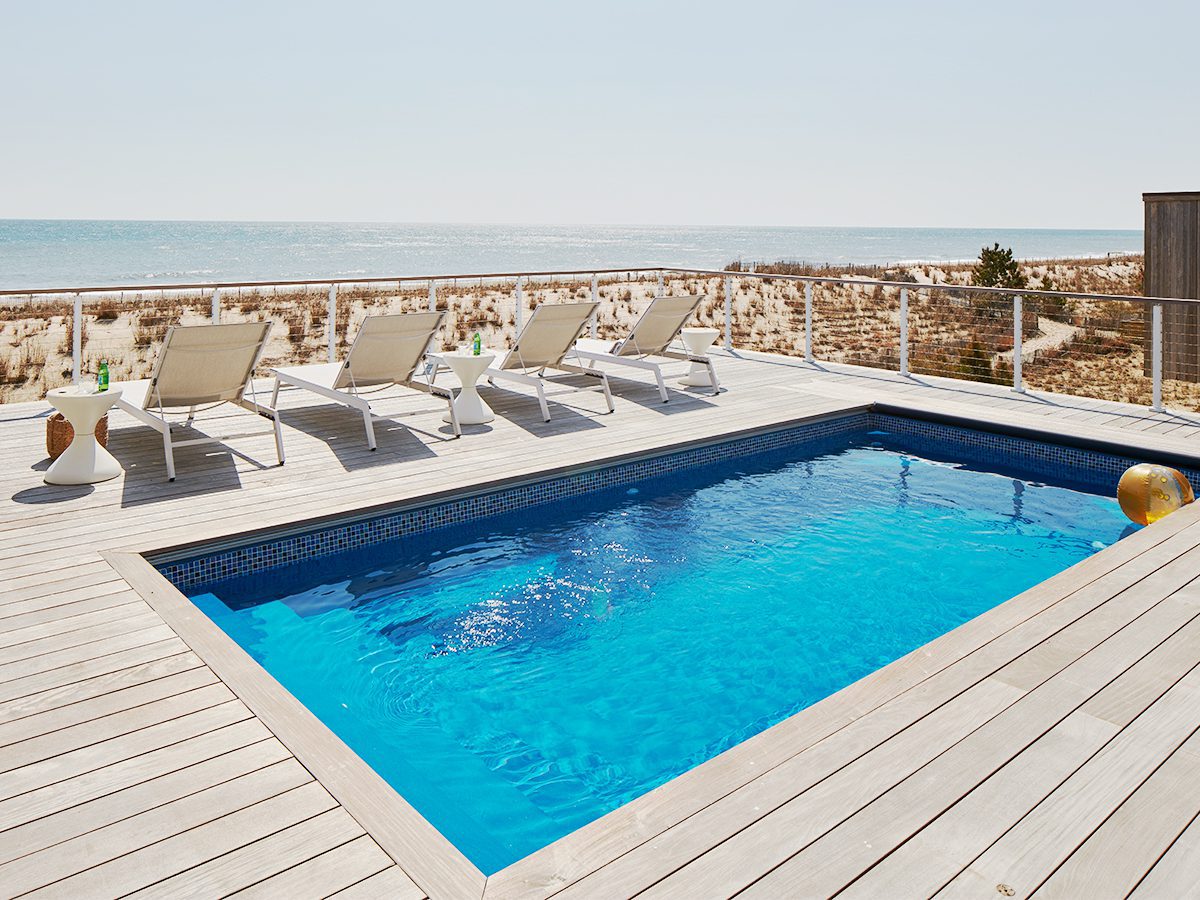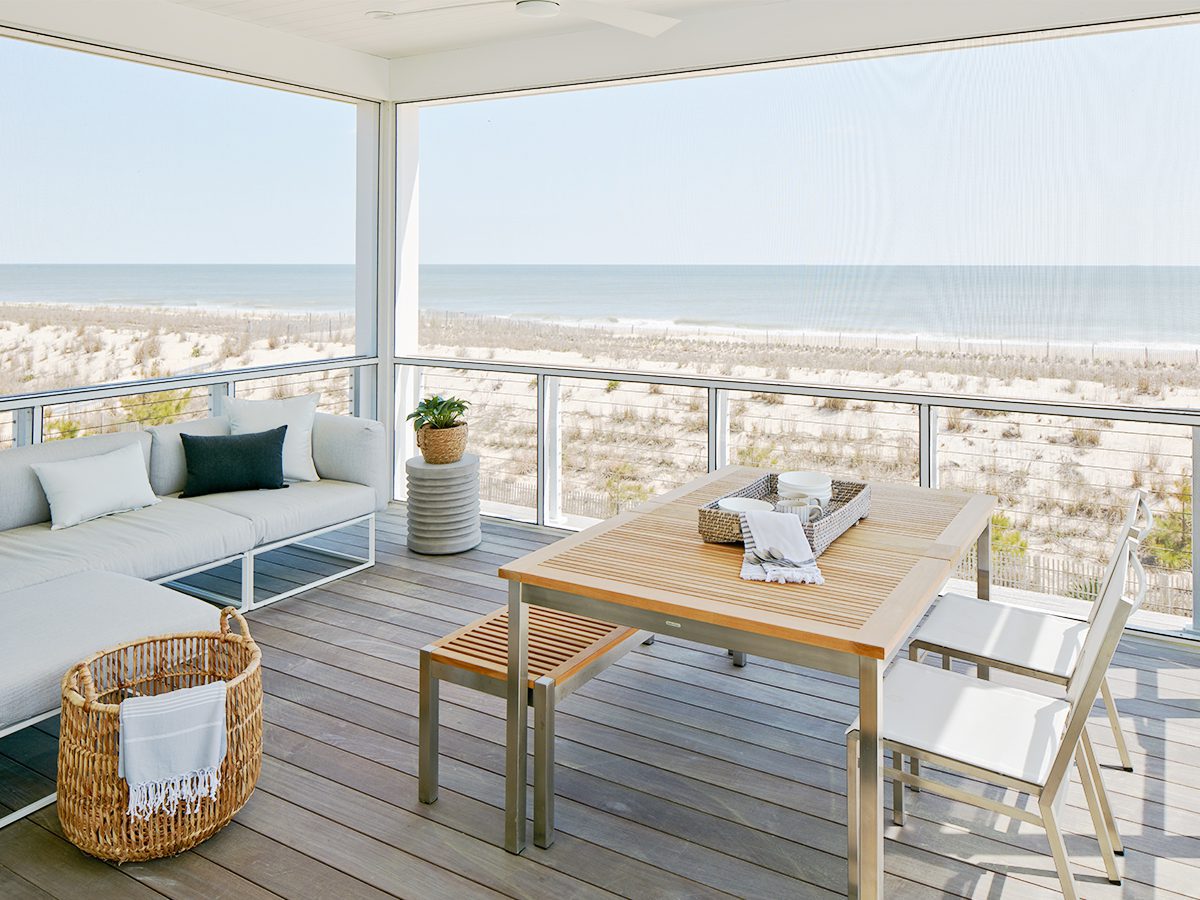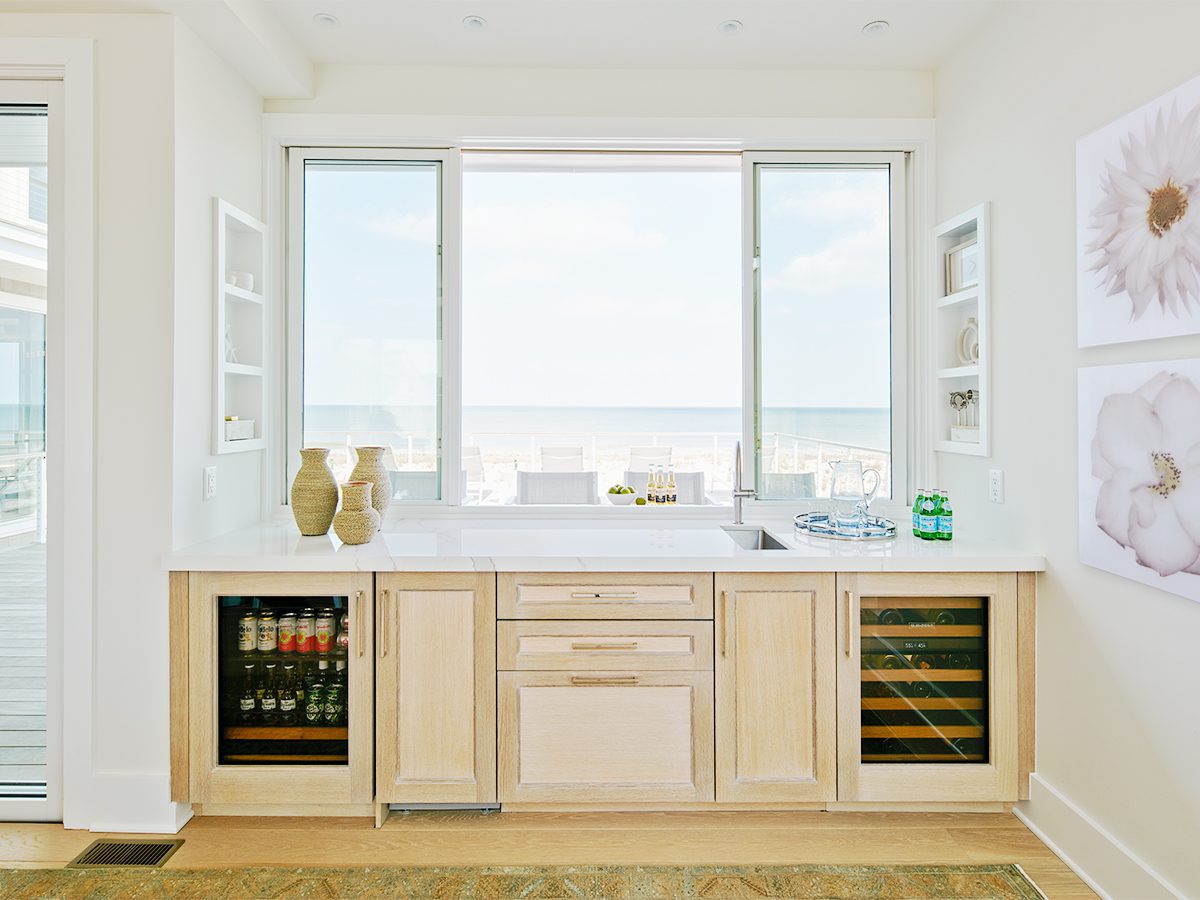 4. Custom Crab Shack – Paradise Point:
View Custom Crab Shack
One of our favorite features of this home is our first-ever crab shack! An indoor/outdoor space that can be hosed down after use—ideal for large crab feasts. Simply open the garage door and enjoy the expansive bay views by the firepit.
Pro Design Tip: For outdoor furniture that can withstand ocean living weather, I suggest selecting furniture made from high-density polyethylene (HDPE), such as the Adirondack chairs shown here, as they won't rust or corrode.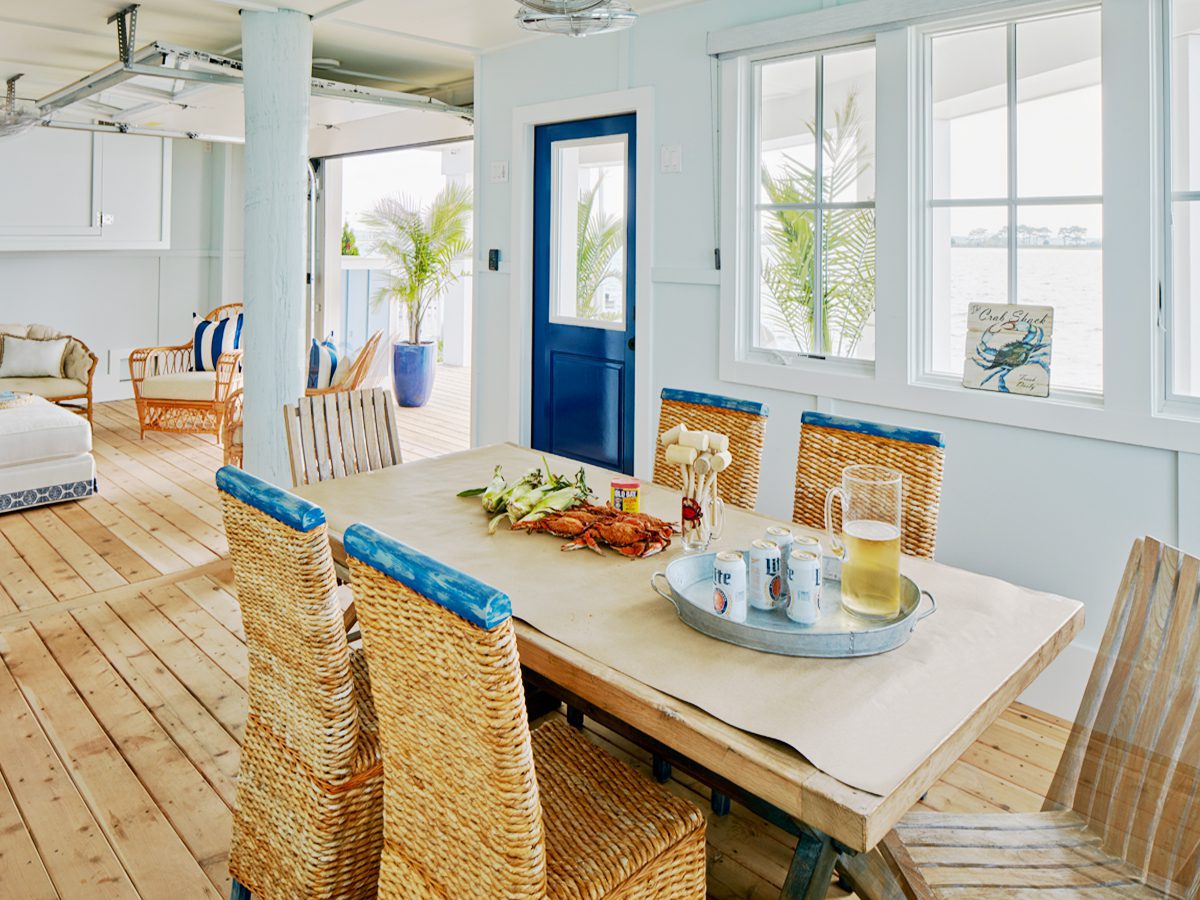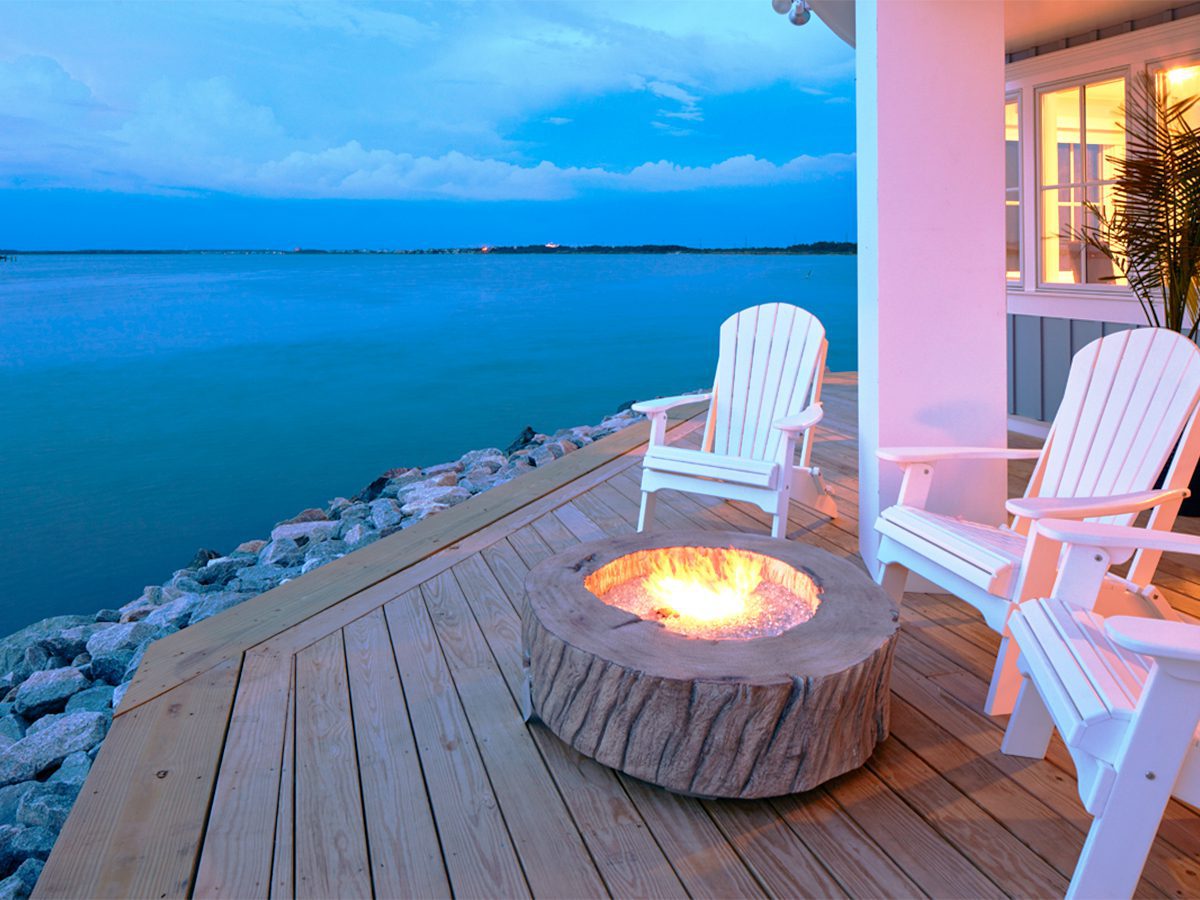 5. Outdoor Kitchen – A11:
View Outdoor Kitchen – A11
I designed this kitchen for optimal indoor/outdoor living. If you zoom in, you can see the concrete countertop which was chosen for its durability in a beach climate. The pass-through, garage-style door adds a fun design element that keeps the flow open from the indoor and outdoor kitchen. The location of this setup is key as it's a stone's throw away from the beach, so you can hop off the beach for a quick lunch here and head straight back without going inside.
Pro Design Tip: In planning an indoor/outdoor space, you still need to think about proper traffic flow, just as you would in an open floor plan to ensure proper flow.
6.Screened-in Porch – Double the Fun:
Website Link Coming Soon!
This screened-in porch features a controlled phantom screen that completely retracts via remote control for an even better ocean view. Directly outside this area, a spiral staircase leads up to a rooftop deck with a custom built-in bench and firepit.
Pro Design Tip: Don't crowd your space with furnishings. Select functional pieces that allow you to enjoy the space as it was designed.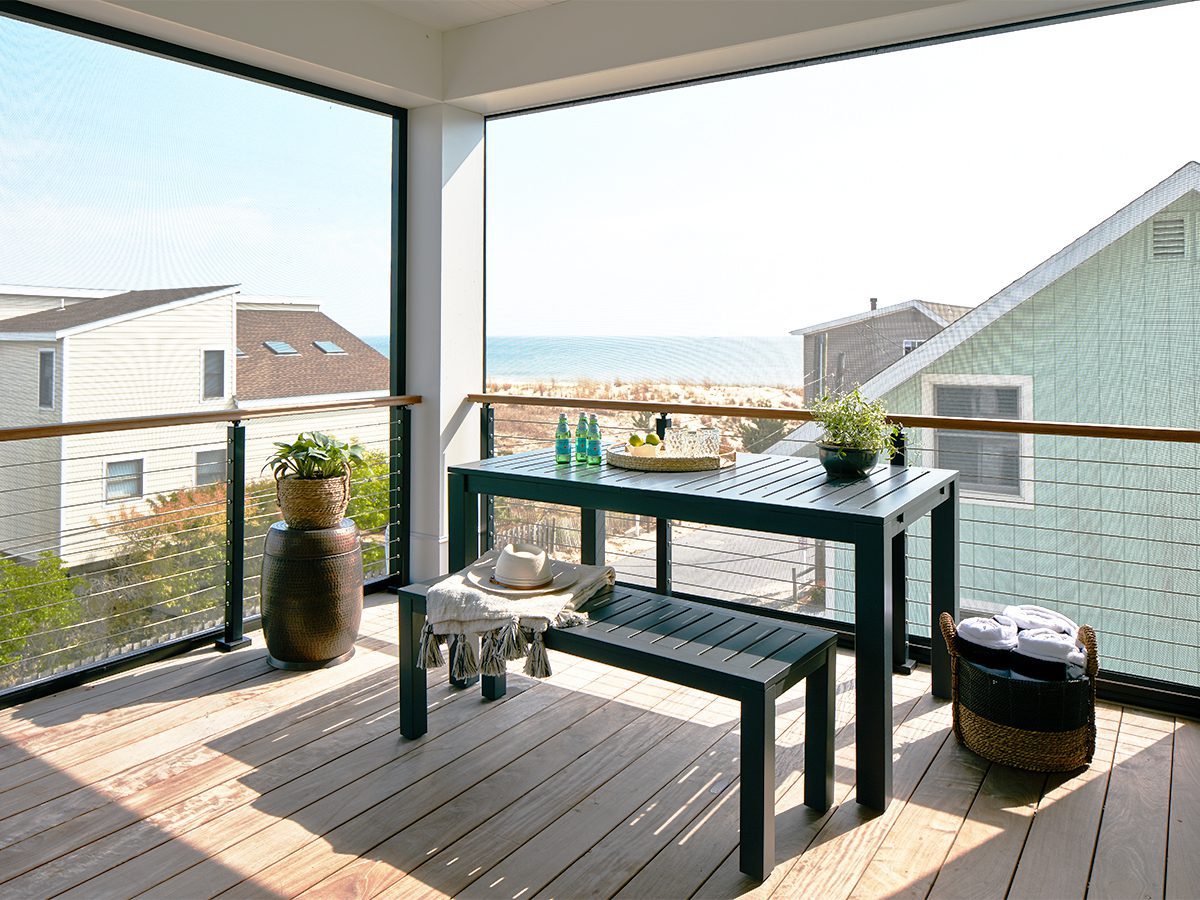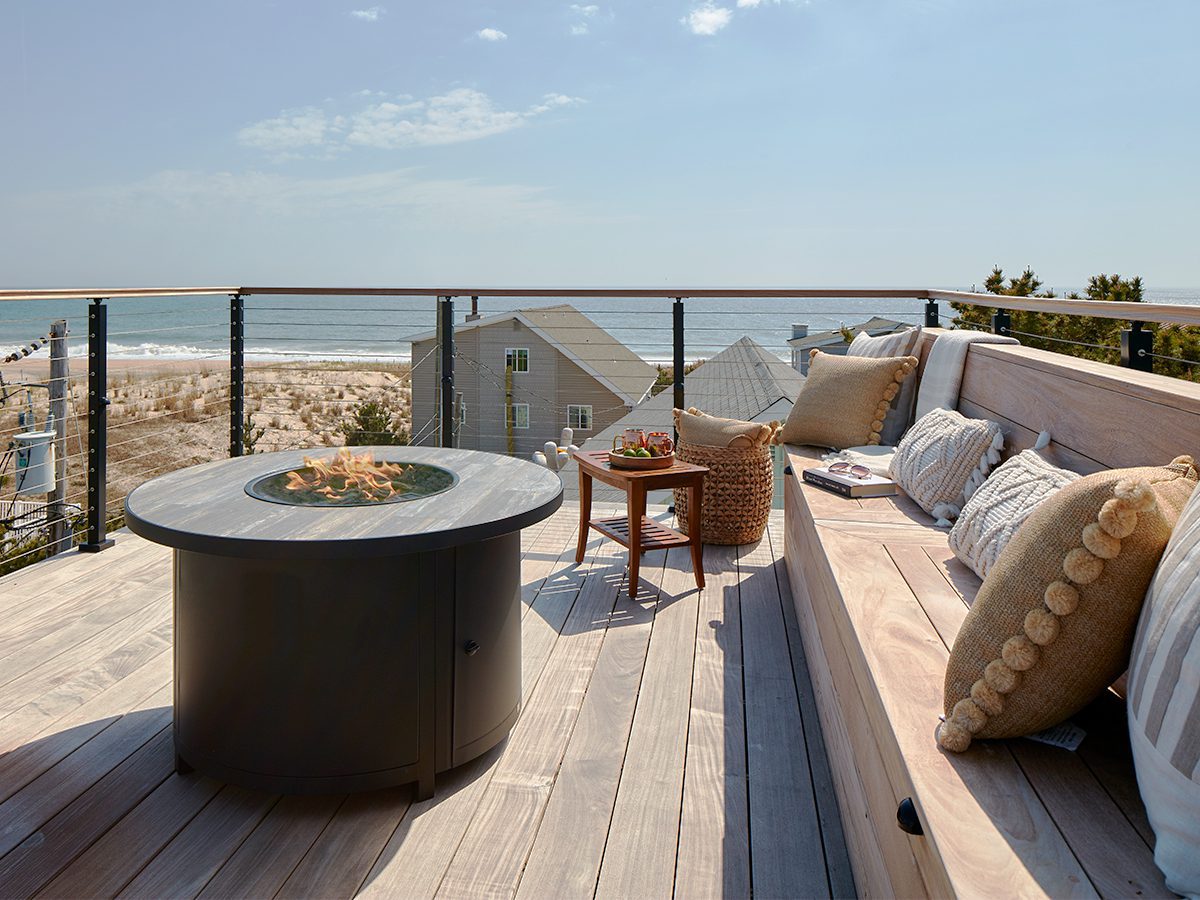 7.Observation Deck – Kan't Beat the View:
For truly panoramic oceanfront views, this custom observation deck is one of many outdoor areas to entertain or enjoy in seclusion. The space boasts a firepit and multiple seating areas to take in the oceanfront views, creating an outdoor area you can enjoy year-round.
Pro Design Tip: When creating multiple outdoor areas such as a sitting and firepit area, leave enough room between them so it flows naturally. Outdoor rugs are a great option to distinguish and separate spaces.