2021 Marnie Custom Homes Project Spotlight
As 2021 comes to an end, it's amazing to reflect back on how many projects the Marnie Custom Homes team completed in just one year (and during extremely unprecedented times). This year has brought its challenges from industry-wide material shortages to shipping delays and more; however, my team and I stayed the course and built 10 homes from start to finish.
Below I've highlighted a few of our favorite builds which feature some pretty phenomenal spaces including indoor/outdoor rooms, adult bunk bed rooms, custom bars and more. I hope you enjoy these latest Marnie Custom Home showcase pieces and from my team to yours, we wish you a healthy and happy holiday season.

1. Paradise Point:
Located in Fenwick Island, this 2,900-square-foot bay front home is literally like living on a boat. It's situated on a peninsula offering panoramic views of the bay, so for the design I wanted to make sure the rooms were architecturally appealing not just from the inside, but also outside looking in from the water.
A coastal design is achieved with classic blues and crisp whites throughout with random width white oak floors in a custom white stain. The large glass multi-glide door off of the kitchen captures amazing views and a stunning kitchen features extra thick porcelain countertops, a blue island with matching blue front glass cabinets and a gorgeous glass mosaic backsplash that glistens in the sunlight.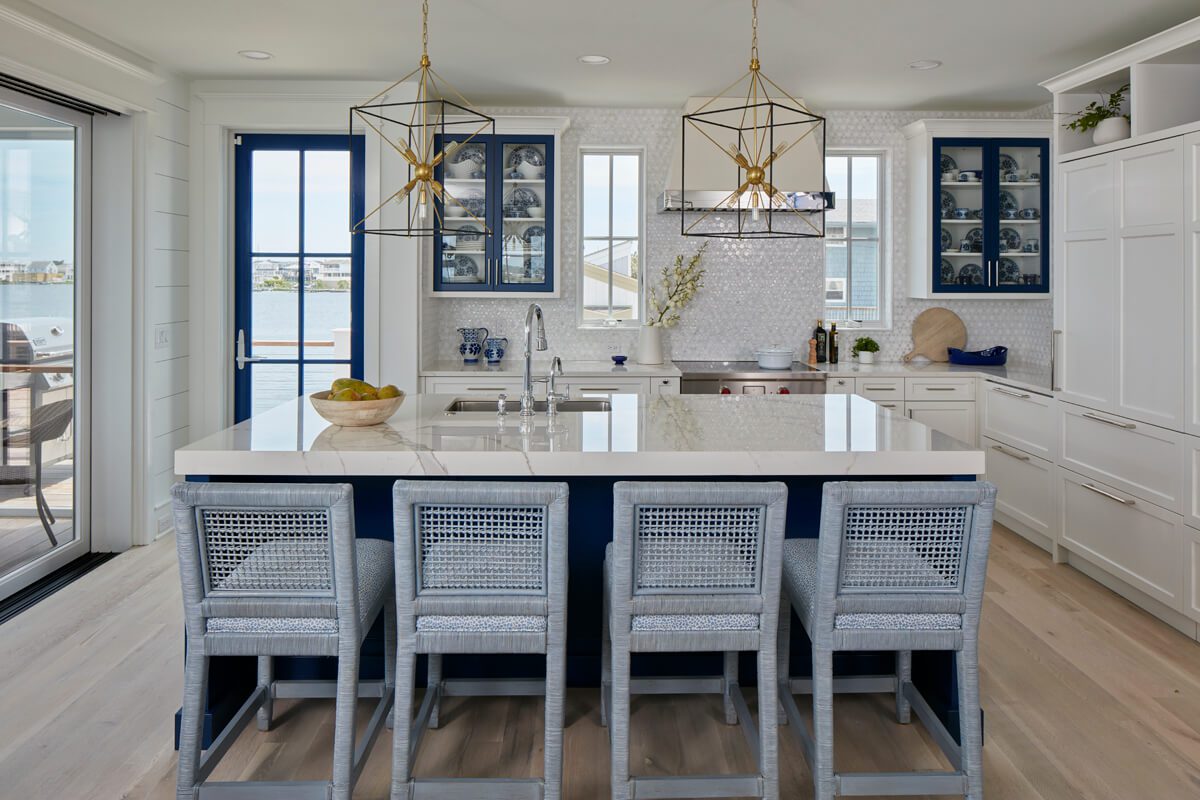 Our favorite feature is our first ever crab shack! An indoor/outdoor space that is great for large crab feasts and can be completely hosed down afterwards. This home is certainly a special place where you can gaze out onto the bay and wash your worries away.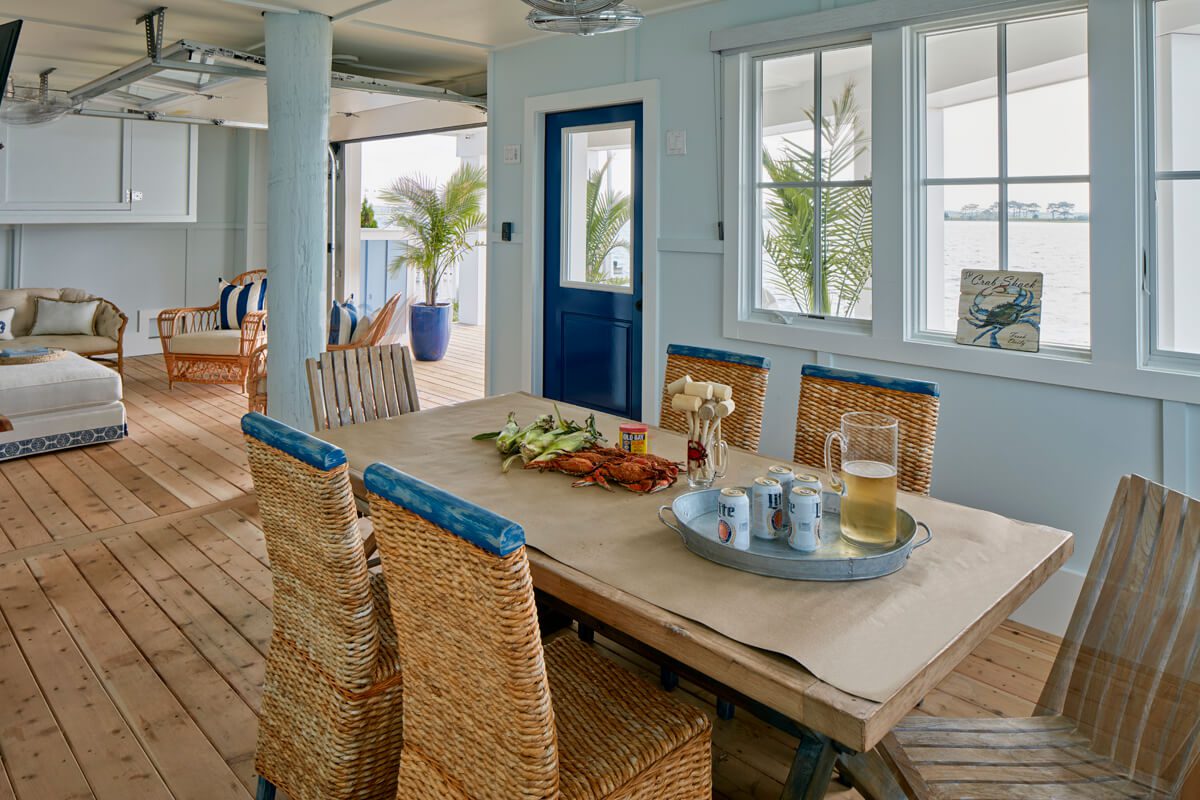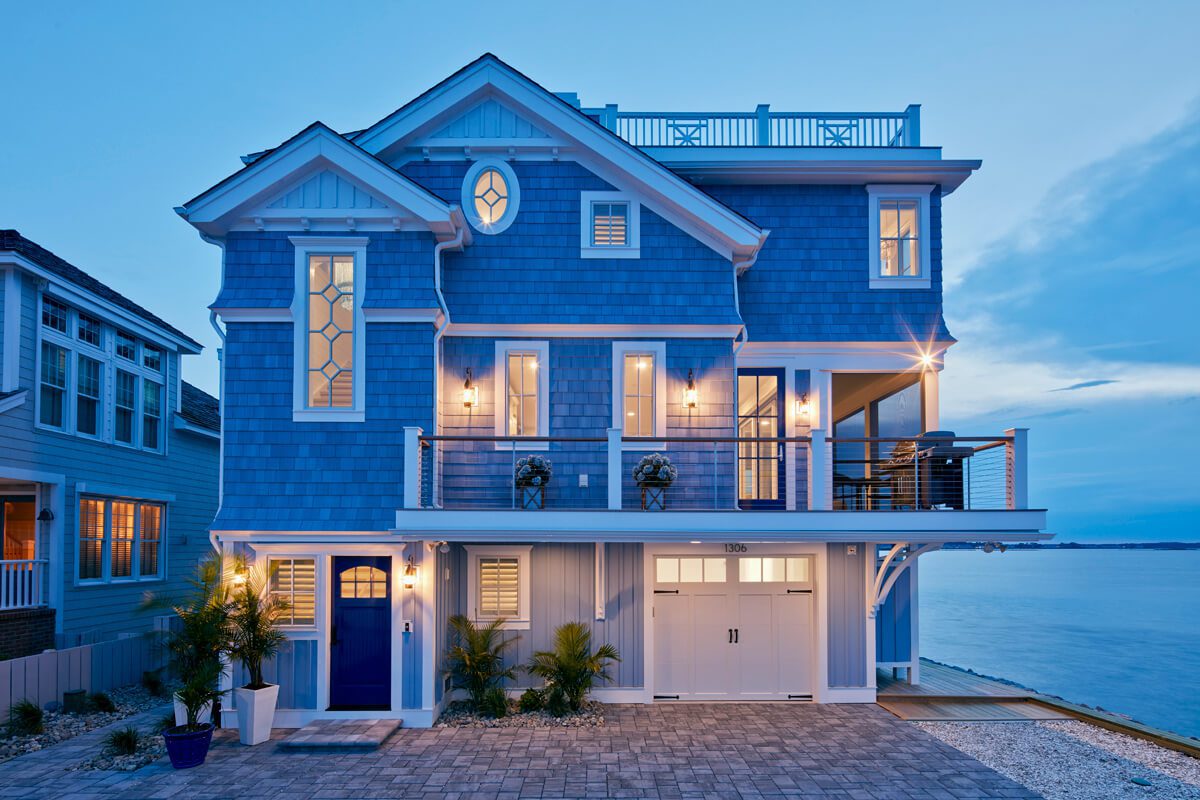 Visit our Showcase page for all images of Paradise Point here:
PARADISE POINT SHOWCASE
2. Kan't Beat the View:
This 6,800-square-foot oceanfront beach house located in North Bethany Beach, is one of the best houses we've built to date—it was also one of our most challenging projects.
The goal for this build was to capture the oceanfront views from as many rooms as possible. As you enter through the extra wide front door, there's a clear line of sight directly to the ocean.
The kitchen creates a true indoor/outdoor living space, with the kitchen seamlessly transitioning onto a screened in porch. Large La Cantina sliding pocket doors slide completely into the wall, disappearing and opening up the space directly onto a screened in porch. Transitioning into the great room, a variety of textures are on display, from cable railings going up the stairs, a stone fireplace, white oak floors and white washed beams which match the wood detail in the kitchen island. Another La Cantina sliding door helps to capitalize on the view.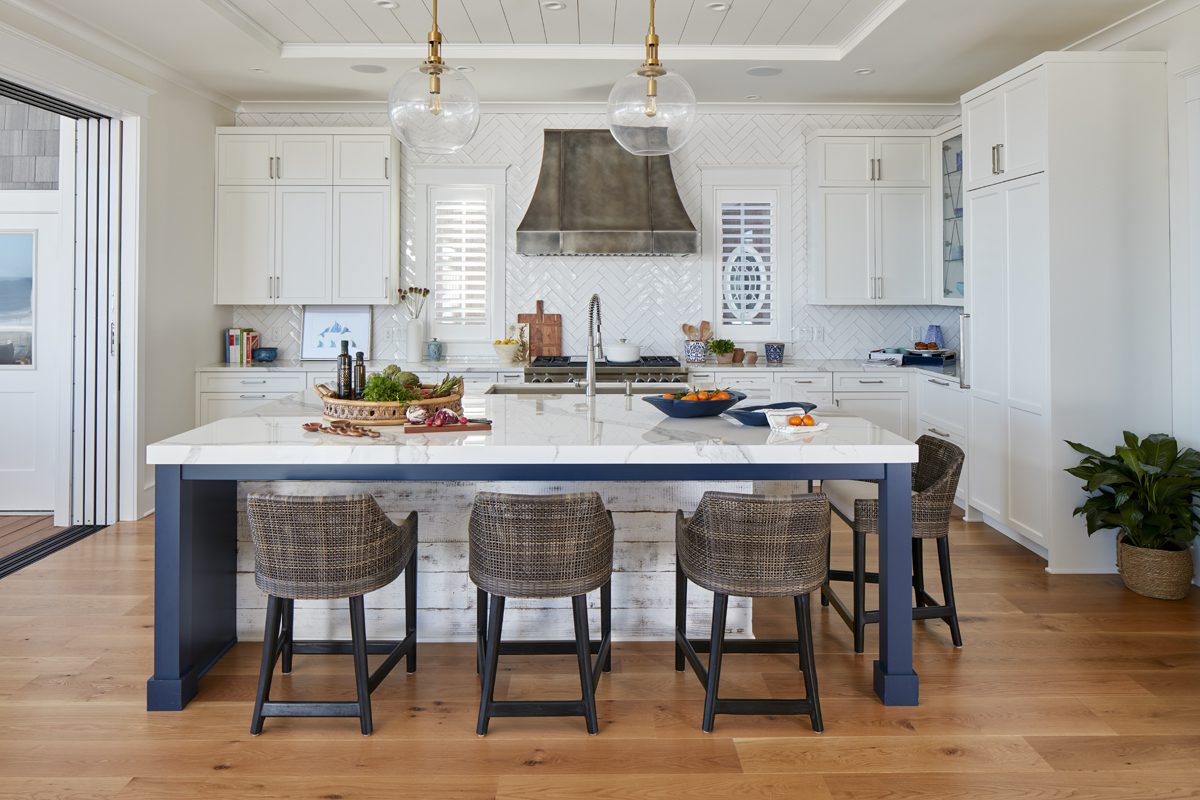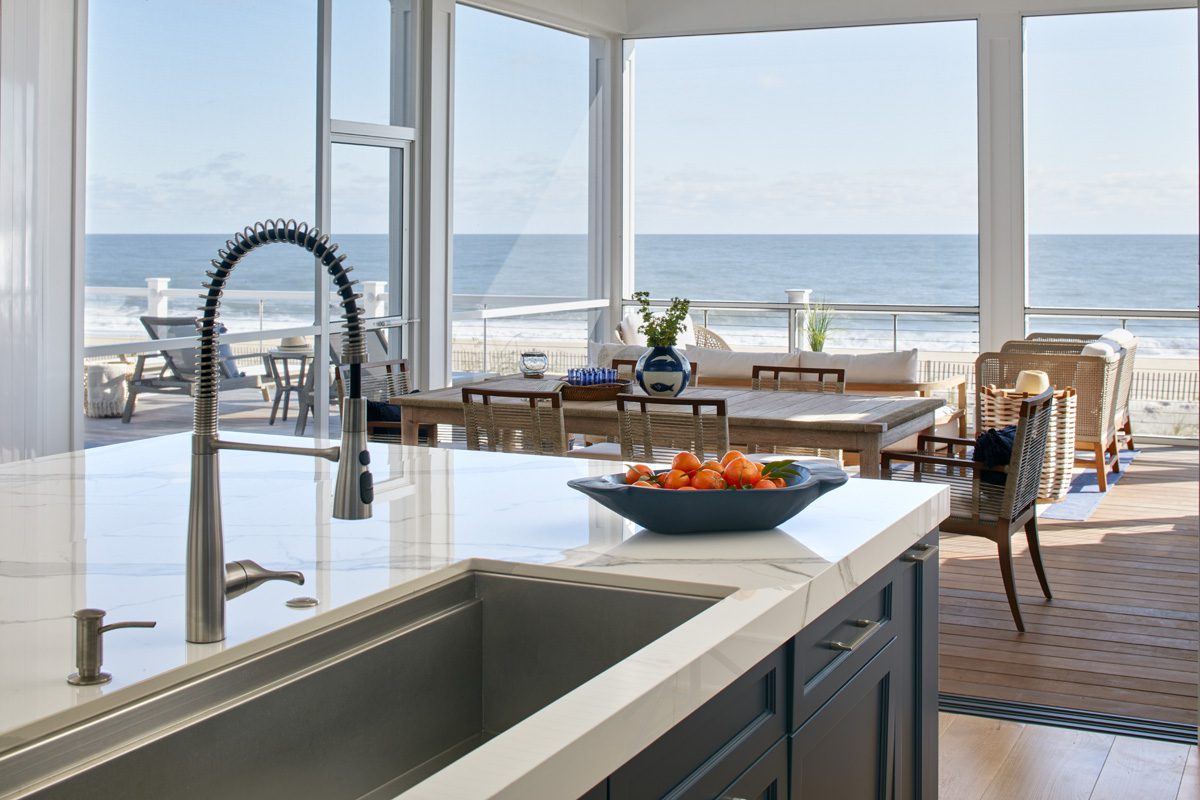 The bunk room was designed for young adults with queen over queen bunk beds—a true Marnie Custom Homes signature piece. Features include fold down railings for easy to make beds, nooks in each bed with individual light switches and charging stations, extra storage in the stairs, and built in cabinet.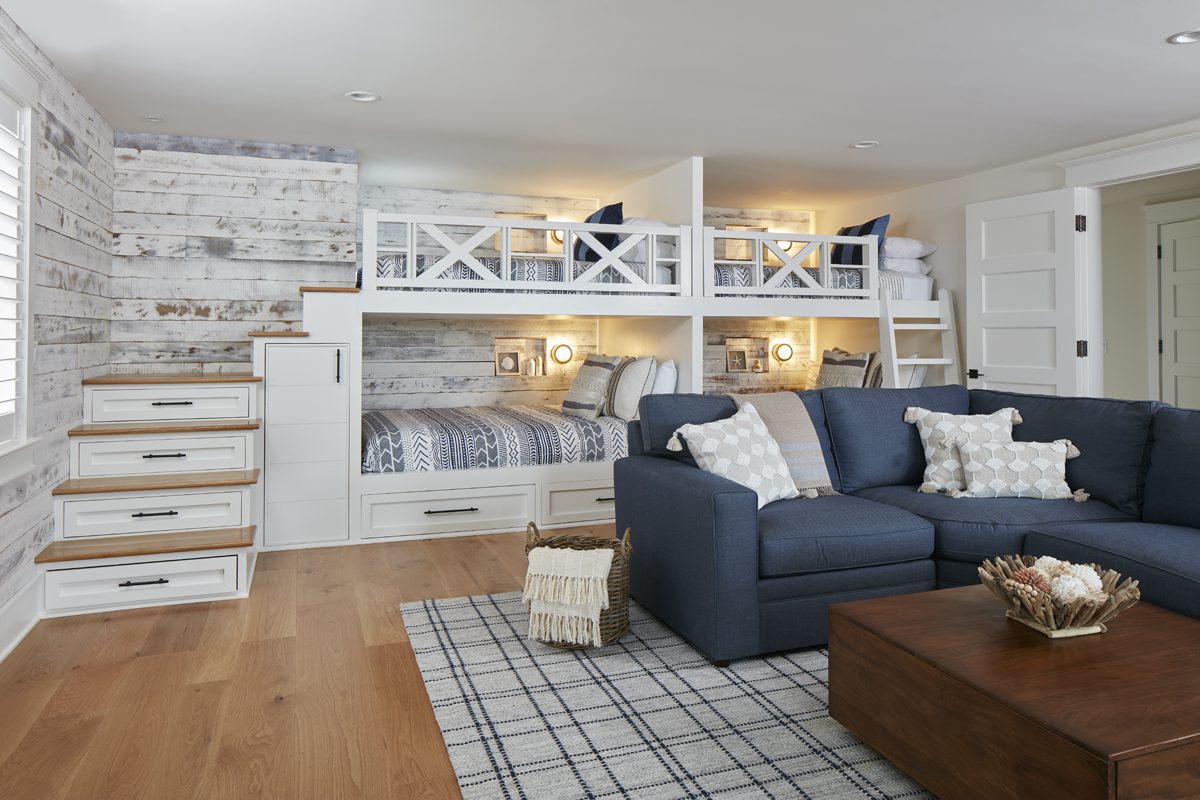 On the ground level, an outdoor bar is set among the dunes—the perfect space to enjoy a cocktail after a day at the beach. Custom seating includes two bar swings which were inspired by a trip Marnie took a few years ago to Mexico.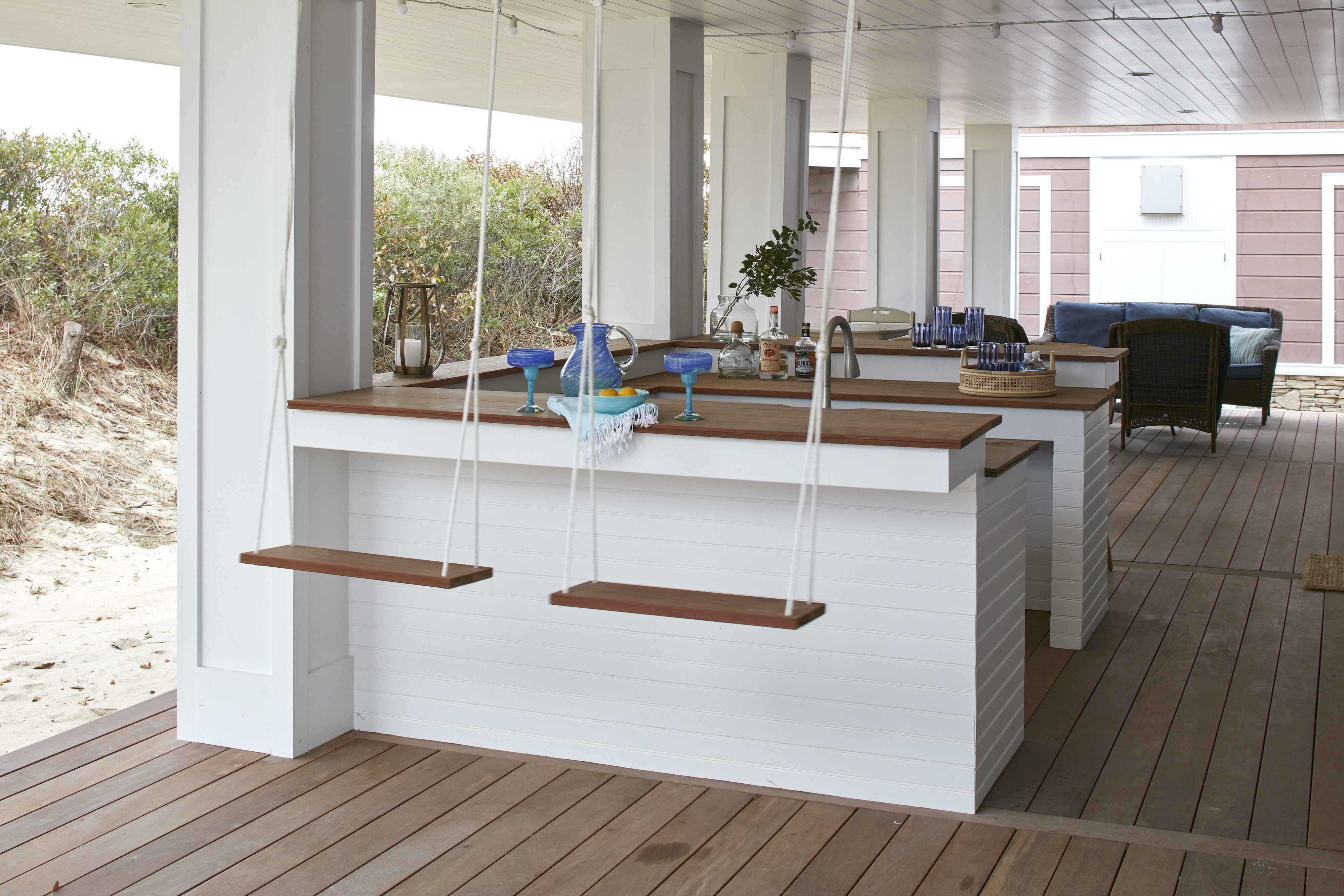 Visit our Showcase page to view all images of Kan't Beat the View here:
KAN'T BEAT THE VIEW SHOWCASE
3. Ocean Oasis:
If you love Serena & Lily, then you'll love this home. Located in South Bethany, this 3,700-square-foot oceanfront home has five bedrooms and seven baths with ocean views throughout. Design elements include custom built ins, ceiling detail and shiplap accents with as many windows as possible to take in the gorgeous ocean view.
White was chosen as the home's main color scheme as it establishes a feeling of peace and tranquility. I used a variety of shades of white along with textures to add dimension.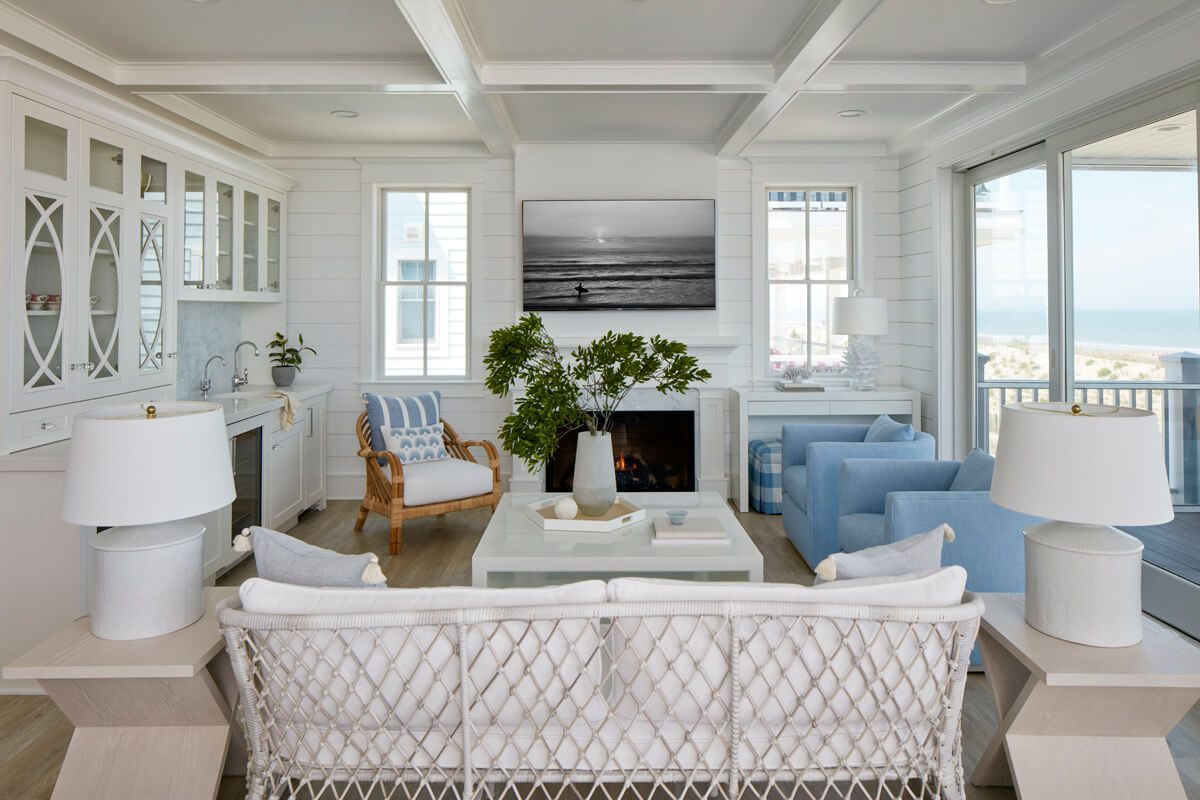 The bright white gourmet kitchen is an entertainer's dream, featuring two refrigerators and six freezer drawers all hidden behind white maple cabinets. Plus, a full butler's pantry for extra storage space. Crisp white quartz countertops, glass cabinets and gold pendants add a touch of coastal elegance.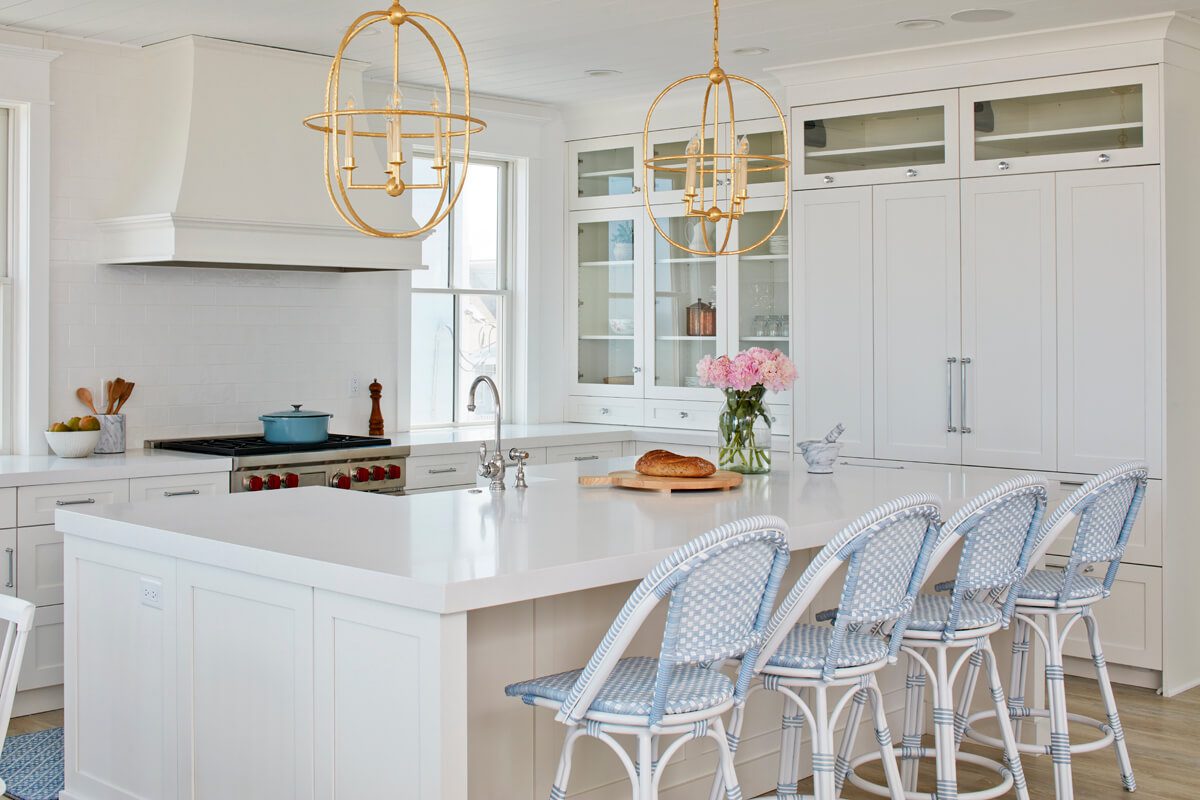 The kitchen and great rooms open floor plan are cleverly made to feel distinct by creating different ceilings. The bar is located in the great room as it's a natural way to shift everyone away from the kitchen island and space out the flow when entertaining.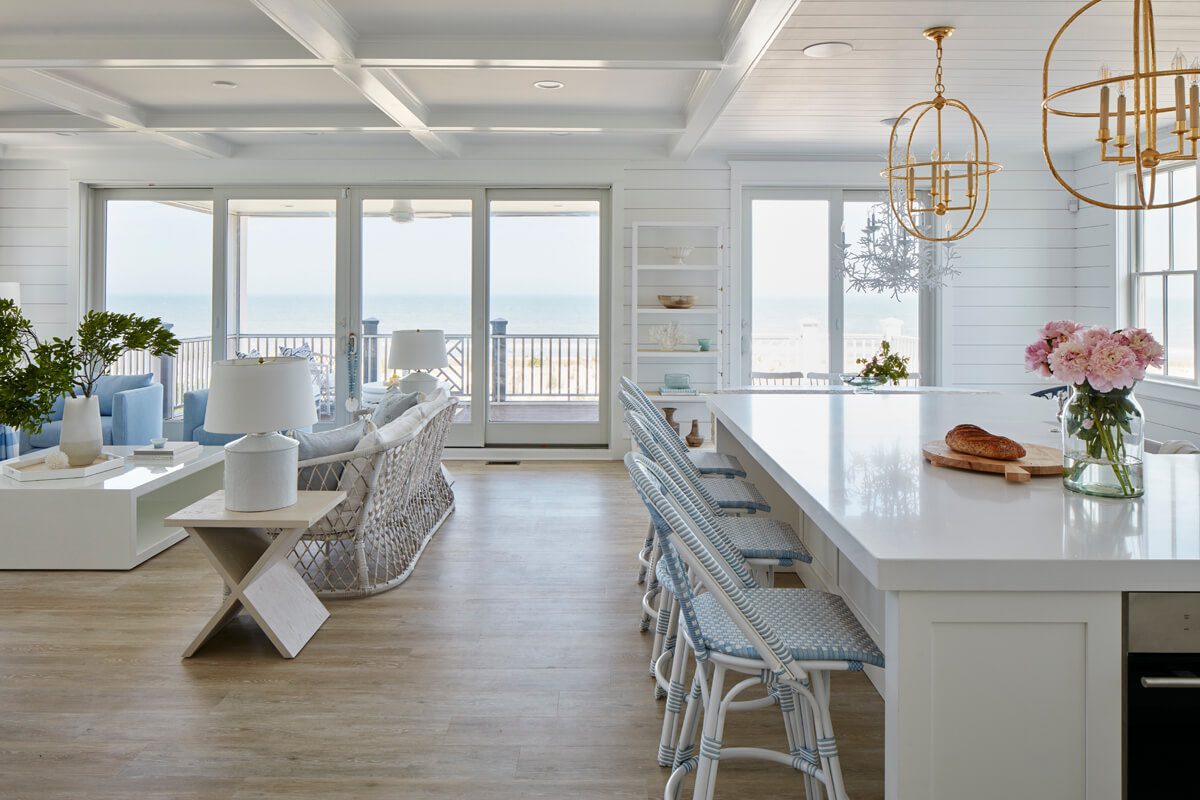 Outside the home, the unique exterior design is accentuated by NuCedar siding with a bright front door and charming window flower boxes. The ocean side features two decks and a large screened in porch offering multiple areas to take in the gorgeous ocean view.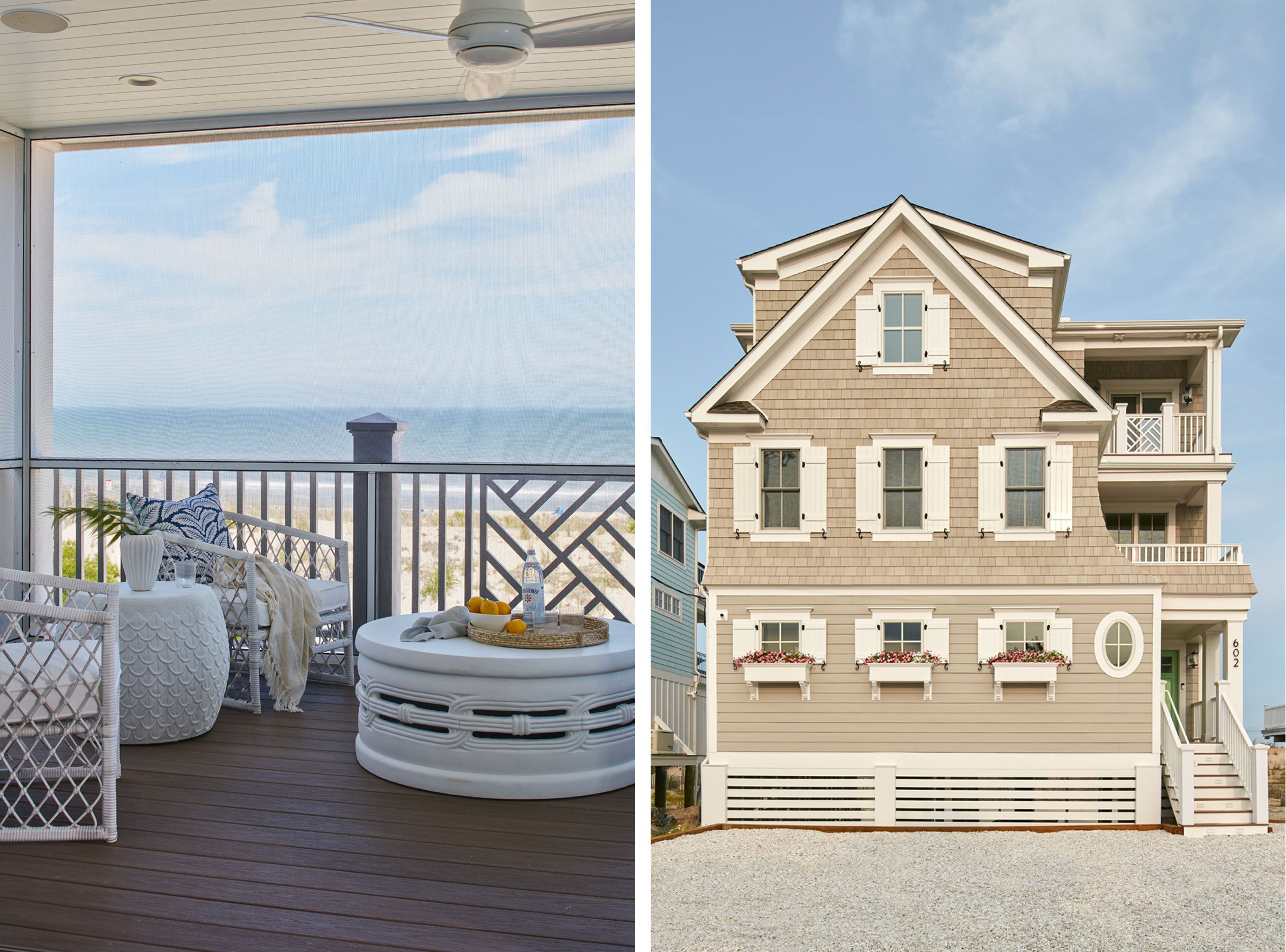 Visit our Showcase page for all images of Ocean Oasis here:
OCEAN OASIS SHOWCASE
4. Star of the Sea
Located in North Bethany Beach, this 5,770-square-foot oceanfront home has six bedrooms, six and a half bathrooms and features a mix of both traditional and contemporary interior design: The neutral color palette creates a crisp and bright design while also creating a warm and cozy space.
With homeowners spending more time at their beach homes, this project was designed to offer a comfortable stay year-round with a full office, home gym and of course, a bar! Everything you need to escape and unwind is all under one roof.
Visit our Showcase page for all images of Star of the Sea here:
STAR OF THE SEA SHOWCASE
5. Saltwater Breezes:
This 6,400-square-foot single-family Bethany Beach home is located just one house off from the oceanfront and features an expansive pool area, making it easy to literally jump from the beach to the pool.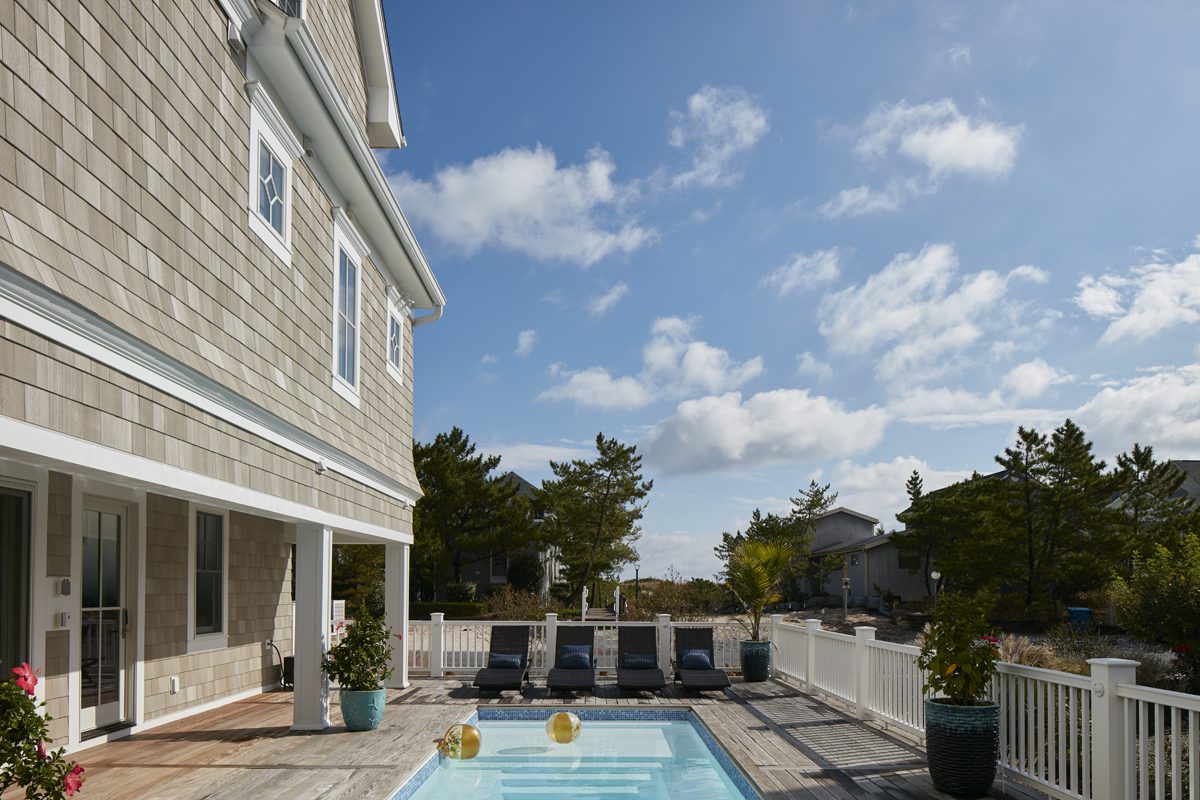 An inverted floor plan capitalizes on waterfront views, with guest suites on the second level, a great room, kitchen and dining area on the third floor and a fourth-floor master suite. The top floor offers the best beach views, while the separate guest level provides privacy for guests.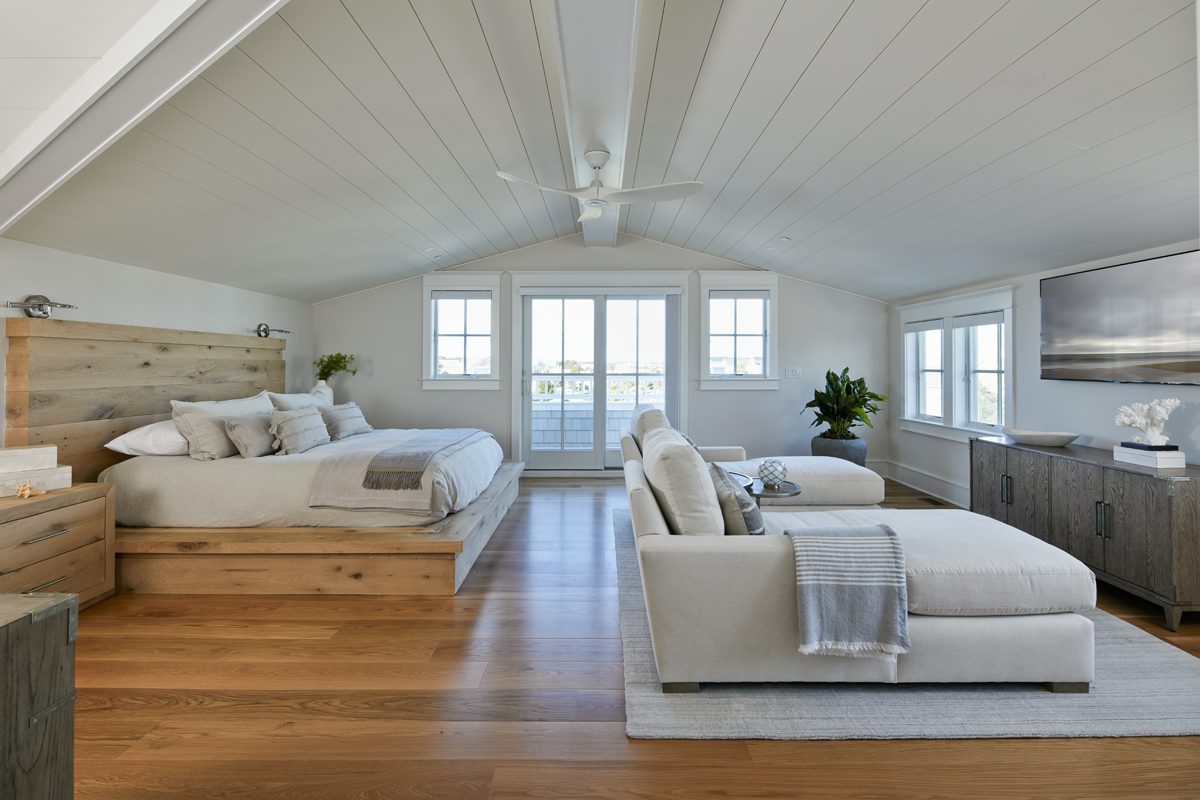 I got creative with this home's design, by maximizing the available space while efficiently adding custom built-ins, hidden doors, vaulted ceilings, a doggie room, elevator and luxury finishes throughout. The home's overall open plan is functional and modern with a vintage, beachy vibe.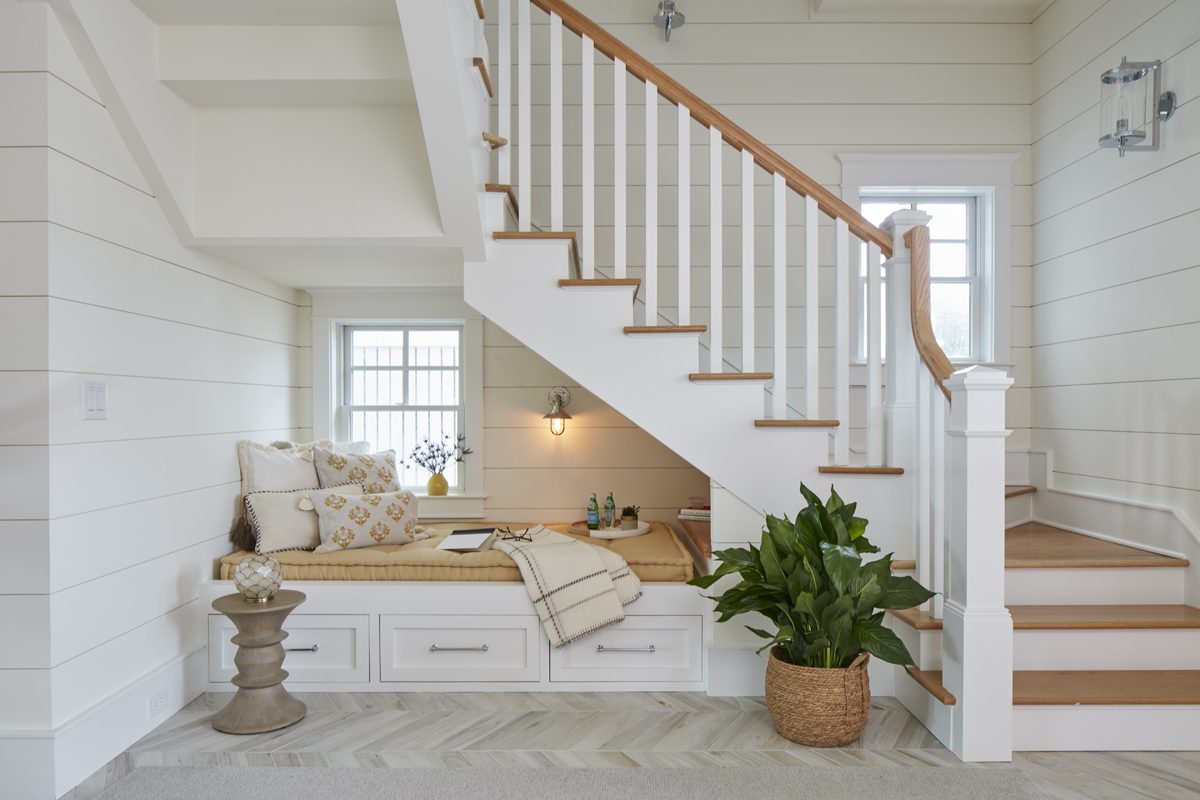 Visit our Showcase page to view all images of Saltwater Breezes here:
SALTWATER BREEZES SHOWCASE
6. Casa Del Mar:
The homeowners wanted plenty of outdoor entertaining areas in this home located on the canal in South Bethany, so we built a screened-in porch, three decks, a huge patio, pass through bar area and custom swing. A perfect set up is ready for both lazy days and summer parties.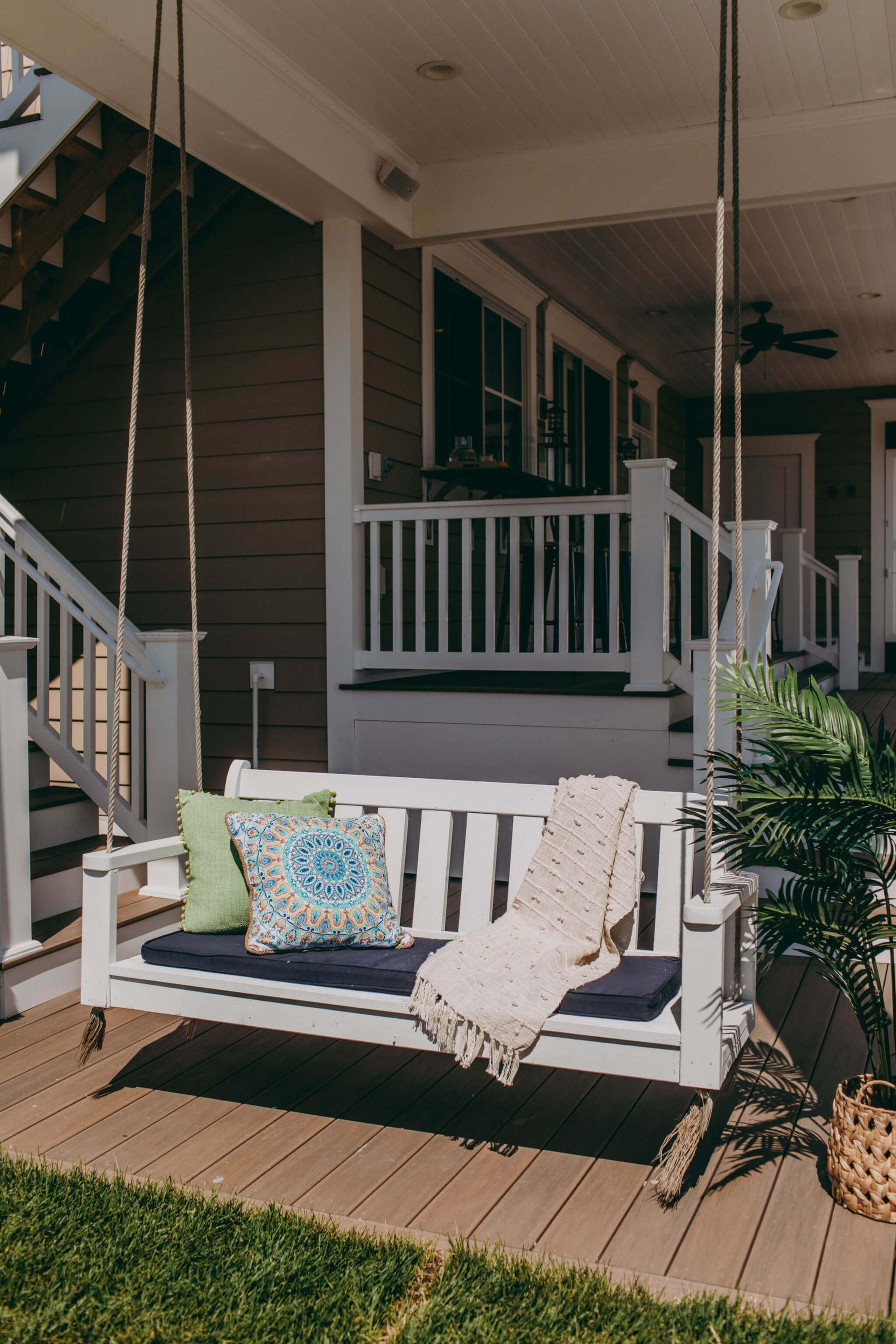 The kitchen boasts quartz countertops, an oversized island that seats six, a separate walk-in butler's pantry, and a bar off of the dining area. I warmed up the white kitchen with wood-toned open shelves and a calming "Santorini Blue" island.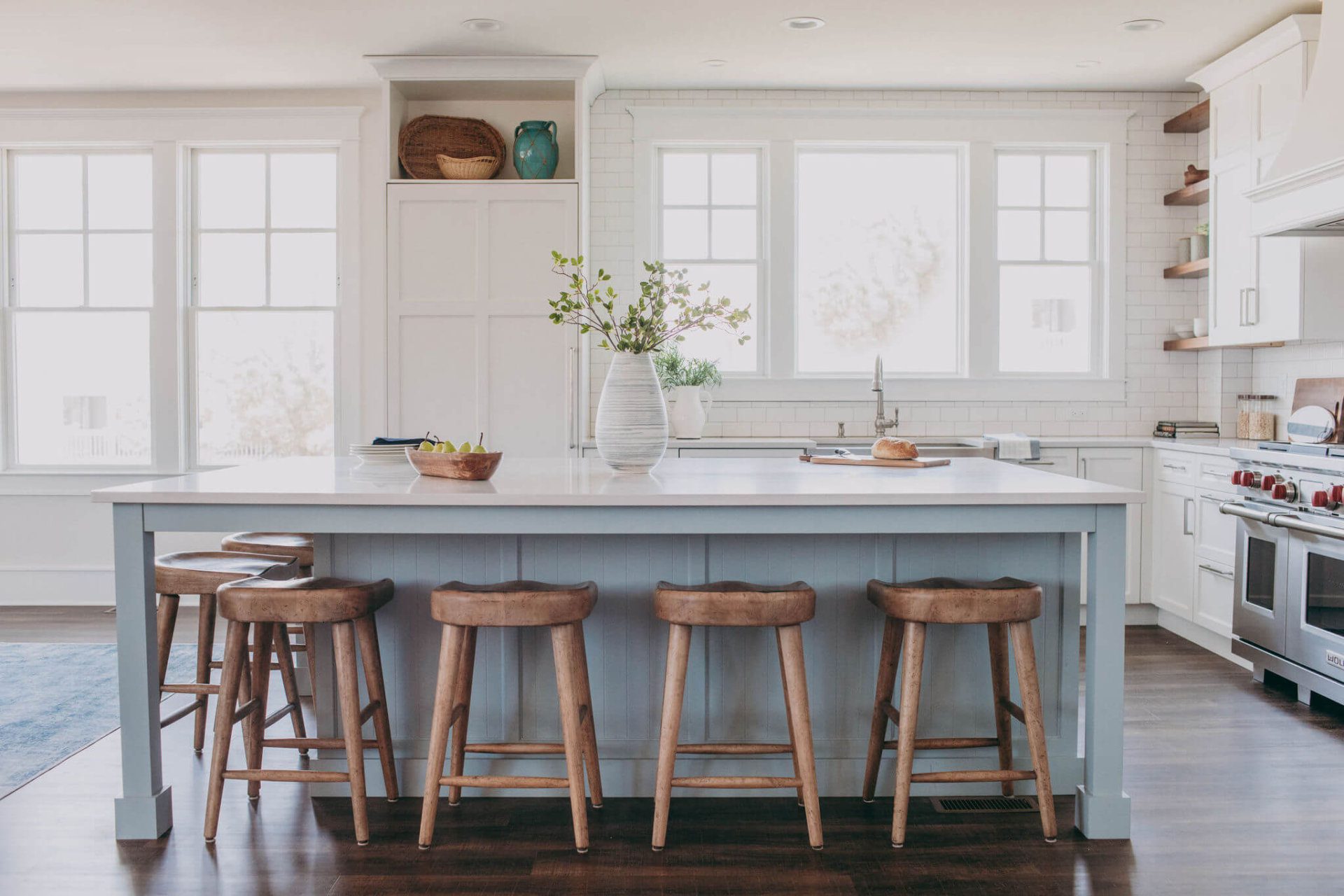 A Mexican-inspired custom bar was at the top of the homeowner's wish list and includes a pass-through window—ideal for serving drinks to guests outside on the canal front patio. Golden Tee and shuffleboard round out the adult rec room.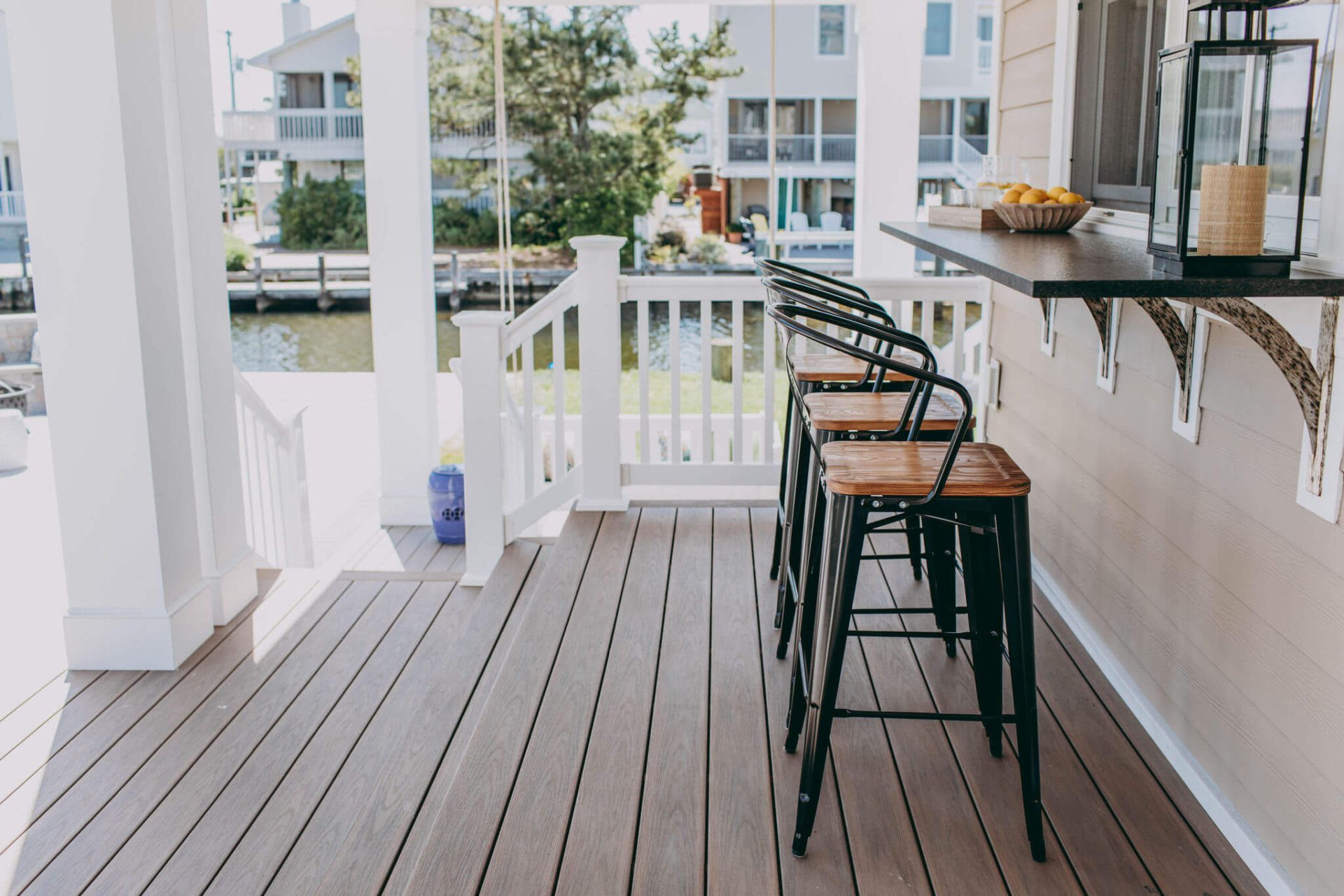 Visit our Showcase page to view all images of Casa Del Mar here:
7. On the Rocks:
This 3,800-square-foot custom beach house is located in the Town of Bethany Beach within walking distance to shops and restaurants and just two blocks from the beach.
The homeowners wanted a contemporary, coastal interior with bright, organic, natural, and airy design elements. To keep the main kitchen and living area bright and airy, we used recessed lights instead of pendants for an open feel which highlights the ceiling detail.
Custom details include a beach prep room with a double washer and dryer, sink, and beverage fridge so you can load up your cooler before hitting the beach, two custom bunk rooms featuring fold-down railings for easy-to-make beds—each equipped with its own outlets and lights and intricate ceiling detail and millwork throughout the home.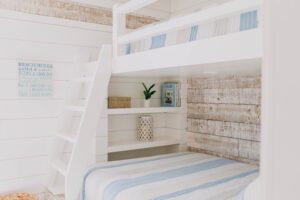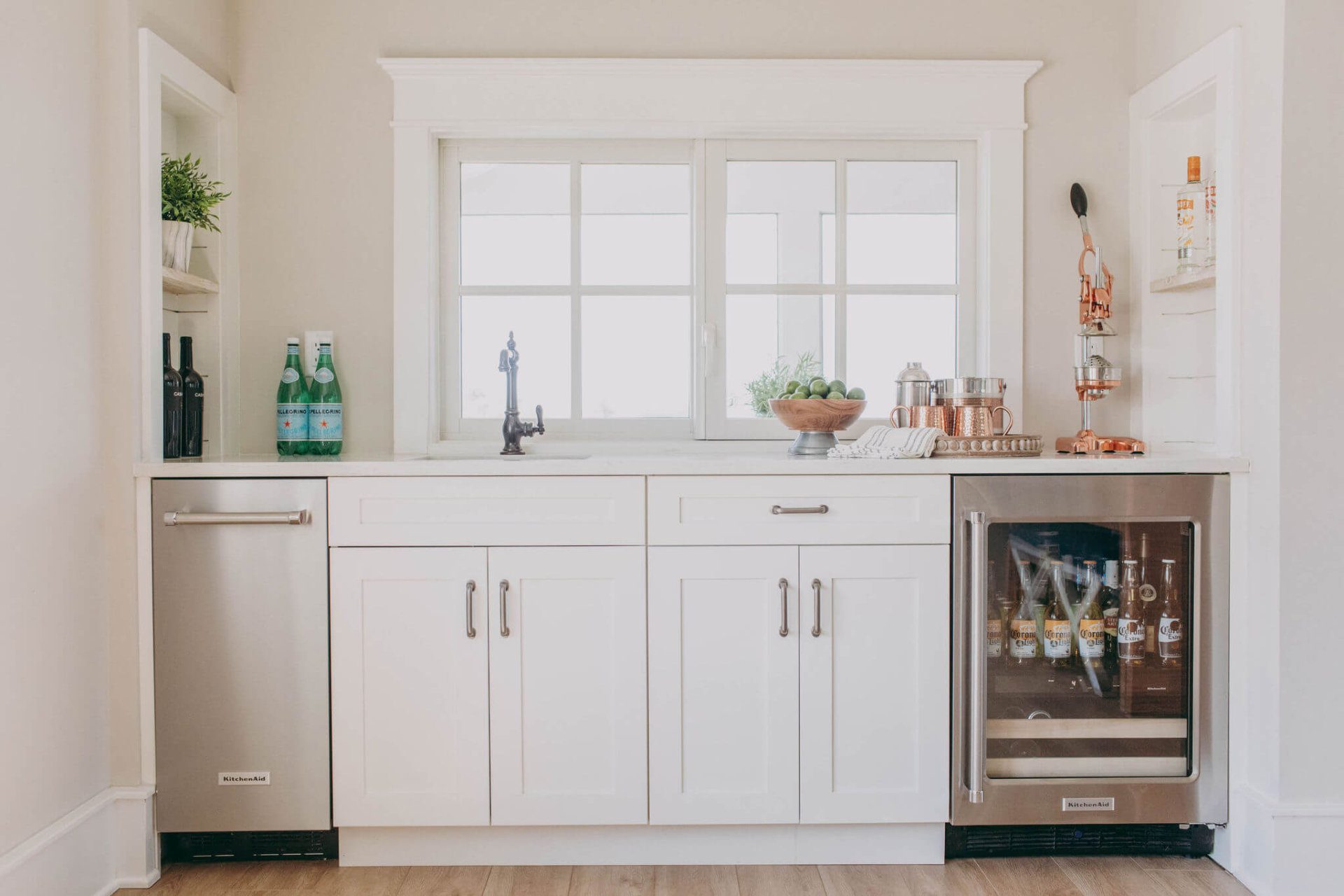 Luxury Vinyl Plank was used throughout this home which is a great option for beach houses. It's less expensive than hardwood, plus it is scratch and water-resistant.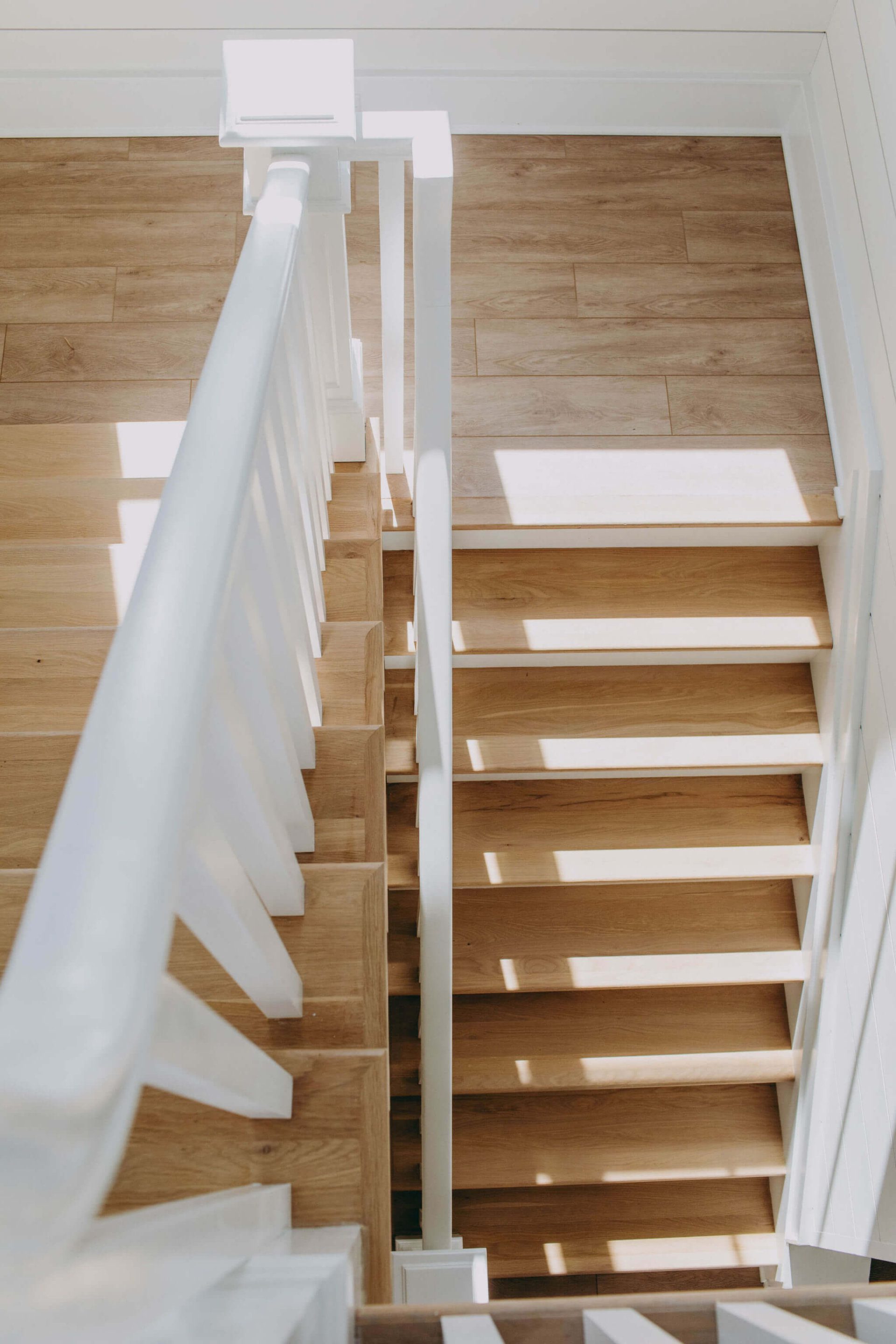 Visit our Showcase page to view all images of On the Rocks here: