It's usually around this time each year that my thoughts start to turn to the warm, summer months ahead. And where I live in coastal Delaware, summer means the beach! Right around now, I'm starting to slowly emerge from my toasty winter cocoon and crave all things light, airy, and beachy – especially in my home. Windows are thrown open at the first sign of warmth, heavy knits are swapped for lighter throws, and my home accents go from cozy chic to coastal classic.
While a complete interior overhaul each season is unrealistic, there are lots of little touches that anyone – whether oceanfront or landlocked – can do to inject their space with a piece of the beach, beginning with a simple hardware swap. Hardware is one of my favorite ways to inject a room with major personality in an economical and easy to DIY way, so it lends itself perfectly to a seasonal refresh. Below, I've rounded up some of my favorite coastal classic cabinet and drawer knobs that will have you practically tasting the salty sea air no matter where you live.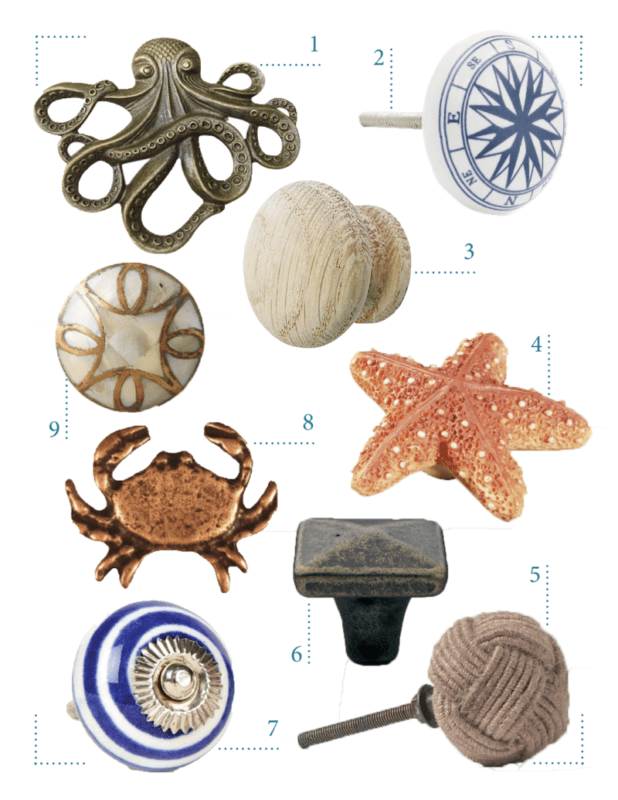 1. Octopus | 2. Compass | 3. Solid Oak | 4. Starfish | 5. Rope Knot | 6. Dakota Square | 7. Blue Spiral |  8. Sand Crab | 9. Mother-of-Pearl
Coastal knobs – like all nautical decor – don't always have to be literal. While I love the octopus, crab, starfish knobs above, I also adore the other options that are reminiscent of the beach without being too literal. For example, the solid oak knob reminds me of weathered driftwood; the blue spiral conjures images of beach umbrellas; and the Dakota Square knob would be right at home on a ship.
TIP: To avoid going too cliche, use more literal beach motifs sparingly. For example, I would use the octopus knob above as a single knob on a vanity or nightstand or as a whimsical accent in the kitchen, where it could be used just once or twice along with more subtle knobs in the rest of the room.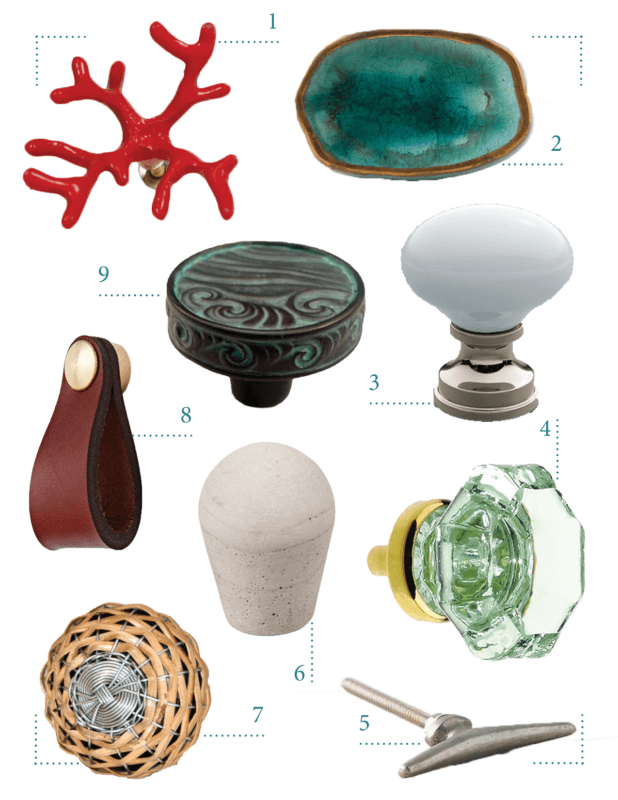 1. Coral | 2. Ocean Crater | 3. Ceramic Knob | 4. Green Glass | 5. Streamline | 6. Etienne Concrete |       7. Wicker | 8. Beckett Pull | 9. Surf Round
Ok, so technically #8 above is a pull, not a knob, but look at it – how could I pass it up? Just like the first grouping, I love the mix of classic beach motifs and subtle nautical references found in these knob options. Whether you're style is in-your-face seaside or more casual coastal, one of these beautiful knobs is sure to fit the part. And the best part is that you don't have to choose just one! There are so many ways to use knobs other than on cabinets and drawers. Here are just a few:
◦ Mount them on the wall as creative display hooks for jewelry, hats, towels, and other accessories.
◦ Attach them to jar, box, and other container lids as unique handles.
◦ Hang them near an entry for easy-to-access key storage.
◦ Turn them into custom curtain finial or tie-backs.
◦ Secure them to corks to create quirky bottle stoppers (a great gift idea!).
What are some other creative uses for cabinet knobs? Share your ideas and your favorite knobs in the comments or on social media with #TalkToMarnie!