14 Times Bathroom Tile Stole the Show
Anyone who has worked with me knows I'm a total sucker for great tile – especially in the bathroom. When most people think of exciting tile, they usually think first of the kitchen. And the kitchen is a great place to experiment with your tile choices. But for me, it's the bathroom that's the best place to go wild in the tile department. Whether it's a small band in your shower or an entire wall's worth, the right tile can be the shining star of your bathroom. Need proof? Check out these 14 Marnie Custom Home's bathrooms where tile totally stole the show.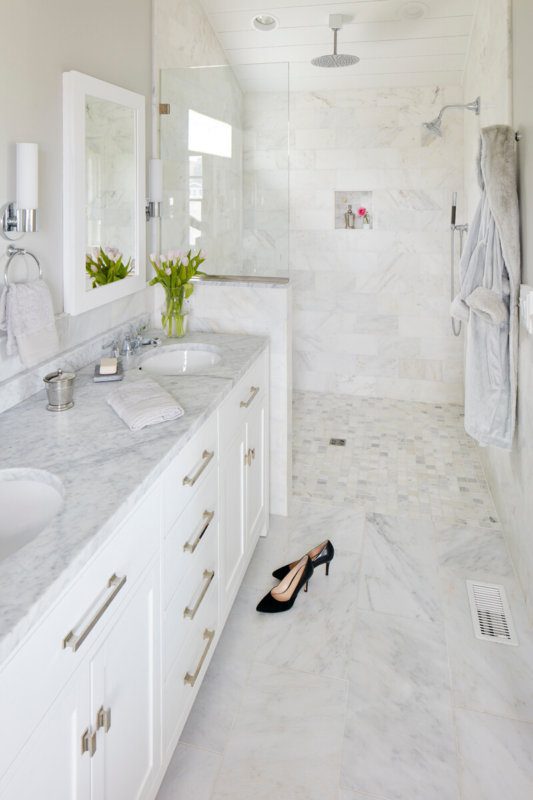 1. Hue on hue
This stunning bathroom may be all white, but it's anything but boring. A variety of tiles in different sizes, shapes, and configurations come together to form a cohesive, visually interesting space by staying within the same white-and-gray color palette.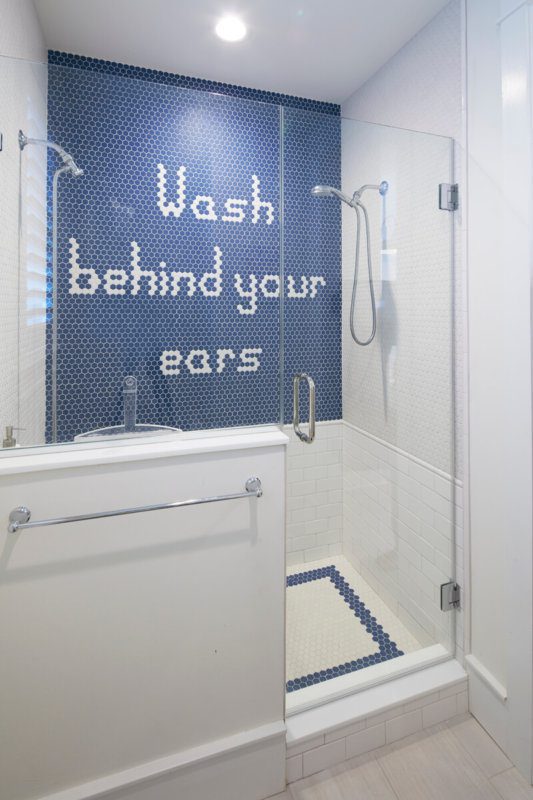 2. Spell it out
In this fun bathroom, classic hex tiles not only form an inviting border around the floor of the shower, but also spell out one of mom's favorite warnings. Phrases, names, quotes – the possibilities are endless, but they all point to homeowners who don't take their bathrooms – or themselves – too seriously.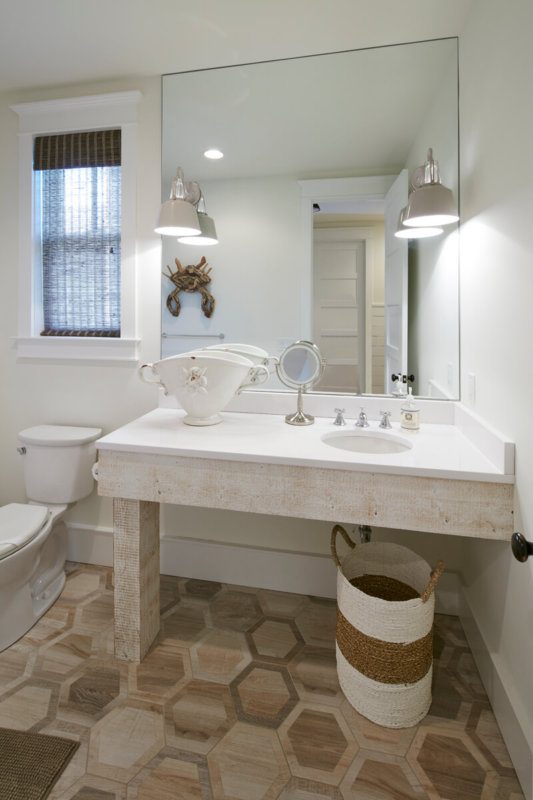 3. Hello, honey(comb)
A much larger version of traditional hex tiles (see #2), this honeycomb pattern in varying wood tones creates a graphic punch in this bathroom while still keeping the space neutral.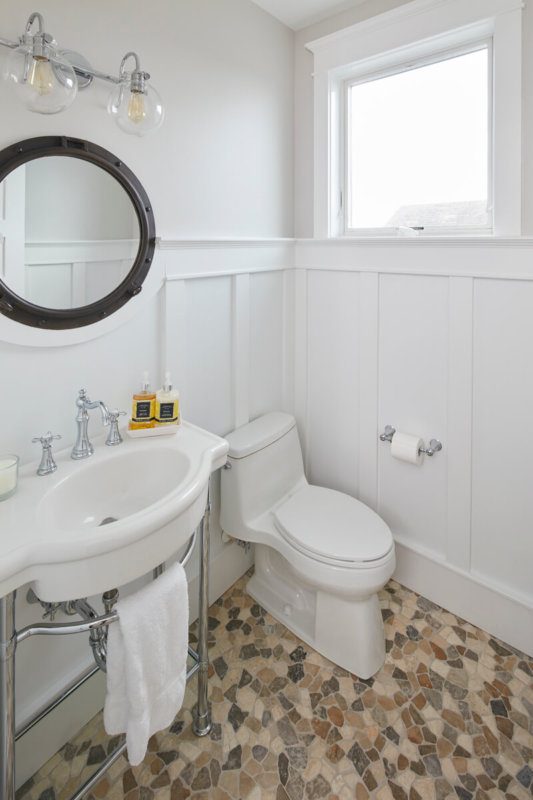 4. Rock solid
Though not exactly pebble tiles, I love how this floor is reminiscent of small stones. The organic shapes and earthy tones make this space feel right at home at the beach.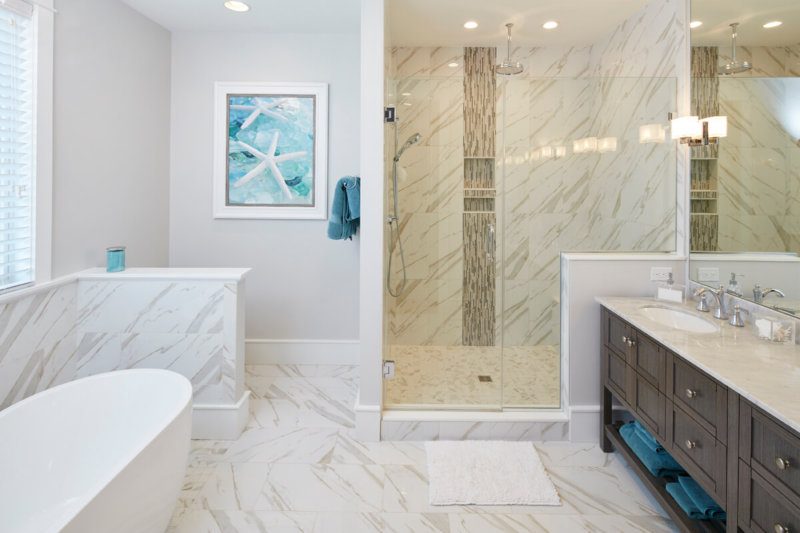 5. Going vertical
While all of the tile in this bathroom is killer (those striations!), I really love the verticality of the band in the shower. A twist on the traditional horizontal band (check out #14), this simple addition makes a bold yet classic statement.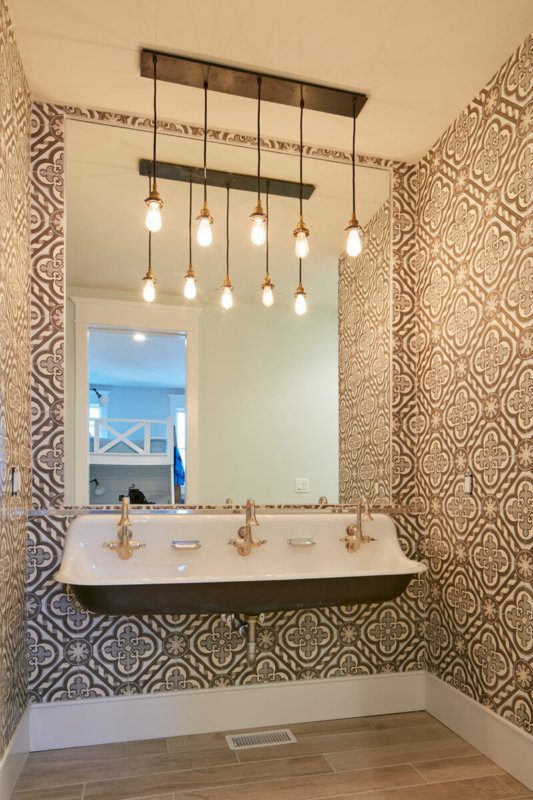 6. Pattern player
I built this graphic bathroom in my home for my nieces and nephews when they come visit me at the beach. The pattern is fun for kids but sophisticated enough for adults, and I love the visual effect it creates in this floor-to-ceiling application.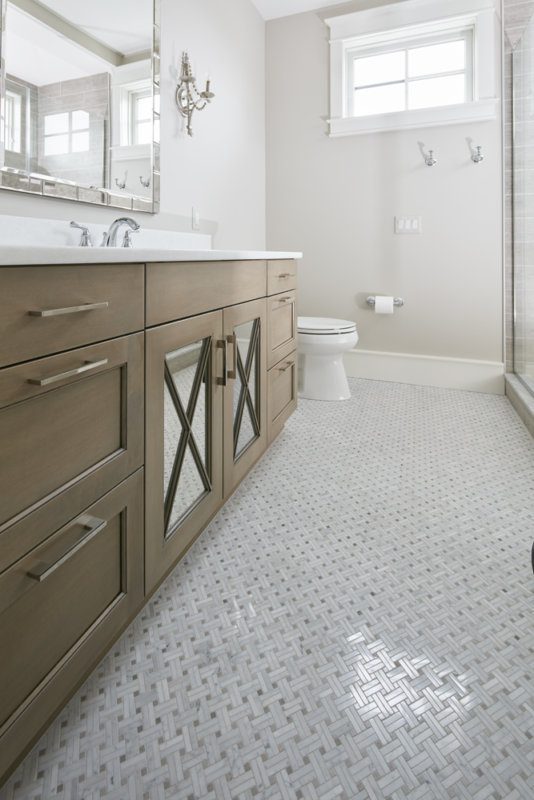 7. Well woven
Basketweave tile is one of my favorites and this bathroom illustrates why. Neutral and subdued, but still full of texture, you simply cannot go wrong with this ageless style.
8. Wonder (tile) wall
In my master bathroom, I knew I wanted to make marble the star. And while the floors and counters are gorgeous, it's the full wall of marble subway tile behind the sinks that makes my jaw drop every time I walk into the room.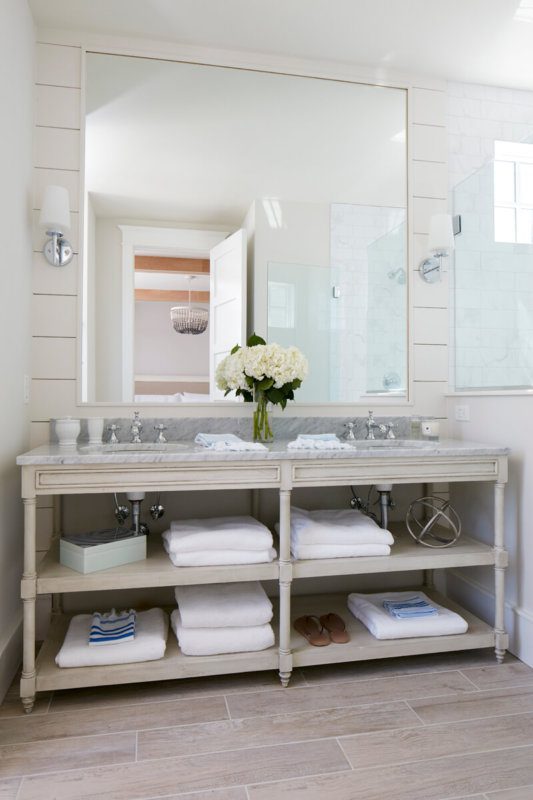 9. Worry-free wood
Wood-look tile is one of those can't-go-wrong tile options that fits into nearly any space or design aesthetic. With so many options for color, width, length, and level of "age" available today, there's virtually no bathroom that can't be improved with these beauties.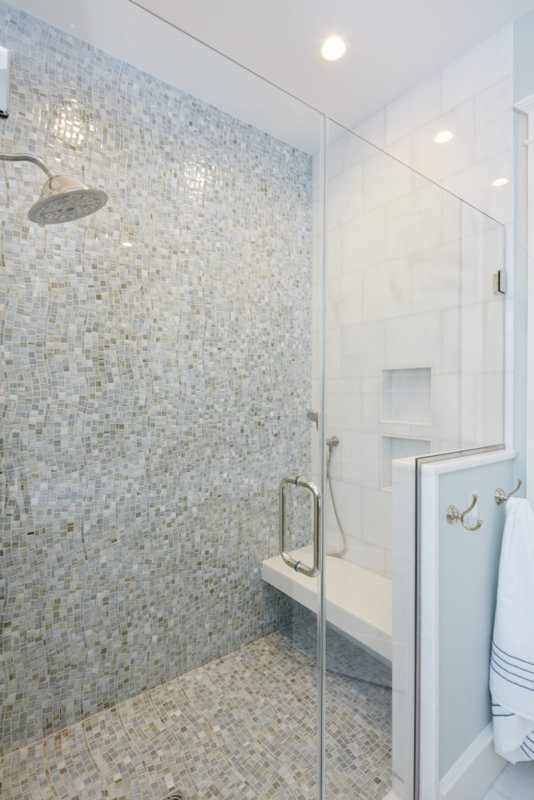 10. Mosaic masterpiece
This mosaic-inspired installation makes me giddy every time I see it. From the sea-inspired hues to the organic layout, stepping into this shower feels like bathing right on the beach.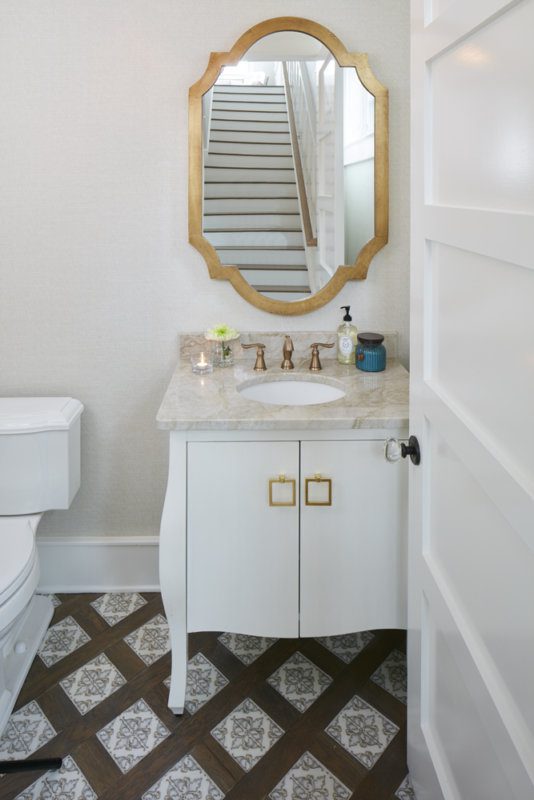 11. Mixed media
A small powder room is the ideal place to make a statement without the risk of going overboard. I adore the way this mix of patterned- and wood-look tile creates contrast and an instant focal point.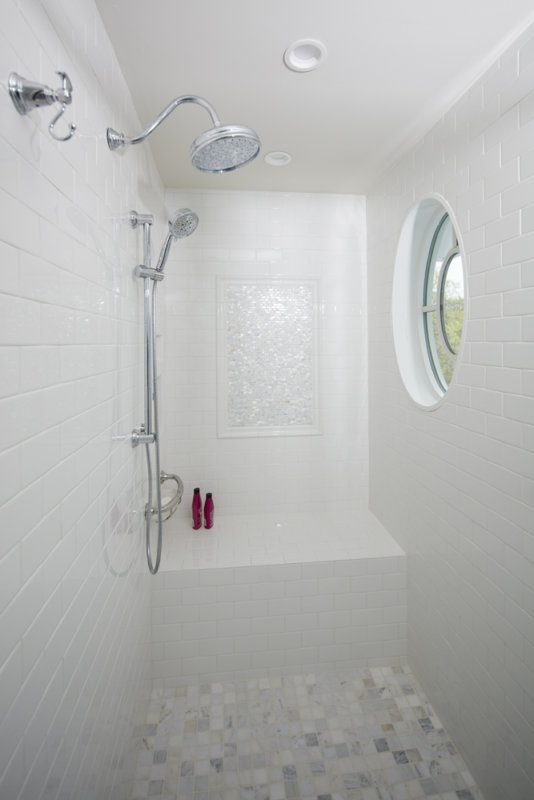 12. Bright spot
Subway tile never disappoints no matter where or how it's applied. Elegant, stylish, and versatile, the only thing that could make this iconic staple even better is the addition of a framed, sparkling inset panel.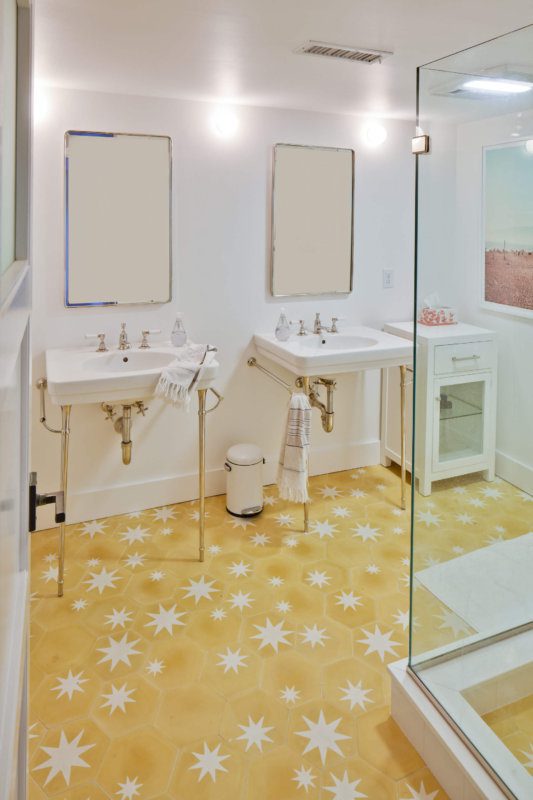 13. Shining star
Hexagonal, star-spangled, sunshine yellow floor tiles – how could you do anything but smile whenever you walk into this bright, happy bathroom?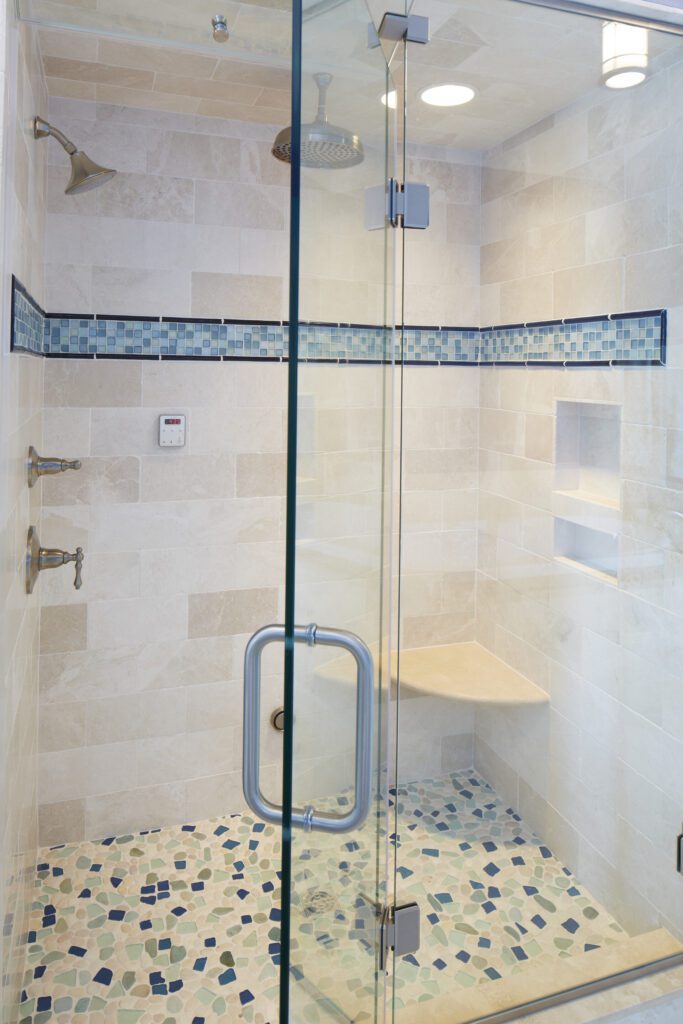 14. Beautiful blues
The classic horizontal band gets a fresh beach-appropriate facelift with a variety of ocean blues. But what makes this band really pop is the way it's echoed in the sea glass-inspired tiles on the shower floor.
From my tile dreams to yours,