16 Drool-Worthy Tiles for the New Year Change You Crave
BY: Marnie Oursler
|

January 11, 2017
---
There's something about the start of a new year that inspires the desire for change – in our lives, in our careers, and in our homes. For the most part, change is good – it forces us to look at things differently, to take a new approach to an old problem, and, often, to step outside of our comfort zones. But change doesn't always have to come at a price – literally or figuratively. One of my favorite ways to update a space that won't demolish your bank account is with tile. I recently added new tile to my own house (which I just finished building not too long ago) and it instantly turned this blank canvas into a home: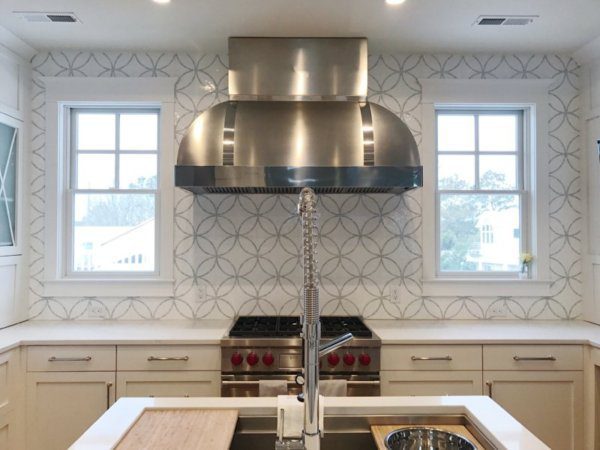 My kitchen backsplash looks like larger tile from afar, but it's actually a mosaic comprised of many tiny glass tiles.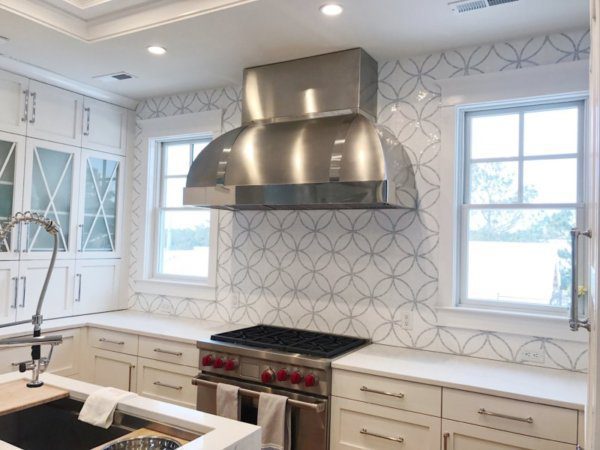 I love how these tiles capture and reflect the light. They seem to twinkle!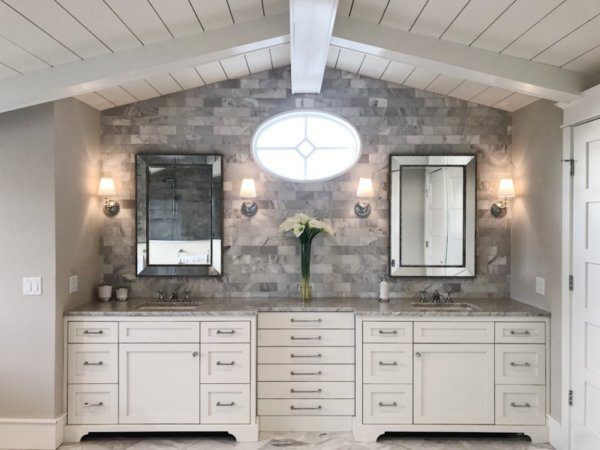 I installed gorgeous marble tile in my master bathroom to add a touch of glam and luxury.
As flooring, backsplash, wall covering, fireplace surround, on stair risers, or any of the myriad ways it can be used, tile is a small change that repays itself a hundred fold in impact (and ROI). And while I love the classics (you can never go wrong with a white subway tile), tile is the perfect design element to go big, bold, and fun. Here are some of the unique but timeless tiles I'm currently drooling over that can give you the change you're craving in 2017: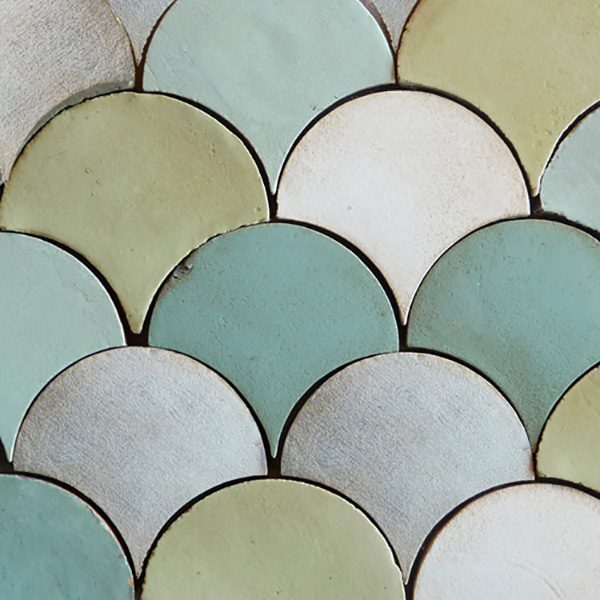 1. Fan – Tabarka Studio: In this beautiful color palette, these fan-shaped tile remind me of fish (or mermaid!) scales and would look stunning in a shower or tub. Or pop 'em behind your stove to be instantly transported to Morocco.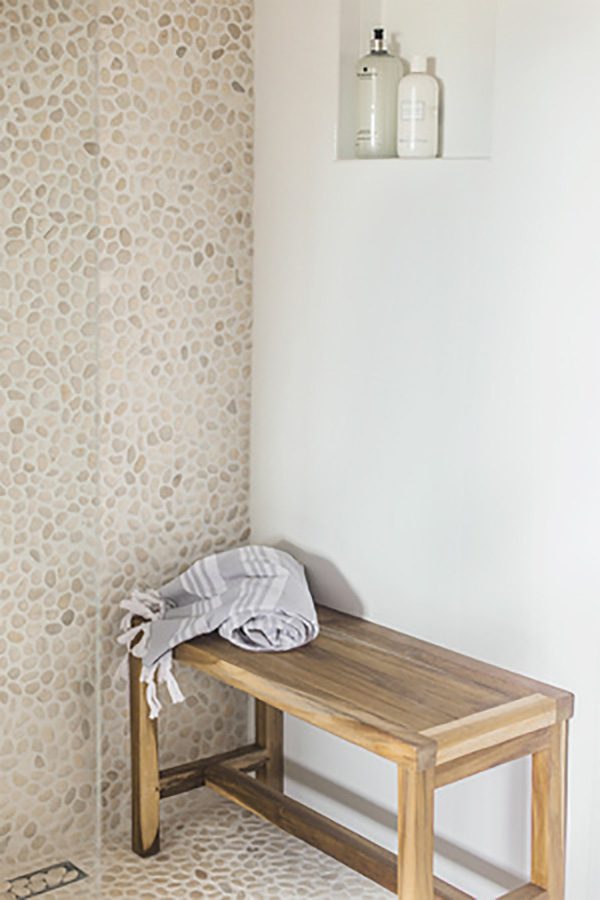 2. White Pebbles – The Tile Shop: Not only are these pebble tiles gorgeous to look at, they also feel glorious underfoot. Want to turn your bathroom into a spa? Start here.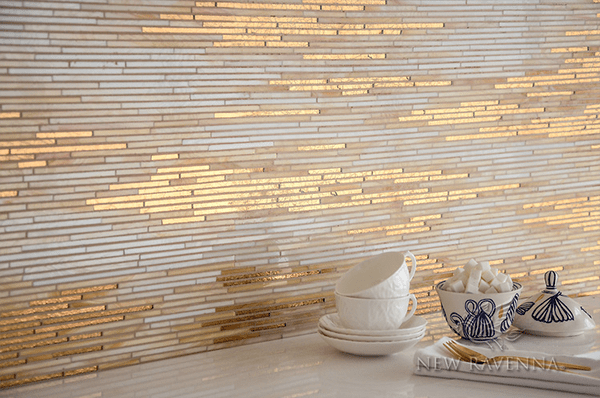 3. Reve – New Ravenna: I'm loving all the warm metals finding their way into homes lately, and these tiles are no exception. Install them in a kitchen or fireplace surround for instant glam.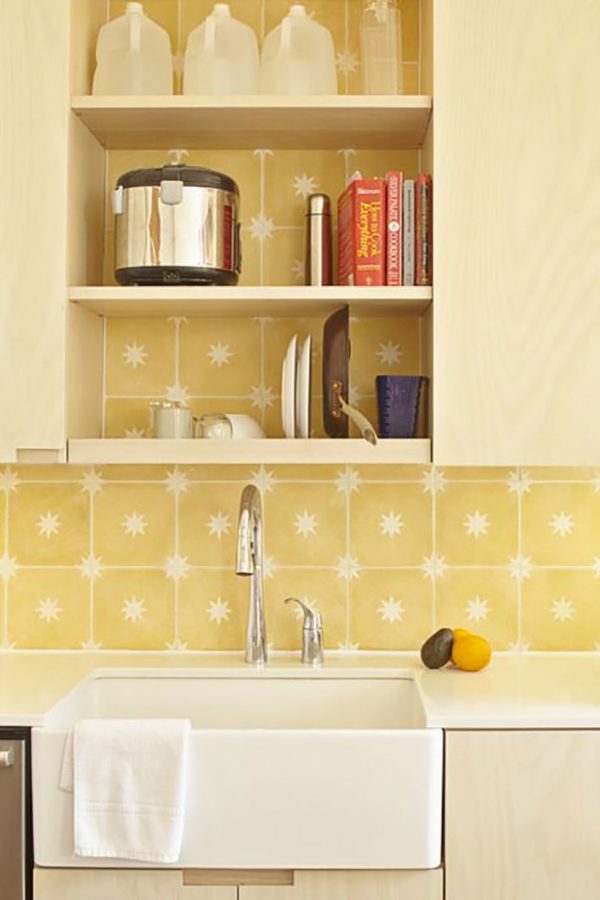 4. Stars – Amethyst Artisan: I've used tile similar to this in a client's bathroom, and they're just as showstopping in a kitchen. If you live in a part of the country with long, gray winters, these babies will bring a dose of sunshine into your everyday.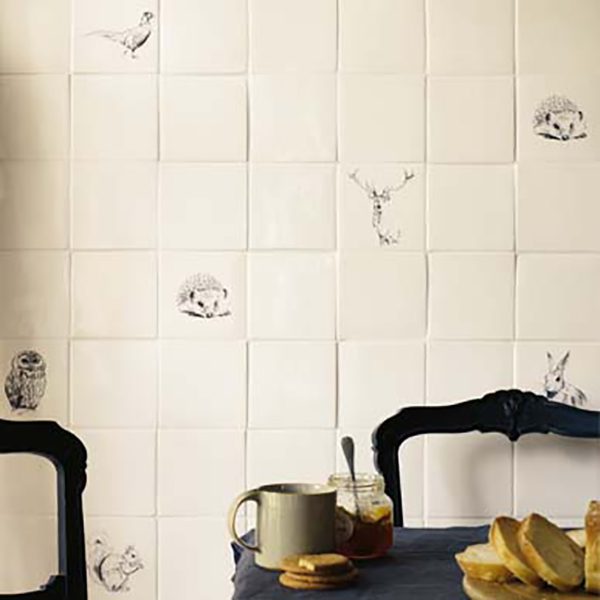 5. Woodland Animals – Fired Earth: When I first laid eyes on these playful tiles, I almost died. I adore them for a kid's bathroom or for just a whimsical touch in the kitchen.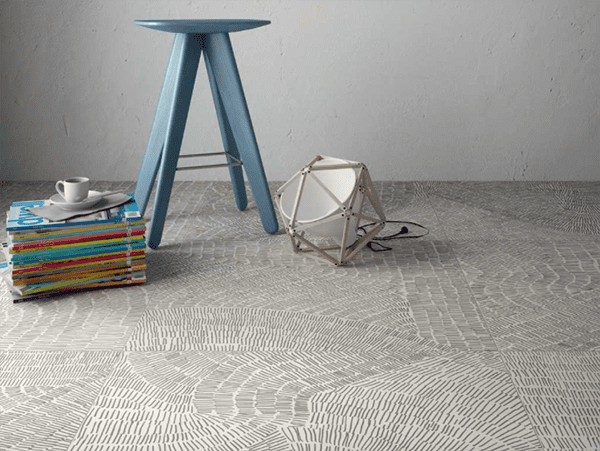 6. Fossil – Design Tale Studio: Black and white get a scientific twist with this fossil-inspired tile, which will serve as a daily reminder that you can find beauty all around you, even right under your feet.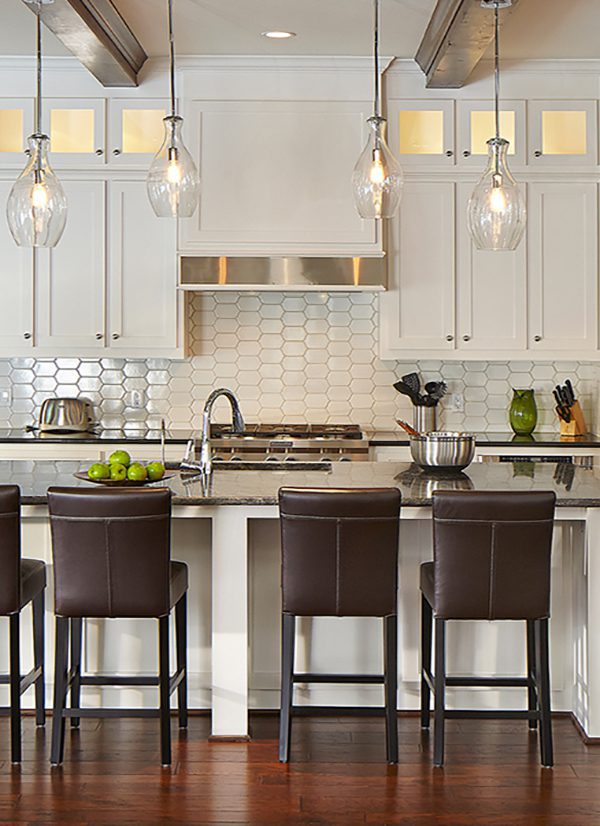 7. 6th Avenue – Walker Zanger: White  is always a safe bet, but safe doesn't have to be boring. The shape of this tile adds an air of luxury to any room it's installed in.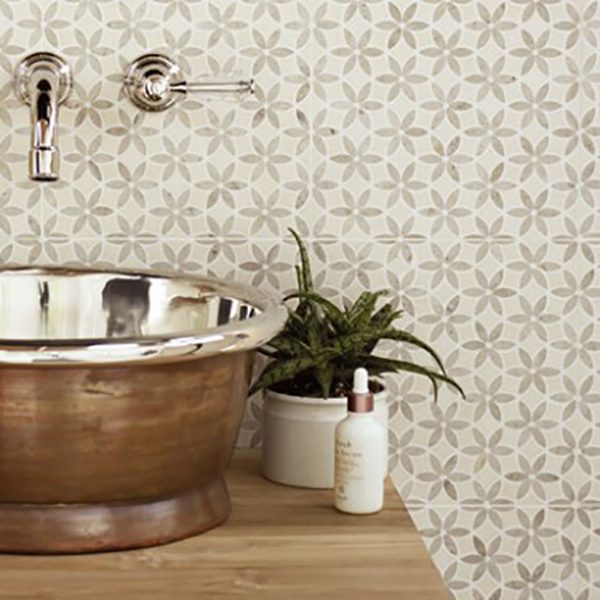 8. Palazzo – Fired Earth: This go-anywhere tile is the perfect compromise for those who want pattern without bold color. Serene and subtle, they add just the right amount of oomph without being in-your-face.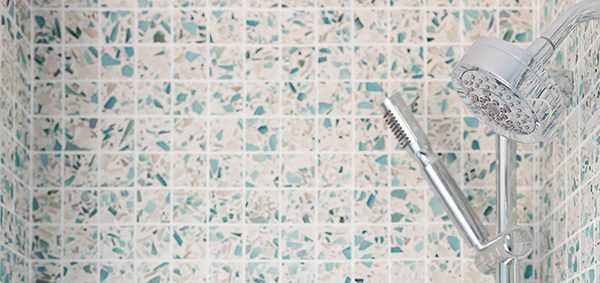 9. Floating Blue – Vetrazzo: If you're a beach-lover like me, this tile has your name written all over it. Reminiscent of sea glass, this tile brings a piece of the coast right to your home.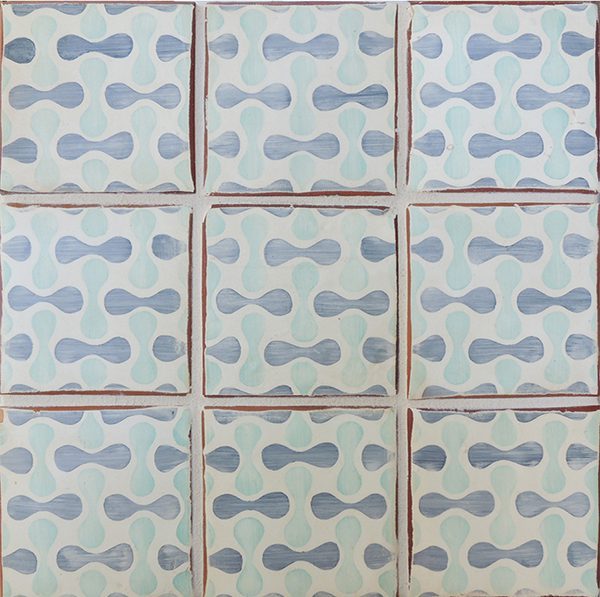 10. Corteo 2 – Tabarka Studio: Everything about this tile – from the color to the shape – reminds me of floating in a swimming pool on a hazy summer day. And that's a place I'll happily go any day.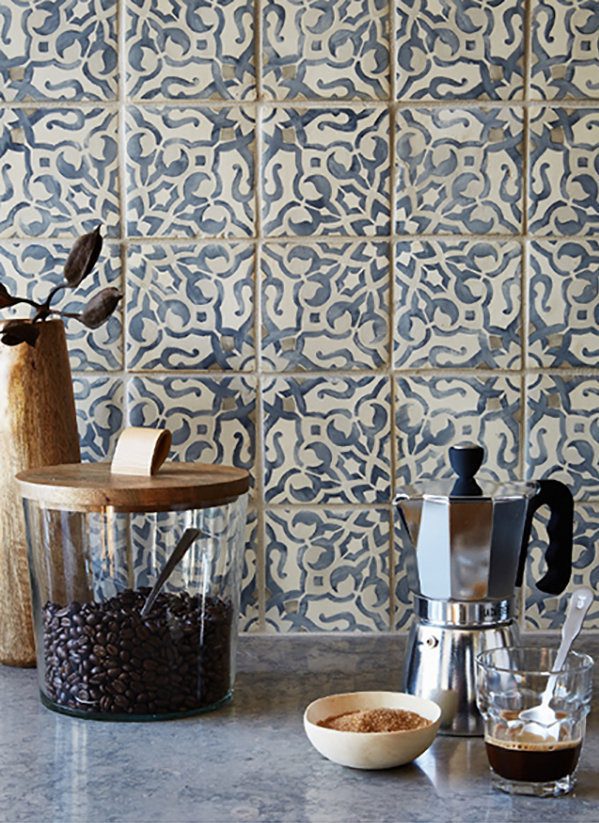 11. Duquesa – Walker Zanger: Add an exotic flair to your kitchen or bath with this rich tile. Despite its bold pattern, this tile serves as a not-so-neutral neutral backdrop for whatever you add to it.
12. Reflection – Tile Bar: Another timeless tile, penny rounds get a modern take in reflective green hues. This version of the staple reminds me of a deep riverbed or tiny fish scales.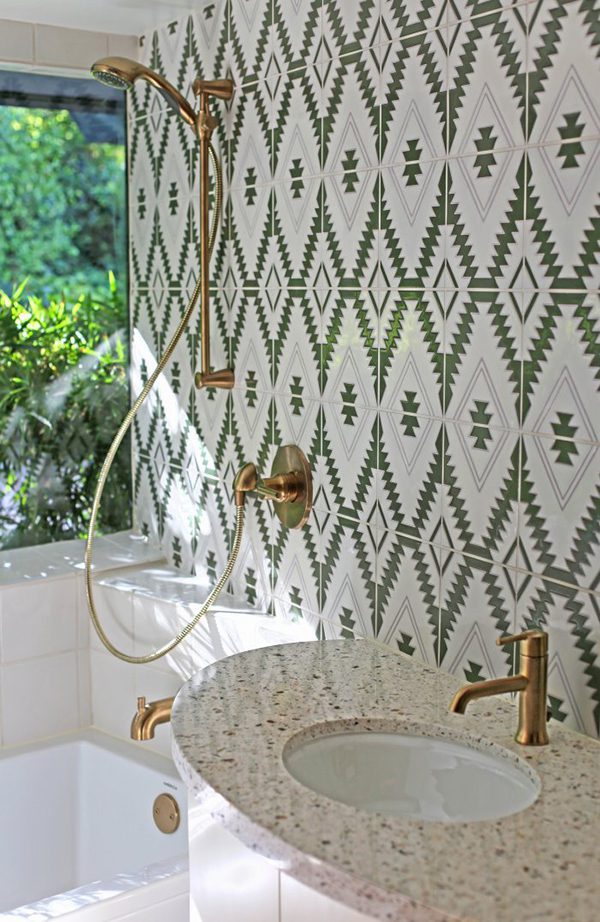 13. Old Cairo – FireClay Tile: This unique tile gives a wink and a nod to the Native American/Southwestern trend that's having a major moment in interiors, while the unexpected color story makes it entirely of-the-moment. I love it in a bathroom with brass accents, as seen here, and would adore it just as much in a kitchen with white or stained wood cabinets.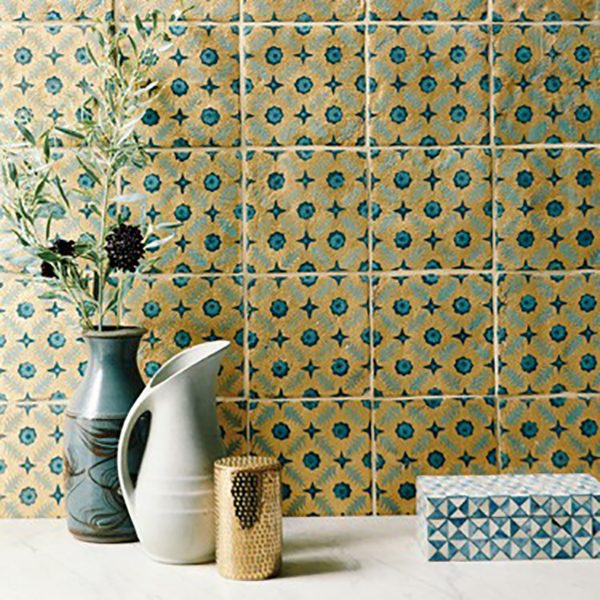 14. Atlas – Fired Earth: There's something about this tile that exudes comfort and ease and serenity to me. Perhaps it's the funky, yet subdued palette, or maybe the small-scale repeat, but I can't get enough. Outstanding in just about any setting, this tile would be a game-changer on stair risers.
15. Cafe – Walker Zanger: Subway tiles have been around for ages – and for good reason. Timeless and versatile, there's nowhere they can't be used. I love this watery blue version, which reminds me of calm ocean waters and imparts a wonderful sense of depth.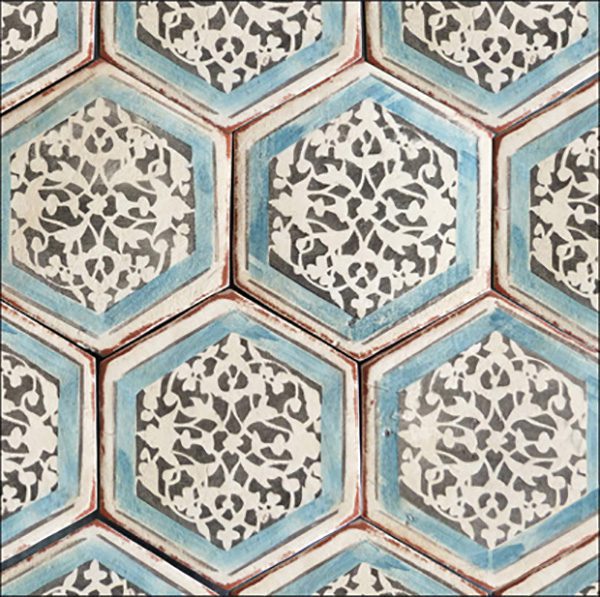 16. Izmir 1 – Tabarka Studio: Moroccan meets coastal chic meets classic hex. I could go on for days about why this tile is so wonderful, but instead, let's just have a moment of silent praise to the tile gods.